ACQUAPENDENTE
Written by: Amna and Yaver - Posted on: August 01, 2013 |

Comments
Google Translation: اُردو | 中文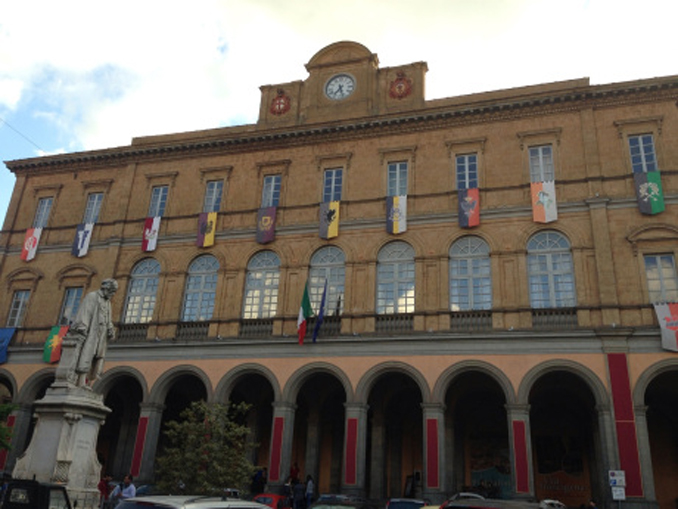 We took a bus from San Quirico to Acquapendente, skipping two particularly tough stages. Buses are cheap and plentiful in Italy but there are a few quirks. Firstly, each bus line is an independent franchise so that there is no single website that allows you to find bus timings. Subsidised by the state, they have little incentive to make life easy so that websites may, if you are lucky, contain .PDF bus timetables, there is no search facility so you have to scroll through pages and pages to find your journey. Importantly bus lines generally serve within a province and since our journey involved crossing the border between Tuscany and Lazio, we found it very difficult to find a bus, there was no posted stop for it and there was only one service in the day. The Tabachi selling us the ticket expressed surprise at our request to travel to a city in another province, even though it was only 60 km away – someone else in the shop had to assure him that such a service existed. Eventually we made it.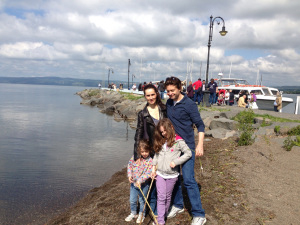 Again I didn't expect much of Acquapendente. We spent two nights there. It proved interesting because we had a visit from our friend Giordano,(the instigator of this journey after we met at our Stanford reunion last october) his wife Serena and two lovely daughters. We had three memorable meals there, including Tagliete a kind of steak cut into strips and some southern Italian cuisine including sardines and anchovies.
Together we discovered the Pugnalone festival, held in May. This is a celebration of the memory of the Madonna di Fiori and marks the defeat of Frederick the second 'Barbarossa' in the 13th century. It takes place on the third Sunday in May, a week or so after our visit. 15 teams from the city create large artworks using flower petals, onion and garlic skins and leaves; and a panel judges the best work each year. We saw large cups and awards from previous years marking the winners. What was most interesting was the passion and involvement of the community in creating these works of art, young people who in other places would probably at best be interested in football or drinking work round the clock making these artworks. Each neighbourhood has a team and banners and pennants are everywhere in each neighbourhood declaring the team affiliation. At night there are raucous neighbourhood parties with food and drink in the narrow medieval streets as the teams celebrate each days achievements. The festival is not widely known and wasn't just a revelation to us, but to our Italian friends as well. There was a real positive energy about the place.
Giordano noticed also that the accents were already those of Lazio, only a few km from the Tuscan border. On walking to Bolsena, the next day, I noticed how different the countryside was too. Many more trees within fields, more rough and undeveloped patches and no vineyards or olive groves, just wheat and potatoes, for which the area is known. The young wheat was more advanced than further north – I wondered if it was the durum variety that makes delicious Italian pasta rather than the wheat for the generally execrable bread we found in Tuscany.
You may also like: