All that Jazz Cafe and Grill!
Written by: Salma Chaudhry - Posted on: October 01, 2014 |

Comments
Google Translation: اُردو | 中文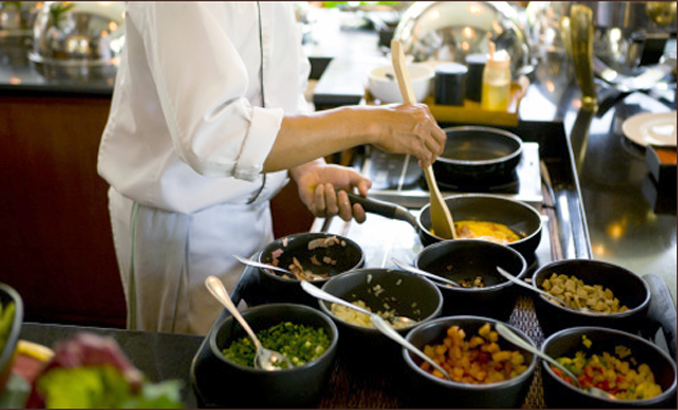 Cooking at the egg station at Jazz Cafe and Grill
I was keen on giving this new place a try purely because of its name – Jazz Café and Grill. Recently, I ate at the newest addition to Lahore's dining landscape on M.M. Alam Road and was not disappointed.
As you enter the cafe, you see pictures of celebrated jazz rock stars and musicians beautifully displayed on the walls. The decor is pretty good and chairs are comfortable enough that might make you want to stay on for after-dinner drinks as well. Although I was expecting some live musical performances (first thing that comes to my mind when the word 'jazz' is mentioned), the restaurant only offer background compositions; they're rather enjoyable, though, combining quirky horns, conventional guitar, accordion, piano and vibraphone, creating the perfect atmosphere to eat out and relax.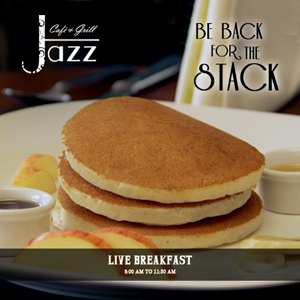 The best pancakes ever!
Jazz offers a complete dining experience. The chefs demonstrate a masterful understanding of food, producing well balanced, novel dishes, presented with panache and meticulous attention to detail. If you're going for breakfast, the heavy continental menu with waffles, oatmeal, eggs, sausage and fresh fruit is a must. Best to go for the cooked-to-order breakfast, with omelets and scrambled eggs made on the spot. The breakfast pancakes are among the absolute best I've ever tasted - downy on the inside and crusty on the outside.
Their Sunday brunch includes a full halwa puri breakfast along with channa bhaji, nihari and roasted chicken. The demand for halwa puri, however, is pretty high so make sure you get there a little earlier in the day as they do sporadically run out. Pair it all up with one of the endless variety of fresh juices on offer.
The tea menu at Jazz is splendid and their coffee will make you buzz too. They offer a dizzyingly large selection of savory and sweet temptations including sauted vegetables, some hot rolls, mini burgers, chocolate coffee mousse, chicken sate, chocolate Diablo, Cadbury cake, a very special bread pudding, along with several varieties of tea or coffee to choose from.

Rich coffee and delectable dessert
This is a venue ideal for people who want to enjoy a calm, tranquil and lavish ambiance whilst they kick back and relax. The place is endemic with interesting Jazzy paraphernalia that is just as striking as the food is tempting, but which also soothes the senses.
On the whole, Jazz Café and Grill is a great place to wind down and lighten up because of the well trained staff, who are always wearing an inviting smile for everyone. Needless to say, you need to try out the place at least once.
You may also like: