Brazil vs Germany: A Clash of Titans
Written by: Bilal Kayani - Posted on: July 08, 2014 |

Comments
Google Translation: اُردو | 中文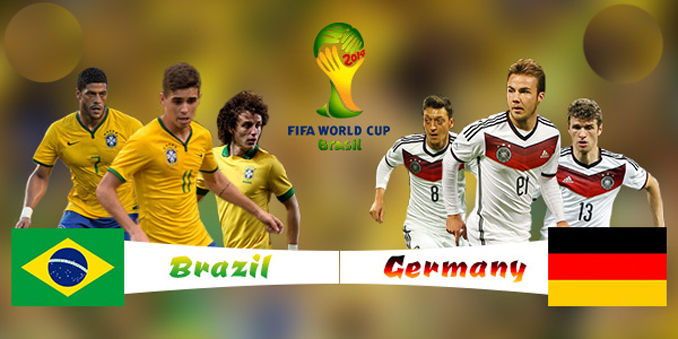 Brazil vs Germany
"Joguem Por Ele" ("Play For Him"). That was the headline on the cover of the Brazilian sports daily, LANCE!, the morning after Brazil's 1-0 win over Colombia which secured them a place in the semi-finals. The message was addressed to the Brazil team and, by "him", they were, of course, referring to Neymar, who had suffered a broken vertebra in his spine following a challenge by Colombia's Zuniga which had ruled him out from the rest of the tournament.
Despite now being only being two steps away from "heaven", as manager Scolari had described it, Brazil have been in a state of mourning since Neymar's injury. Questions have been asked over how they will fill the void left by him. Scolari himself has admitted that Neymar was the one player they did not want to lose.

Neymar injured and taken away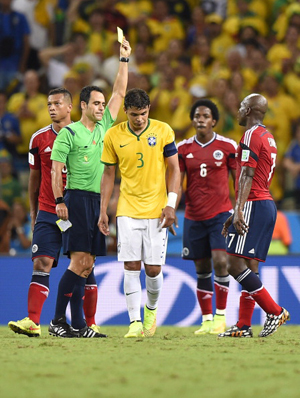 Silva receives a yellow card
But they have lost him, and now they have to find a way past Germany, their opponents in the semi-finals, without him. Brazil's problems are compounded by the absence of central defender and captain, Thiago Silva, who is suspended for the match after receiving his second yellow card of the tournament against Colombia. In Bayern Munich's Dante, Brazil have a more than decent replacement, but Silva's loss will no doubt be felt, signified by Brazil's desperate appeal to FIFA, which is almost certain to fail, to have his suspension overturned.
Willian and Bernard are the two players being touted to replace Neymar, with the former more likely to do so. However, Willian himself has admitted that even if he was to start, it would not be a like for like replacement. When Neymar was on the pitch, all attacking play used to go through him. That will not happen with Willian or anyone else. Scolari will have to come up with a plan B. The fact that Willian and Oscar, the attacking midfielder that has tended to operate ahead of the central midfield duo of Paulinho-Gustavo or Paulinho-Fernandinho, played together regularly last season at Chelsea will help. Hulk and Fred too will have to start delivering. Hulk has shown some promise in recent matches but now needs to convert that into goals. The consensus about Fred, amongst viewers and media alike, is that he owes his starting place to a lack of decent alternatives more than his own qualities.
Even with Neymar on the pitch, Brazil haven't exactly been playing 'football with a smile on its face'. Flashes of brilliance from Neymar aside, Brazil's performances have been more about getting results than living true to their 'Joga Bonito' footballing tradition. Against Colombia, Brazil's midfielders repeatedly fouled James Rodriguez, Colombia's talisman. They had to rely on some very lenient refereeing to get away with it. A discussion for another day but perhaps it can also be claimed that the same lenient refereeing encouraged the sort of hefty challenge that put Neymar on a stretcher. Expect more of the same from Brazil against Germany, especially now that there is no Neymar.
Whether the Germans admit it publicly or not, all of this must be music to their ears. No matter which way you put it, a Brazil team without Neymar and Silva is a significantly easier prospect for Joachim Low and his men. The Germans have one of the deepest squads in the tournament. Against France, the likes of Goetze, Schurrle and Podolski were on the bench at kick-off. And unlike Brazil, their squad is fully fit. But that is not to say they haven't had any problems. Since the 4-0 win over Portugal in their opening match, the Germans haven't really kicked into gear. In their 2-2 draw against Ghana in the group stage, they were by no means superior, and they required extra-time to beat Algeria in the Round of 16. Up until then, the way Germany had set out to play in each match had indicated that Low's tactics had been influenced a touch by Bayern Munich manager Pep Guardiola. High defensive line, Neuer playing sweeper-keeper, Lahm in midfield, Muller playing upfront with Klose on the bench.

Hummels scores for Germany
Against France, however, Germany returned to basics. Lahm went to right-back. Khedira came into midfield and Klose started upfront. Germany scored early, through Mats Hummels, and then spent the rest of the match with a focus on control and discipline. It wasn't pretty, and it was still a far cry from the eye-catching counter-attacking Germany of the last World Cup, but it did the job. Hummels' return in central defence, after recovering from flu, made a huge difference too as he showed imperious form. It wouldn't be a complete surprise if, against Brazil, Germany repeat the starting line-up and tactics that they used against France.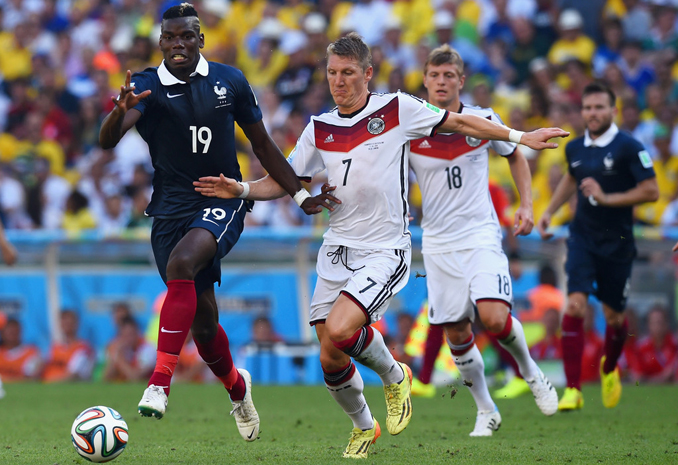 In Brazil versus Germany, we have a clash of titans to look forward to. Two of the most successful nations in footballing history, Brazil and Germany have won 8 World Cups between them. The last time these two teams met at a World Cup was in the final in 2002. That night, Brazil took the title in Yokohama with two goals from Ronaldo. But that was a different Germany and a different Brazil.
This is Germany's fourth consecutive World Cup semi-final, which is a record. However, they have not been able to go the whole way on any of the previous three occasions. They would be desperate to change that this time around. They know the first step to doing that will be to make it to the final, something they haven't done since 2002, and their confidence will be boosted by knowledge that they face a below strength Brazil. However, that advantage comes with a caveat. Those absences have also meant that some of the pressure and expectations have been taken off host nation's shoulders and been transferred to the Germans. Many now view Germany as the favourites, and a lot will depend on how they cope with that. The Brazilians, on the other hand, will be feeling hard done and will no doubt be unsettled by the necessity to make major changes at this stage. But this is no time to feel sorry. The mindset has to be positive. Neymar's injury may help unite the team more. Buoyed by the home support, maybe, just maybe, they'll play, and win, for him.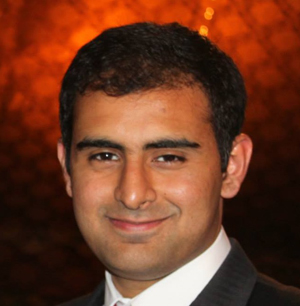 The author is an ex-investment banker, currently managing a TV station and a college, and a self-proclaimed football pundit who loves to ramble about the 'beautiful game' to anyone willing to listen. He tweets @BilalAKayani and can be reached at bilal.a.kayani@gmail.com
RELATED STORIES:
You may also like: