Cultural Tour in New York City. March 2014
Written by: Shahida JJ - Posted on: April 25, 2014 |

Comments
Google Translation: اُردو | 中文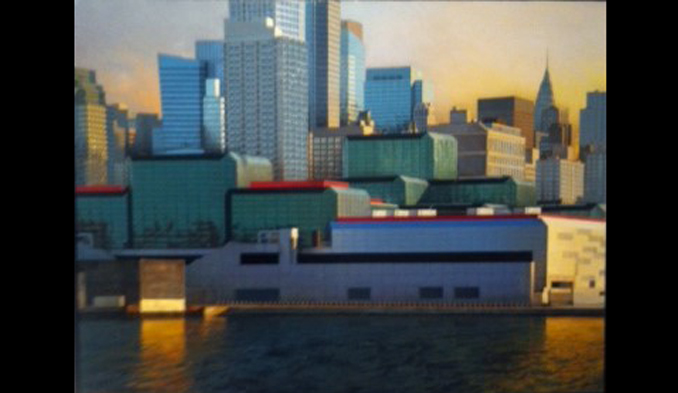 New York, New York.
Carroll, my long time American friend, came from Washington DC. We spent three days in New York City, walking on the streets, visiting classy stores, eating in nice restaurants as well as off the street from hilal food carts, or living on fruit. It was cold and freezing.
We attended art exhibitions in galleries in artistic Chelsea district, and the great Metropolitan Museum of Art - the MET.
We watched Broadway Plays: MAMA MIA, (my fourth time) based on ABBA songs, and the romantic, Bridges on Madison County. Both are Hollywood movies, and very popular.
We attended a jazz music show at Dizzy's Club Coca-Cola on Broadway at 60th Street, 5th floor of the Time Warner Center at Broadway and 60th St. The Concierge was able to reserve 2 bar seats for us, but moved we to more comfortable chairs. The hall was full at starting time - young people, men, women and senior citizens too, and the program started on time. The live music was food for the soul. Highlight of the concert was an 86 year old celebrity playing his guitar; he was part of the performers, and also played a solo, much to the delight of the audience, which gave him tremendous respect and appreciation.
We ordered light food - we were required to purchase some food or would have been charged a minimum amount – we had already had a delicious dinner at a Mexican restaurant nearby.
Rhythm Is Our Business: The Music of Nat King Cole was played by the Trio who also played his famous song 'Unforgettable'.
Art exhibit in Chelsea NY, NY
We were lucky to have a preview of paintings by Enrique Santana before it was opened to the public on March 18th, staying on till April 12th, 2014, at George Billis Gallery, 525 W 26th Street, New York, NY 100001.
Beautiful Manhattan paintings, which were photograph-like. We also met and chatted with Enrique, the great artist.
Brief on Enrique
"Enrique Romero Santana will showcase his exhibition entitled "Approach to Manhattan II" at the George Billis Gallery. The opening reception will be held at the gallery on Thursday, March 20th, from 6 – 8 p.m." Said the announcement.
"Santana was born in Lepe, Spain in 1947. Santana received a B.A. in Education from the University of Huelva, Spain (1969), a Master of Arts in Philosophy and Literature from the University of Seville (1971) and studied in the department of Psychology at the Central University of Barcelona, Spain during 1971-1974. Santana has lived and worked in Chicago since 1991.
"Santana had loved painting the reflections he found on the waters of Lake Michigan in Chicago, and one day he decided to add several of Chicago's buildings to the Lake Michigan paintings. With this addition, Santana had discovered the subject matter that he would paint for the next 15 years. "The urban landscape in relation to water, is what I fell in love with," he states.
"For his series "Approach to Manhattan I" in 2009, Santana traveled many times to New York where he looked at the city as an outsider peering in for the first time. He showed the city from the water without including some of Manhattan's most famous buildings instead in his second series "Approach to Manhattan II", he intends to include them in a glorious and romantic way.
"Santana has an interesting approach to his city landscapes. He does not want his work to look like exact representations of the city, but rather in a way, that is not usually experienced. "I try to make every painting a piece of art and not just a portrait of the city, that is why my paintings are more romantic than real," says Santana".
The above have been comments and observations of different art experts and critics.
We were fortunate to see Enrique's work, and to spend time with him in the gallery.
I took lots of photos.
The George Billis Gallery marks its 18th year in the Chelsea Art District.
You may also like: