Cultural Tour of New York City: Exhibition by Salvatore Federico
Written by: Shahida JJ - Posted on: May 30, 2014 |

Comments | 中国 (Chinese)
Google Translation: اُردو | 中文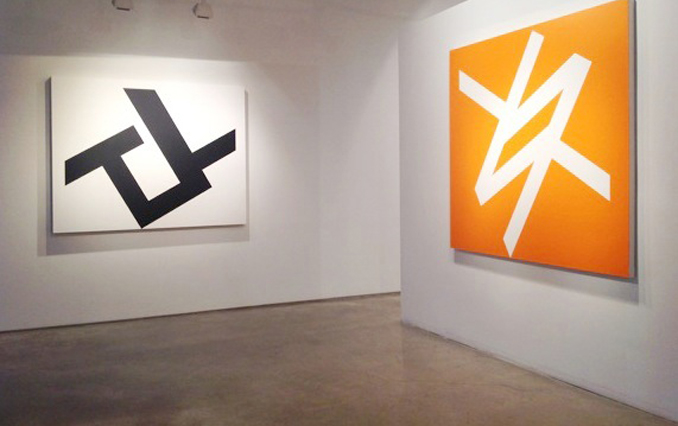 In Chelsea, NY NY, we visited a solo painting exhibition by Salvatore Federico of Acrylic on canvas at the Nancy Margolis Gallery
A brief:
"SALVATORE FEDERICO was born in Washington, D.C. After receiving his B.F.A. in 1966 from the Richmond Professional Institute, he was awarded a Graduate Fellowship from the Virginia Museum of Fine Arts. He attended Hunter College in New York City from 1966–1967, where he completed the requirements for an M.A. in painting in 1971. Federico has exhibited widely throughout the United States and New York, including George Billis Gallery, Amos Eno Gallery, SAI Gallery and The Drawing Center. His work has received numerous accolades and has been featured in The New York Sun, The New York Observer, Art in America, The New Republic, The Richmond-Times Dispatch, The Virginian-Pilot, The Washington Post and Modern Painters. Federico lives and works in Sullivan County, NY, and Manhattan. This is his first exhibition with Nancy Margolis Gallery.
"In his most recent body of large-scale acrylic-on-canvas paintings, Salvatore Federico continues to paint exuberant minimalist two-color compositions. The exhibition's palette is typically punchy, using only the most saturated hues. Bold juxtapositions of warm with cool, dark with light—color combinations that are unexpected yet skillfully deployed—demonstrate the artist's exceptional color sensibility. In each painting, hard-edged, sometimes zigzagging, forms hover over flat fields of color. These origami-like shapes float and pirouette across the painting plane, while at the same time effecting a tangible tension as they twist, fold and confront the edges of the canvas. At once full of movement and structure, Federico's angular forms conjure endless associations with subjects both concrete and abstract.
"Born out of the minimalist aesthetic, Federico's work bears the influence of late Henri Matisse, Ellsworth Kelly and the sculptor Tony Smith, who was Federico's teacher. Though defined by movement, Federico's forms are in fact calculated, thoughtfully planned along a hexagonal grid. The striking balance that permeates Federico's works thus derives from their mathematical construction: slants and angles repeat, harmonizing with one another. The forms are carefully devised, but the paintings dance all the same".
Nearby in Bliss Gallery, Alice was exhibiting her artistic handmade pottery, titled the VESSELS. We were lucky to attend and see both exhibitions.
Alice and Salvatore are husband and wife, and artists.
Click to view picture gallery
You may also like: