DYNAMIC TENSION
Written by: Alia Bilgrami - Posted on: June 05, 2013 |

Comments | 中国 (Chinese)
Google Translation: اُردو | 中文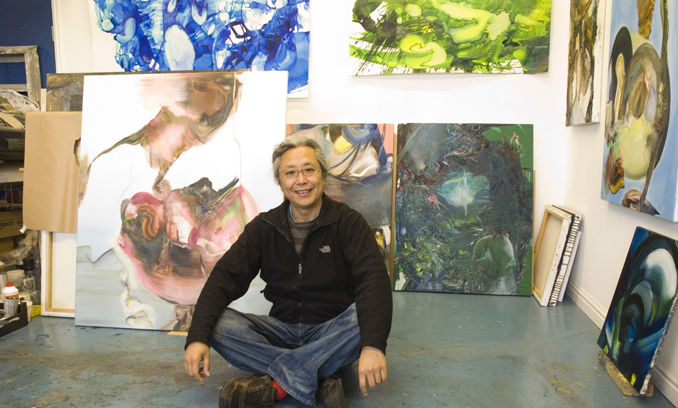 Le Guo with his works (Image by Alia Bilgrami)
Le Guo is a talented mid-career artist based in London. Originally from Gansu Province, North West China, the artist completed his BA in Fine Arts, North West Normal University of China (1981-1985) and went on to do his Master of Fine Arts from Central Saint Martins, College of Art & Design, London (2008-2010). In 1990, he was invited to exhibit his work in the UK by the Arts Council of Great Britain, and the Barbican Centre. He lives and works in London where I had the pleasure of visiting his studio towards the end of 2012.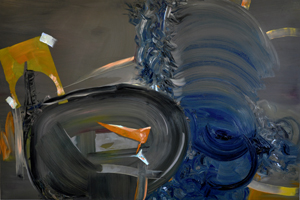 A Little Higher, by Le Guo,
120x180cm, oil on canvas, 2012
Le's art is impulse-driven. It is not just about the visual but more about the physical engagement and immediacy he has with the work as he creates it. He only works when he feels that urge, which is a combination of spirituality and a strong physical force that compels him to paint. Most artists feel the same way, that is, without inspiration or the drive to create, they cannot do so. Le takes this a step further by never painting unless that compulsion is there. He regards painting as 'a translation of the spirituality and perceiving process as it reacts to the physical reality of the world.' He explains further, 'I am waiting for an impulsive moment to drive me, applying paint with a sort of intuitive gestural brush mark, keeping the brush movement in physical rhythm as if writing calligraphy or performing Tai Chi.'
He describes his own method of painting like two animals fighting; there is always a tussle. He mostly paints on the floor and adds details and the final touches later on. His work is spontaneous, emotional and unplanned. There is no preparation. There is no sketchbook. At the most he roughly builds up the visual in his head during the process. The physical impetus to create starts to churn inside him and then he paints. Once it is over, he feels a sense of relief – almost as though something was trapped inside him, waiting to be released.
When I went to visit Le's studio in London, I was almost certain that I would have to look through the work and make my own assumptions, since most artists tend to shy away from explaining what their work is about, or they feel that the visual should speak for itself and prefer to leave the interpretation to the viewer. I was pleasantly surprised that Le, on the contrary, took out the time to walk me through his studio and show me all the works, old, new and in progress, accompanied by an articulate, enthusiastic and animated discussion throughout.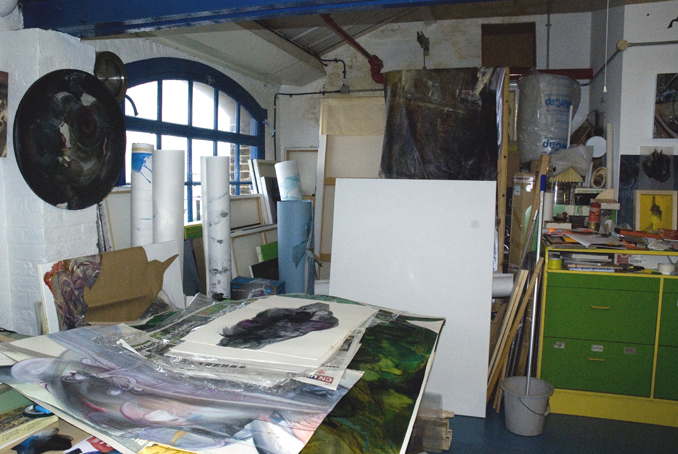 Sneak peak of Le Guo's studio (Image by Alia Bilgrami)
I noticed that the circle features quite frequently in Le's work. Some canvases are actually round while others that are rectangular have circular and organic forms within them. The gestures are predominantly round or oval. Le's reason for always coming back to the sphere is very simple and intuitive. The circle is an elemental part of Chinese Philosophy as it denotes change. Change is a fundamental process in the Universe. Sometimes the round motion transcends the frame. Le's reason for this is that change is beyond the canvas and, therefore, it proliferates in all directions. For the same reason, some of his paintings spread over several canvases to form one piece. His work is not static; it is not restricted to a single frame. It is in flux, it rotates, it is not constrained, and it has room to grow as his palette grows. He says, 'My life and art practice inhabits the dichotomous worlds of conflict and balance, proposing solutions within flux, generating fluidity within the fragmented mind. I conjure a sense of an internal, intuitive, shifting reality attempting to respond to a physical world. I have a desire to narrate, but am unable to form a story.'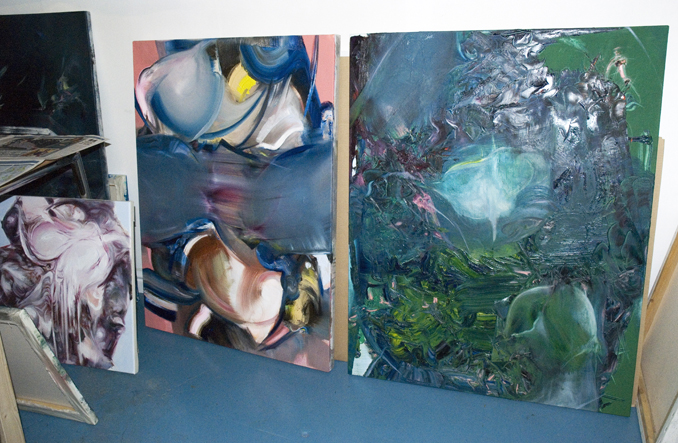 Sneak peak of Le Guo's studio (Image by Alia Bilgrami)
Le relates to traditional Chinese painting and calligraphy. He has taught Classic Chinese Art at Birkbeck College, University of London and at the British Museum, London. Without wanting to be labelled, he seeks to represent his culture and he feels that subconsciously we all have an emotional connect with where we come from. Le's artwork is abstract, gestural and in some ways surrealist. He believes that the work takes on a life of its own and it is the act or performance of painting and the process that are the most important elements of his practice. He explains that his 'paintings are oscillating between abstraction and figuration; intention and process; conflicts and balance.' We can see this set of opposites fighting one another in his artwork quite clearly through his bold colours and impulsive mark-making.
Le Guo's latest solo show, Momentary Suspensions, was held in March 2013 at Battersea, London. Other important shows include the Salon Art Prize, Matt Roberts Arts, Vyner Street, London (2011); Restless Envisioning, No Format Gallery (Solo 2012); Painting and Object – New Works by Le Guo & Jane Cairns, Greenwich Heritage Centre, London (2012) and amongst many shows at the Barbican Centre, the most recent was Creative Cities Collection, Barbican Arts Centre, London (2012) and Re-growing, the 1st Chinese Artists UK Biennale, Asia House, London (2013). He currently shows with the Portman Gallery, London and Hua Gallery, Battersea, London.
To view more images and learn more about Le Guo's art you can visit his website: http://www.leguo.co.uk
You may also like: