KIKI ZOETER FROM BELGIUM LEARNS AN IMPORTANT LESSON IN LAHORE!
Written by: Shahida JJ - Posted on: June 06, 2013 |

Comments | 中国 (Chinese)
Google Translation: اُردو | 中文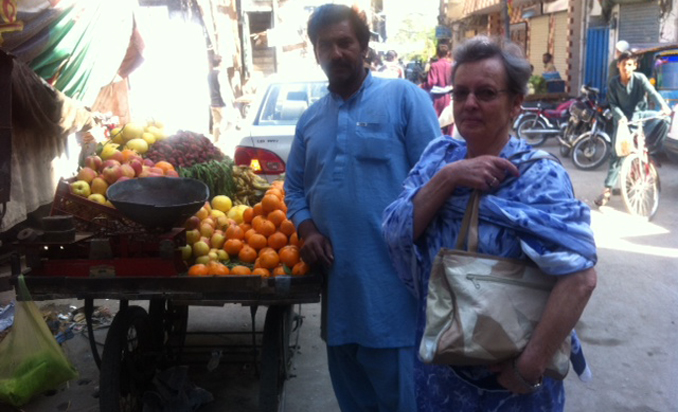 Kiki Zoeter in a Lahori bazaar
Kiki Zoeter, a 78 year old Belgian grand ma visited Pakistan and was in Lahore on March 23, 2013, for a week. A story of a chance encounter with a young father and his two little girls that left a lasting impression on Kiki is presented below:
Kiki is the wife of late George R.F. Zoeter who was the Honorary Consul General for Pakistan in Ghent, Belgium. Their daughter, Karin Zoeter is the current Honorary Consul.
The Zoeter family loves Pakistan and everything Pakistani. They often wear Pakistan inspired clothes when attending Pakistan Embassy Functions and events, and entertain Pakistani officials at their picturesque Lake house in the Flanders area.
This was Kiki's second visit to Pakistan. Here is a story from an incident during her Lahore visit, on March 27, that left a lasting impression on her:
We stayed at our family home in Lahore. It had rained and the weather was cool, lovely and springy with lots of sun. Air was clean and fragrant with flowers blooming everywhere, canal flowing. It was spectacular!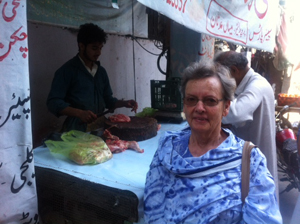 At the chicken shack!
I needed groceries and went to the small local market. Kiki accompanied me and we were purchasing chicken, standing on the road next to the small chicken shack. Just then, a young man with a very long black beard and clean mustache, riding a motorcycle, passed close by us. I stopped him, asking if I could take a photo of him with my guest, who had come from Europe.
He readily agreed. I asked him a few questions about himself and took photos!
The conversation went thus:
The Young Man had on his motor bike two little girls, one sitting in front and the other on the back seat. They were his daughters, he said, aged 7 and 4. He was coming from their school after collecting their report cards. He had only two daughters, and the girls attended the English Medium Coed school that was close by.
Happily, and with great pride, he showed the two report cards to Kiki, saying that both the girls received good grades. He explained each of the subjects studied, right there while still sitting on his motorbike with his girls. The girls were wearing school uniforms, Western style frocks with black pants, had short neatly styled hair tied back with hair bands, and seemed confident.
Kiki took the report cards and read them, perusing through the subjects and the grades and congratulated him as well as the girls for good results. The girls, too, spoke English, and said 'Thank you.'
The young man said he lived in a rented house near Muslim Town, but planned to transfer his girls to a better school and would also rent a home in the same neighbourhood.
He appeared to be well educated and a professional, was well groomed, wearing a respectable shalwaar kameez with polished black European shoes. He was very polite to Kiki and spoke to her in English.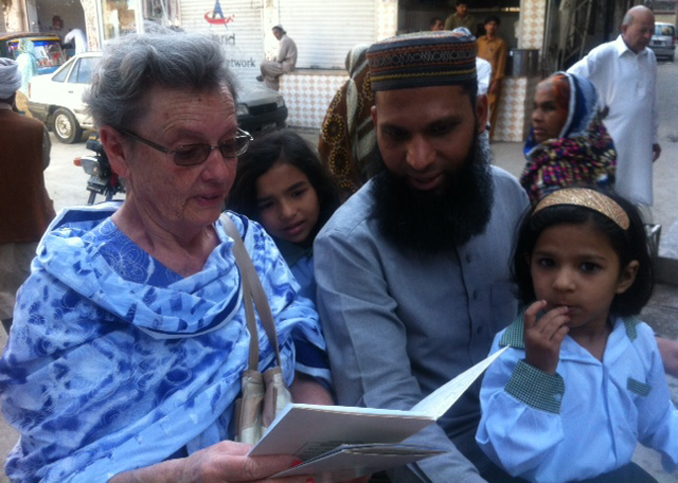 The young man and his daughters showing Kiki the report card
He spent about 15 minutes speaking to Kiki about his girls, still on his motorbike and in the middle of the road in the bazaar, while bystanders and other shop keepers watched with smiles on their faces.
Kiki was standing very close to the young bearded man, who proudly spoke about education of his two daughters
Saying good bye, he asked his girls to shake hands with Kiki. He was very kind, respectful, and happy when Kiki and I congratulated him.
My regret was: I did not ask for his name and his address. I was busy taking photos!
Am sure the young father must have had a lot to tell about the good report cards of his daughters as well as his encounter with a Belgian Shalwar Kameez-clad Grandma he had a chance meeting with, in the bazaar near a chicken shack!!
The motorcycle left, taking the young man, his two daughters and their academic report cards to where ever they were headed to.
Kiki learnt a lesson:
Young Pakistani fathers are extremely respectful, kind, caring towards every one and to their children, especially daughters. She had feared Pakistani men with beards as the media portrayed them as "Dangerous Taliban." On the contrary, she met a very devoted father giving all his attention to his two daughters, and providing them quality education.
For several days, Kiki and I discussed our encounter with the young family riding the motorbike we met in the middle of a narrow lane in Lahore, and its significance.
Kiki is back home in Belgium, and am sure is sharing her experience in the Lahore local bazaar!
You may also like: