ON OUR WAY
Written by: Amna and Yaver - Posted on: May 31, 2013 |

Comments
Google Translation: اُردو | 中文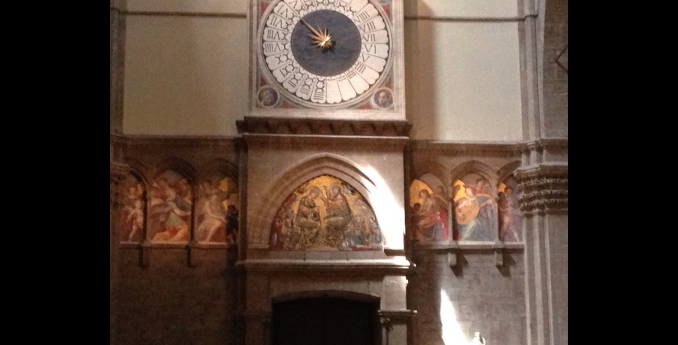 We're off
After an 'o my god' moment of thinking our backpacks are too heavy, we packed and re packed the bags three times. I used the kitchen scale to check each item that went in – did you know that an iPad weighs 700g? We're down to three tee shirts and as many underwear, socks, rain gear and essentials. My pack is 10.5 kg and Amna's 8.5. That's still pretty heavy!
Here I am at Dubai airport (we left the suitcase in Rome, would have looked pretty funny dragging the suitcase along the Via Francigena.)
We arrived in Rome and went to our hotel near Piazza Navona. On the way we passed the beautifully lit Ss Pietro and Paulo in EUR. We used to live just next to it from 1978 to 1981. Since it located on a hill, my parents apartment had a wonderful view across Rome to St Peters. EUR was built by Mussolini for the Universal Exposition in Rome in the 1930s. It is a masterpiece of Italian fascist architecture, but unavoidably, surrounded by all the beauty of Italy, it has a powerful and virile beauty of its own. We will go there on our return to Rome and post some photographs.
Yaver's late father always used to remark on the flair of Italians for lighting up their buildings. Soon after getting to our hotel we went through the crowded Friday night streets, cafes and bars to the Piazza Navona, which was magical, beautifully lit and teeming with people of all ages. We had a slice of pizza (there goes our low carb diet) In the Piazza. This morning we woke up to this beautiful view of the little rooftop gardens from our hotel window.
On the way to the train station, we saw many policemen and uniformed officials. Amna is now beginning to understand what Ammon (her mother in law) meant by 'put an Italian in uniform, even in the most insignificant role, and he starts strutting like a peacock!' She found them pretty handsome though!
We took a fast train to Florence. 1 hour and 25 minutes at 245 km per hour for a journey that will take us 16 days to repeat.
An absolutely beautiful spring day in Florence. Bright blue sky, warm sunshine and not too crowded yet. The Duomo was spectacular, such an elaborate exterior, but surprising plain inside. But the exterior really made us wonder at the wealth of Florence at its height. We walked around for five hours looking at the Uffizi gallery and the Ponte Vecchio, the green hills beyond the Arno, shared an enormous bistecca fiorentina and a lovely coffee outside a quiet neighbourhood bar watching the people go by.
Then by local bus to San Gimignano. Towers aside, this has to be one of the most beautiful villages in Tuscany. There are 15 towers left, but its amazing to think that there were once 72! Competition amongst warring families led to this although the Black Death and an alliance with Siena put a stop to it. Not only does it present a Manhattan skyline, it has twin towers. Once the commune had placed a height limit on towers by building it's own and legislating that no new two we could be higher, one powerful family built two just to show that it could build higher if it wanted to.
My first glimpse of San Gimignano was through the dirty window of the local bus. Perched high on the hilltop was this beautiful town shining golden in the late afternoon sun with these torres sticking high into the sky. What amazed me how they could have built these in medieval times and some of them have withstood the centuries. The surrounding countryside is just amazing and to think that very soon we will be walking through this! But my one disappointment is that I am in Tuscan pottery heaven and I can't buy anything!
Link to Amina's blog: http://amnaabidi.wordpress.com/2013/05/05/on-our-way/
RELATED STORIES:
You may also like: