Sham-e-Ghazal - A Tribute to the Maestros
Written by: Salma Chaudhry - Posted on: February 07, 2014 |

Comments
Google Translation: اُردو | 中文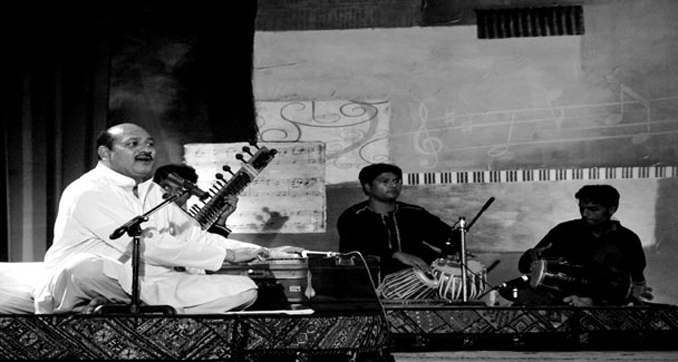 Being outside and absorbing wonderful classical music as the winter winds down is always a great means to kick back and enjoy. Lahore is known for perfect foggy winters but the weather has been acting strange or rather confused this year, especially since the beginning of 2014, alternating between foggy, cold and mildly sunny days with some intermittent drizzling. The Ghazal Night at LUMS could not have been more perfect, for the weather made it all the more dreamy and elegant. A light drizzle turned into heavy downpour just moments before the renowned singer Ghulam Abbas, who hails from a well-known Lahori family steeped in traditional Patiala and Punjabi music, was all set to take the stage and fill the gorgeous weather with beautiful melodies.
The setting behind the LUMS Sports Complex was ideal for an intimate performance and a laid-back evening with a relaxing ambiance. It was a pleasant surprise to see the place jam packed with young faces waiting anxiously to listen to their favourite ghazals.This year's Ghazal night was a tribute to Faiz Ahmad Faiz, Mehdi Hasan and Ahmad Faraz, and was indeed an evening to remember as Abbas enthralled the audience when he rendered one soulful number after another.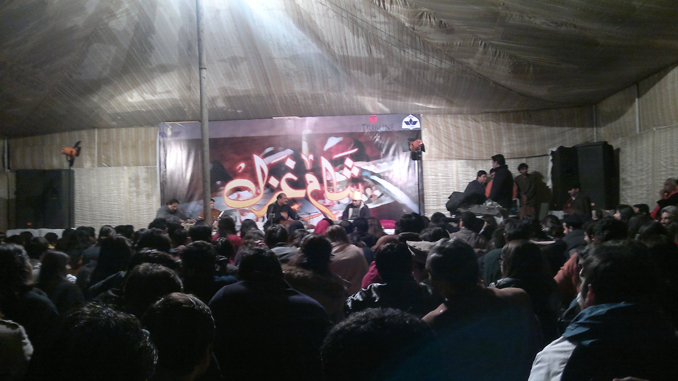 Packed in for Ghazal night
Ghulam Abbas thanked LUMS for inviting him and introduced Sajjad on tabla and Raju on the dholak, adding that a singer is nothing without his musicians. A round of applause followed as he opened up with the beautiful ghazal, and one of his personal favourites, "Pyar Bhare Do Sharmeele Nain", sung originally by none other than Mehdi Hasan sahib.
Abbas mesmerized his young listeners with beautiful melodies one after another. His graceful vocals harmonized the rhythms of the tabla and dholak as he sang "Ranjish Hee Sahi", "Mujhe Tum Nazar Se" and the beautiful "Gulon Mein Rang Bhare". The highlight of the evening was "Barsaat ke Mausam Main", the popular song from the Indian movie Anjam; that had been a copy of Abbas's original song from the Pakistani movie Anjam which unfortunately never saw the cinema screens due to lack of funds. "I sang this song for a Pakistani movie, but the movie never got released and Bollywood took this for their film Anjam", he told the audience. Abbas made his listeners sway in tune with him to this song which did complete justice to the amazing weather.
The ghazal night was definitely a breath of fresh air for the students after a long and exhausting day of college. Although the audience was small in size, they made up for it in zeal and their enthusiasm perceptibly charmed the musicians who smiled approvingly as they received praise from the listeners.
You may also like: