Shandong Cuisine
Written by: Robynne Tindall - Posted on: August 06, 2014 |

Comments | 中国 (Chinese)
Google Translation: اُردو | 中文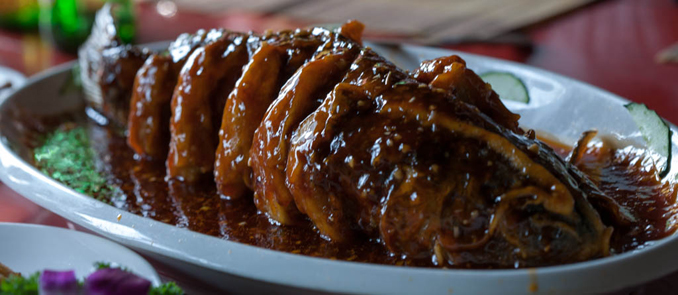 Sweet and sour carp is one of Shandong cuisine's best-known dishes (Flickr user Charles Haynes)
Located in northeast China, Shandong province has a history stretching back over 4,000 years. It is home to Qufu, the birthplace of Confucius, and the holy mountain Taishan. The cuisine of Shandong province has a history almost as rich. The roots of the cuisine developed as far back as the Spring and Autumn Period (770-221 BC), but it wasn't until the Yuan Dynasty (1271-1368) that it was truly consolidated. Shandong cuisine is considered the foundation of northern Chinese cuisine, and the modern cooking styles of cities like Beijing and Tianjin have developed from it.
An ancient text on Chinese medicine describes Shandong province as: "The oriental realm where the heaven and earth originated. The land of fish and salt, surrounded by river and sea, where people are fond of fish and salty taste." As this quote suggests, Shandong cuisine is famed for the freshness of its seafood and river fish. Scallops, prawns, sea cucumber, squid and clams all find their way into dishes both high-end and every day. One of Shandong cuisine's best-known dishes, and a favorite at banquets all over north China, is sweet and sour carp, a deep-fried whole carp served with a tangy and sweet sauce. To be truly authentic, sweet and sour carp must be made with freshwater carp from the Yellow River.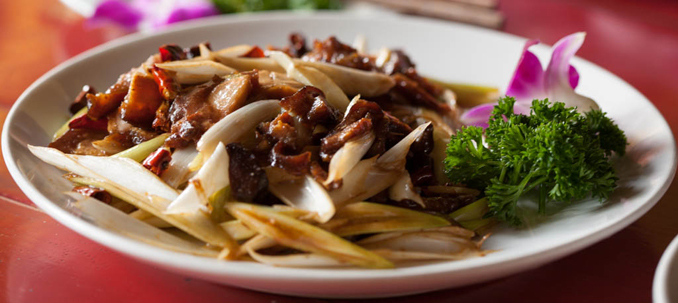 Many Shandong dishes feature strong flavors such as lightly cooked scallions (Flickr user Charles Haynes)
Although, like chefs around China, Shandong chefs also prize the tastes, textures and colors of the ingredients they use, the flavorings they apply during the cooking process are notably heavier than some other regions of China. Most would consider the dishes of this region rather salty (or, at the very least, savory) due to the frequent presence of seasonings like soy sauce and dark vinegar. In addition, few Shandong dishes are complete without the "holy trinity" of scallions, ginger and garlic. Well-known Shandong dishes that exhibit these characteristics include stir-fried pork slivers in Peking sauce, braised sea cucumber with scallions, and fresh tofu with mixed seafood.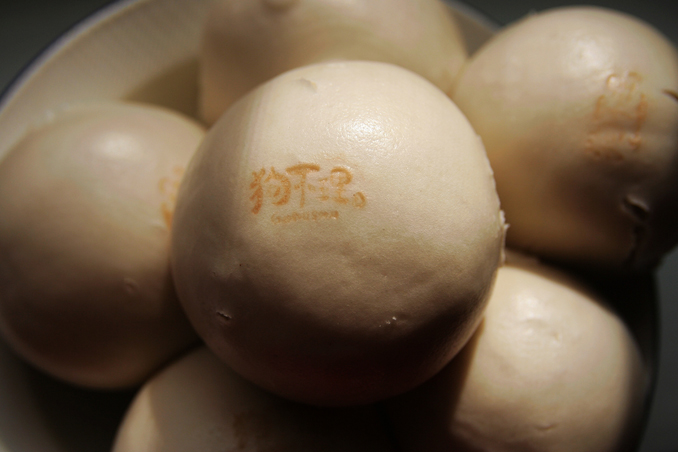 Steamed breads play a major role in Shandong cuisine (Flickr user Xudong Zhai)
Although today a wide range of ingredients from both at home and abroad is transported throughout China, Shandong cuisine remains tied to specific traditions and ingredients. This means that, thanks to its location in northern China, wheat is a more common staple than rice. Wheat makes its way into everything from steamed breads (mantou), to baked sesame cakes (shaobing), to thin pancakes to accompany Peking roast duck. Finally, perhaps China's most famous beer, Tsingtao, is also from Shandong province, brewed in its namesake coastal city of Qingdao.
Robynne lives in Beijing, having moved there from the UK in 2011. During the day she is the food and dining editor for a local expat magazine and at night she can be found all over town searching out the most interesting restaurants.
twitter.com/gongbaobeijing
instagram.com/gongbaobeijing

You may also like: