Spain and Costa Rica: The stories of the World Cup so far
Written by: Bilal Kayani - Posted on: June 24, 2014 |

Comments
Google Translation: اُردو | 中文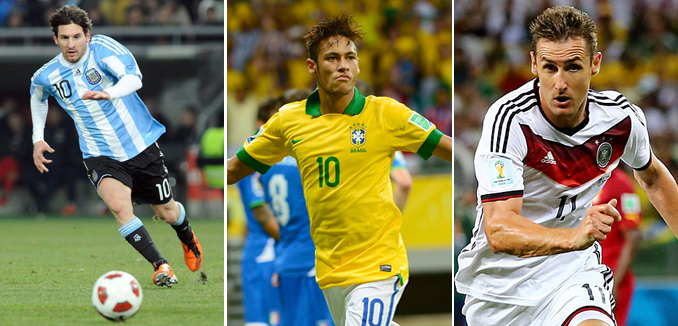 Many adjectives have been used to describe this World Cup. Amazing. Entertaining. Fascinating. All of them true. The tournament has been full of goals and excitement. The 100th goal of the World Cup 2014 was scored by Brazil's Neymar in game 35 of the tournament. In South Africa, back in 2010, it had taken 47 games to reach the same number of goals. Most matches have had a high tempo and intensity, with usually both competing teams showing attacking intent, resulting in very open games. Dull games have very much been the exception rather than the rule. Contrary to expectations, there have been no whipping boys in the tournament. Teams that were meant to be easy to beat have surprised. There have been lots of talking points, highlights, stories and side-stories. England's elimination. Neymar's performances. Messi's two sublime winning goals. Klose equalling Ronaldo as the all-time World Cup top scorer. Portugal scoring at the death against the USA to keep their hopes alive, albeit barely. However, despite everything that's gone on at the World Cup so far, two stories have stood out.
Spain
The defending World Champions were unceremoniously dumped out after losing their second match of the tournament 2-0 to Chile. Their first had been an extraordinary 5-1 defeat against the Netherlands. Their final match against Australia was a dead-rubber; both teams had already been eliminated from the tournament before kick-off. Spain won the match 3-0, but they knew it didn't mean anything and their reaction to each goal they scored said so. The fact that they wore an all-black kit for the match was fitting in a way.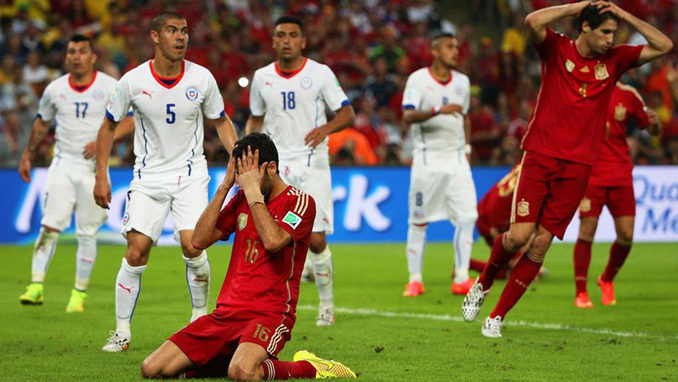 Spain vs Chile
It was not meant to be like this. Spain had been rampant in recent years. The first team to win 3 consecutive international tournaments. Euros '08, World Cup '10, Euros '12. There was a general perception that perhaps Spain weren't as strong coming into this tournament as recent years, but no one could deny they were one of the favourites. Everyone still expected them to be there at the business end of the series. The core of this team was still the one responsible for having led La Roja to their golden era, perhaps the best of any international team. The fact, then, that Spain, a group of winners, were eliminated after just 2 games with nearly a month still left till the final, was shocking to say the least. Their elimination signified the end of their golden period. It was a moment to reflect for themselves and for the footballing world as a whole.
Costa Rica
When the draw for the World Cup finals was made on 6 December 2013 at Costa do Sauípe in in the Brazilian state of Bahia, Group D was one of the few being labelled as the 'Group of Death'. The group consisted of England, Italy, Uruguay and Costa Rica. Fans and journalists were excited at the prospect of seeing three 'big' teams fighting it out for the top two spots that would ensure qualification for the knockout stages. Costa Rica were not meant to be one of them. Italy, Uruguay and England were meant to battle it out, while Costa Rica was expected to be the team happy just to be there.
There was one problem. Costa Rica hadn't read the script. They had their own plans. In their first match against Uruguay, when they conceded a penalty, duly converted by Cavani, it seemed like all would be as it was supposed to be. But what followed surprised everyone. Three second half goals gave them an unexpected victory against the defending Copa America champions. And here's the thing. This wasn't a 'plucky' or 'brave' performance where Costa Rica frustrated their opponents with negative tactics and got lucky with the goals. They went toe-to-toe with Uruguay. They took the game to the opposition. They were happy to have the ball and commit men to attack. They had a real go and they succeeded. Many revelled in the success of the underdog but they also claimed that Costa Rica had outperformed themselves. Costa Rica may have been the better team on the night but we shouldn't expect them to repeat it against Italy. It was a one-off. And boy were they wrong. Costa Rica beat Italy in their second match with a 1-0 score-line. Again, they deserved the result. They pressed hard, had a high level of intensity and threatened regularly to score. They hassled Pirlo, Italy's heartbeat in midfield, off the ball on numerous occasions. They had a good plan which was executed well. It wasn't just the fact that they had won again. They were the better team. Again. They deserved both their victories.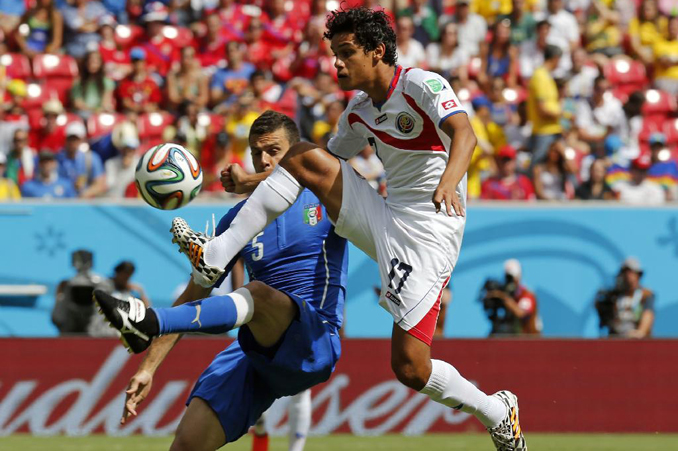 Costa Rica give Italy no quarter
What Costa Rica have achieved is nothing short of remarkable. They were expected to be bottom of the group. Many even expected them to lose to all three opponents. Instead, they have topped the group with one game remaining. They play their final group game tonight against England. Before the tournament kicked off, this match was meant to be a dead-rubber. England were meant to have qualified. Costa Rica were supposed to be playing for pride. The game is still a dead-rubber. Just not quite for the expected reasons.
The author is an ex-investment banker, currently managing a TV station and a college, and a self-proclaimed football pundit who loves to ramble about the 'beautiful game' to anyone willing to listen. He tweets @BilalAKayani and can be reached at bilal.a.kayani@gmail.com
RELATED STORIES:
You may also like: