Street Food in New York
Written by: Shahida JJ - Posted on: August 28, 2012 |

Comments | 中国 (Chinese)
Google Translation: اُردو | 中文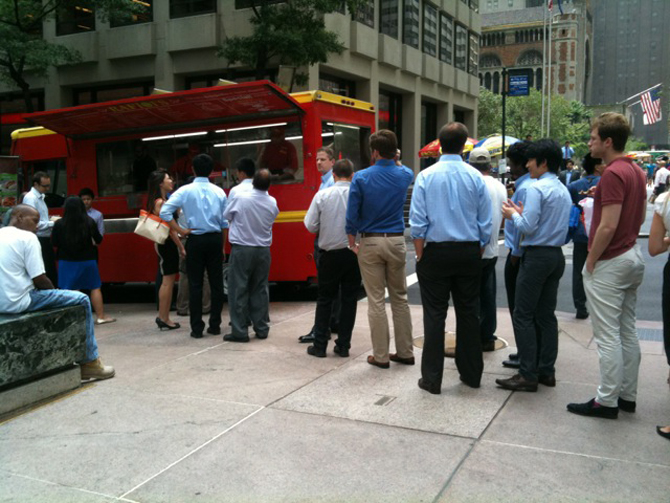 Park Avenue and 52nd Street, Mid Town Manhattan, New York City. Beautiful sunny August day. Lunch time. Three "trucks" parked on the side street corner, bright colored, but plain, not like the Pakistani folk art colorful trucks.

These are the "street food vendors". It's my first exposure to them. Didn't know the highly paid bankers coming out of the buildings get their lunch from trucks selling food, sit on the side walk and eat under open sky.

Park Avenue in Midtown houses the greatest of banks and companies and the poshest of hotels, the likes of Waldorf Astoria, Intercontinental, Grand Hyatt etc. And high end restaurants listed by Zagats restaurant guide for New York.

Facebook, Twitter and Google now show locations and streets of the best food selling trucks in New York, for people to choose from; every imaginable cuisine available at reasonable price, fresh and tasty. There are push carts and kiosks selling ice creams, fruits and soft drinks everywhere, as people are walking and eating. Everyone is walking all the time. And they are always in a rush.

Red colored RAFIQI's food truck is parked on the side street off Park Avenue: three men wearing red jackets and red skull caps serve and sell. The large painted signs say: it sells "halal" meats: chicken and mutton preparations served with either basmati rice or roti, accompanied by salad of lettuce, chopped black olives, black beans and corn with sauces - yoghurt, mayonnaise or ketchup.

The line is long: bankers and professionals, clad in designer clothes, wearing Faragamo shoes and neck ties, and women carrying Chanel hand bags, stand in line waiting their turns while Rafiqi's men take orders and create a meal according to each customer's choices. Basmati rice, grilled chicken pieces, with salad and a sauce costs $5 and a soft drink $1. It is all "to go," packed in a container with a fork and a napkin in a brown paper bag. All sit on the side walk, or the wall next to the fountain and water pond. Garbage is placed in the road side garbage drums, no trash thrown on the road sides - city fines $100, caught by cameras!

I stood and watched. When the line became a little thin, took my turn and ordered basmati rice, some chicken and chopped lettuce with yoghurt sauce, and diet soda. Cost me $6.

Began to talk to the man with a kind smile, who looked like a Pakistani. Got the following information:

He is from Morocco, and the owner from Afghanistan, who visits Pakistan often. The food truck has been selling food for 12 years. And on an average they sell one thousand to fifteen hundred meals daily. They arrive at 7 am to prepare food and wind up at night, and Rafiqi is there most of the day.

They started their business by selling tasty Afghan fusion food on a "cart" and today have 20 trucks all over New York. The Rafiqis are 6 brothers involved in the business. Google has several pages on Rafiqi's New York Street Truck Food, and New York Times too has written about them.

It is the holy month of Ramadan at the time. To my question "are you fasting" he said "Alhamdullah, I am." He himself fasts, but provides and sells food to thousands, doing his business.

This is one success story of enterprising people coming from distant lands, that makes America the land of opportunity - and multi-dimensional culturally - the American Dream!!

You may also like: