THE CONCH SHACK - EXOTIC NATIVE EATERY IN TURKS AND CAICOS!
Written by: Shahida JJ - Posted on: September 02, 2013 |

Comments | 中国 (Chinese)
Google Translation: اُردو | 中文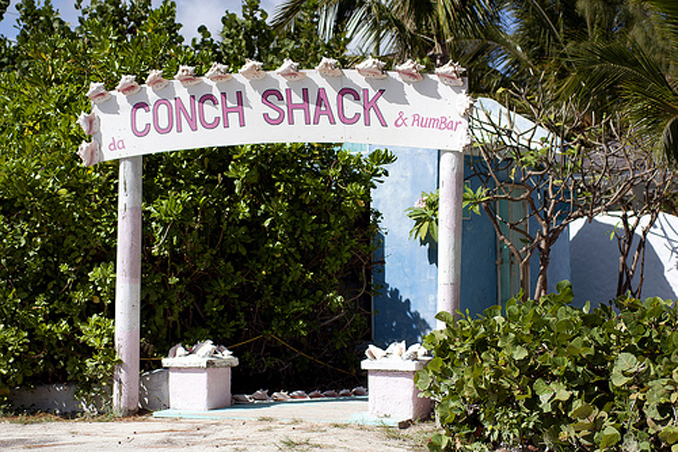 The Conch Shack
While on our vacation in Providenciales Turks and Caicos, besides enjoying the serenity, tranquility and beauty of the island, we did lots of other fun activities!
Enjoyed the comfort and luxury of a tastefully decorated, fully furnished three bedroom apartment in a beach front hotel; indulged myself with a massage by a Filipina masseur in a cabin under the open sky on the beach, accompanied by the music of the ocean waves and a canopy of different colored bougainvilleas.
Walked into the water, as far as I could without drowning; went snorkeling wearing a life jacket and securely holding on to son's T-shirt at his neck, and followed him wading in water up to my neck.
He kept assuring me: "See you can touch the sand with your feet, the water is not too deep." Water went into my eyes despite wearing water tight goggles; and I couldn't breathe through the tube, but tried nonetheless, and later felt - "Ah, I was able to snorkel!"
We went fishing in deep water on a motor boat and ate exotic food in the nicer restaurants.

Polished conch shells on display for sale next to the Conch Shack
"We will eat dinner at the CONCH SHACK." announced son one day!
"What is that?" was my question.
"Conch are large sea shells; their meat tastes like lobster meat. We will eat dinner there".
So we drove there, not far from the hotel.
CONCH SHACK, a native eatery and a tourist attraction, a small hut on the beach, it served different preparations made from the meat of freshly caught conch.
There were piles of very large whitish shells around the shack, resembling pieces of white rocks. We strolled around before ordering food.
Several local men were busy taking meat out from shells for the kitchen; live conch were in tubs and meat was extracted using a very sharp knife, and sent to the kitchen. The meat extraction was a demonstration for tourists. Cooking too was done in the open, for diners to see how it was cooked.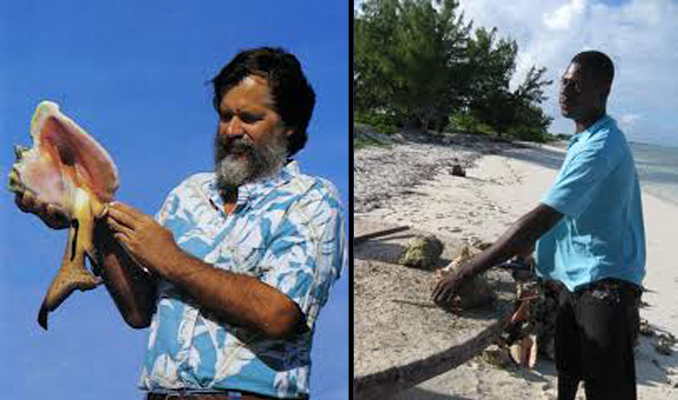 Conch meat being extracted from the shell
Along the beach were several wooden shelves displaying beautiful polished conch shells for sale to visiting tourists. A seller demonstrated blowing into one large shell as if it were a blow horn, and it emitted a sound similar to that of a ship's horn.
Conch: Some research
Conch are medium to large-sized sea snails, whose shell has a high spire and a noticeable siphonal canal.
Its uses as food
Conch is as popular as the escargot amongst edible snails; its meat either eaten raw in salads, or cooked as in fritters, chowders, gumbos, and burgers. All parts of conch meat are edible. It is popular in East Asian cuisines as well as in the Caribbean and eaten in curries, soups and salads.
In the Turks and Caicos Islands, the Annual Conch Festival is held in November each year. Local restaurateurs compete for the best and most original conch dishes, and are judged by international chefs.
Musical Instrument
Conch shells can be used as wind instruments. They are prepared by cutting a hole in the spire of the shell near the apex, and then blowing into the shell as if it were a trumpet, as in a blowing horn. Blowing a conch shell needs tremendous power and respiratory capacity. Hence, blowing it daily helps keep the lungs healthy.
Pearls
Many different kinds of molluscs can produce pearls. Pearls from the queen conch, are rare and have been collectors' items since Victorian times. They come in different colours: white, brown, orange and pink.
Other uses of the Conch Shells
Conch shells are occasionally used as building material, either in place of bricks, or as bulk for landfill. In the Caribbean and neighboring countries, fishermen use the conch shell as a trumpet to announce to the community that fish is available for sale. It is also used at Carnival times, where blowing conch shells forms part of the festivities. In some Caribbean and African American cemeteries, conch shells are placed on graves.
Religious occasions
The shell is used as a ceremonial trumpet as part of religious practices. The conch trumpet is sounded during worship at specific points. Also, the sound of the conch is believed to drive away evil spirits.
Our meal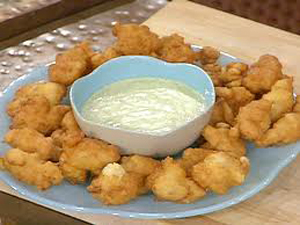 Conch fritters with sauce
We ordered conch fritters with sauce and sat on wooden tables and benches placed along the beach.
Conch meat was a little hard for me to eat; I enjoy fish, shrimps and lobsters, but as for the remaining sea animal world - I prefer to stay vegetarian! Family enjoyed eating various preparations ordered, as they have developed a taste for conch meat!
But the main attraction were the beautiful Queen conch and other large shells, displayed on shelves. Each one of us tried to blow the large shells, but failed to create any sound as the seller demonstrated.
One needs strong lungs and there is a special blowing technique!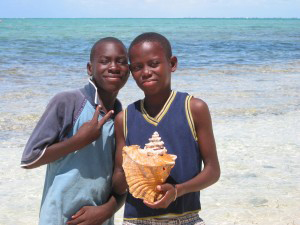 Local boys selling conch shell
We purchased a few polished Queen conch shells. I brought mine home to my country. I have tried blowing on them but have failed miserably. They are on display in my home, reminding me of my lovely family vacation to Turks and Caicos!
Whenever I am down and out, missing family, I try to blow on a Conch shell to bring me good tidings and ward off evil spirits - even though I am unable to bring out the horn sound!!
You may also like: