The Red Baron's Mosaic II
Written by: Alia Bilgrami - Posted on: July 30, 2012 |

Comments | 中国 (Chinese)
Google Translation: اُردو | 中文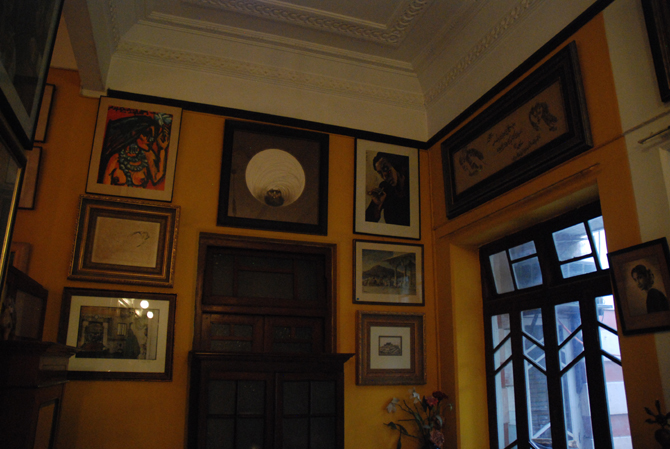 Part II

The Red Baron proceeded to walk and talk us through his amazing collection. My mind was racing as he leapt from piece to piece, telling us the period, the artist, the style, the context and virtually everything about each painting and objet d'art to cross our path. He has between 600-700 paintings in his collection. Some of which are on display and the rest are stored or stacked against the walls that are adorned with the likes of Sadequain, Chughtai, Jamini Roy, Ahmed Parvez, Shakir Ali, Kibria, Ana Molka, Kamrul Hassan, Shakeel Siddiqui, Allah Bux, Zain al Abideen, Amrita Sher-Gil, Ali Imam, Najmi Sura, Mansur Aye, Murtaza Bashir, Syed Jahangir, M.F Hussain, Zahoor ul Akhlaq, Samina Mansuri, Naiza H. Khan, Felice Beato, and the list is endless! While his primary focus is on the masters and more renowned artists, he also collects the works of younger artists who catch his fancy, for instance Komail Aijazuddin and the late Asim Butt.

My favourite, Sadequain's masterful skill is most prominently displayed in 'Aerodynamics of a Skyscape,' that I can recall from The Holy Sinner retrospective held at the Mohatta Palace Museum in Karachi about a decade ago. Most rare and sought after are his five Zain al Abideen's, the largest Ahmed Parvaiz, and Amrita Sher-Gil that is yet harder to acquire. He even has a sensational Damien Hirst tucked away amongst his treasures!

The collection does not end here. There are some three hundred stone Buddha sculptures; up to five hundred pieces of museum quality textiles including exquisite shawls; beautiful antique furniture; decorative art and sculptures made of ivory, wood and ceramic; historical woodwork from Southern Punjab, East Bengal and the Indus Valley; between two and three thousand hand-coloured, tinted 19th century prints; lush carpets such as Persian rugs, Turkmen and Bukharas; Nusserwanjee tiles; and the list goes on longer than I had ever imagined.

The room we started off with and also happened to end our tour in, contains anywhere between thirty to forty thousand books mostly on art and history. The long term goal is to set up the largest museum and research centre in South Asia, in Karachi, with the entire collection along with other major private collectors who agree to collaborate. Hameed Haroon believes that 'if you cannot see your past then you cannot see your future,' and it is the youth of this country whom he loves to work with the most because they are eager to learn and are motivated to improve our collective future.

The library was designed by architect Hanif Daud of ICON and received the prestigious IAP "Award for Excellence in Architectural Design 2005" for interiors. It is indeed a phenomenal interior that not only houses thousands of books, but also rare collectors items, volumes of photography albums, most notably by Karachi based photojournalist Arif Mahmood, print folios and huge coffee table books. The antique and commissioned furniture, stained glass windows and even the Chakwal haweli doors are all stunning pieces and works of art in themselves. One example of the magnitude and diversity of the collection is a mahogany Sri Lankan plantation chair that sits permanently in the corner. It was once part of the famous, late Indian Director Ismail Merchant's collection and was acquired through Christie's. Also in the same room is a prized Bombay Coronation Chair.

The Red Baron refers to his own collection as 'eclectic' and believes in addressing himself where nobody else is. This makes his trajectory unique and also ensures that there is very little conflict with others. He believes that 'the only custodians of cultural rights are the people' and that doing justice to your own views is exceedingly important.

I could have spent months going through his 'mosaic' that was full of unexpected surprises like the shell collection, mostly from the Indian and Pacific Oceans, collected from India, the Philippines and Columbia. His idea was to compile a representational assortment of shells from the region. I sincerely hope that I am able to spend more time at Seafield in the near future so that I can retain more and research far more than I was able to in that one trip. Many more dimensions are yet to be explored and traversed!

Click to view picture gallery
RELATED STORIES:
You may also like: