VESSELS: Alice Federico's Work at George Billis Gallery
Written by: Shahida JJ - Posted on: May 15, 2014 |

Comments
Google Translation: اُردو | 中文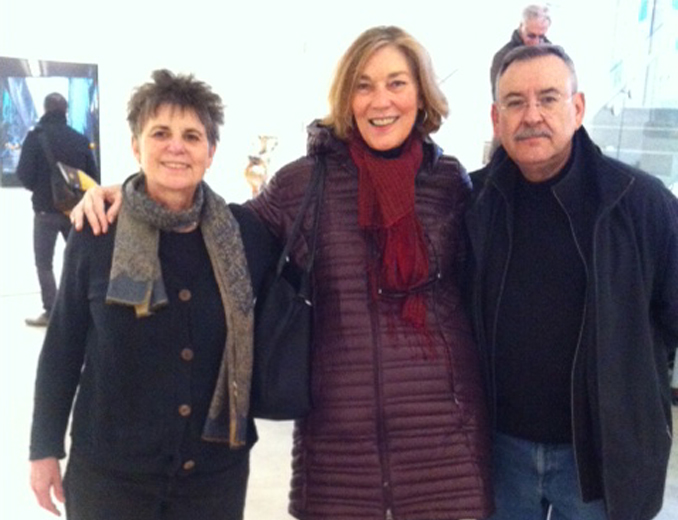 (l-r) Alice Frederico, Carroll Long, and Artist Enrique Romero Santana
NY, NY, USA
March 2014
New York City
Alice is a petit very pleasant woman, a real artist, makeup free face, with greying short cut hair. She works creating artistic pottery, and was exhibiting her new collection, titled VESSELS at The George Billis Gallery, in New York City, Chelsea Arts District. The Gallery features work by both national and international emerging and established artists.
New York City and the East Coast of the US had been ravaged with snow storms and blizzards, with several feet of snow fall daily. We happened to arrive in New York when it had turned PLEASANT, March 12, 2014, but day temperatures were still below freezing and there were piles of snow on road sides. We had to don down filled duffels with hoods, skull caps, gloves and woolen pants to walk around, and our hands froze when we removed gloves to take photos of the city and its people.
Carroll, my American friend came from Washington, and we spent a few days exploring NY City. One of the visits was to a gallery where Carroll's childhood friend Alice - nick named Al - was exhibiting her hand made ceramic creations - VESSELS.
We took the New York underground subway from Midtown Manhattan to Downtown, Chelsea. The area was once known as the "meat packing district" and is now upscale and artsy, where all hip shops, classy restaurants and art galleries are located.
Alice's Bio
Alice Federico was born in Selma, Alabama in 1945. She received a BA degree in History from Hollins University (1967), an MFA in Ceramics from East Carolina University (1977), as well as a BFA from Kansas City Art Institute (1983).
Alice trained first as a historian - "Historical pots have always had an influence on her work. That influence includes Chinese Sung ware, Greek vases, and Italian folk work. But it was researching the crisp forms and simple glazes of English potter Dame Lucie Rie (1902-1990) which gave her hours of pleasure".
Exhibitions
Alice has held over 30 exhibitions in different cities in the US and abroad since 1989, in art galleries and museums, and has also participated in competitions.
Views and comments from different sources about Alice's work
"Federico's work is always anchored in the vase form as thrown on the potter's wheel. Small necks, long shanks, bulbous bellies, are her hallmark. They are derived from historical form. Her surfaces, also, are singular. The dark grainy surfaces of 10 years ago and the bright palate she uses in this exhibit are the result of experimenting with raw materials: talc, feldspar, dolomite…). This exhibit is a rebellion. Color is bright and abstract. Marks barely recall the classic patterns of classic vase decoration. It is as though she is deconstructing the influences she embraced. These pots are alive, instilled with both tradition and vigor."
"Her slender, stately ceramic vases…with wide lips, long necks and feet, and curved, swelling bellies – occupy that realm between functional and sculptural."
– Lance Esplund
"Working in Montana with Japanese-style wood-fired kilns, Federico has produced variations on amphora shapes, some built of several thrown pieces to produce tall vases that bring to mind the figures of haniwa ceramics – and sometimes Noguchi's work in Japan."
– Jed Perl
"It is often said that good sculpture makes you want to run your hands over it. By that gauge, Ms. Federico is a highly refined contemporary sculptor. Her contours are seductive and invite caress."
– Maureen Mullarkey
Alice has received extensive press coverage about her work and exhibits, having been covered by the Wall Street Journal, the New York Sun, the New Republic and Women with a Voice.
2008, The Wall Street Journal
"In Alice Federico's third solo show at George Billis, she continues to explore, and to reinvent, the classical Greek vase form in works roughly 18 inches high. Her slender, stately ceramic vases - brown, cream, green, or gun metal amphorae with wide lips, long necks and feet, and curved, swelling bellies - occupy that realm between functional object and sculpture. In this recent body of work, however, Ms. Federico has incorporated unusual handles. Sometimes decorative, sometimes practical, the handles give lift, haughtiness, personality and pomp-and-circumstance to her graceful hourglass forms. The handles take on a range of associations. Many are symmetrical come-hither curves that add hands-on-hips punctuation. Others zip like lightening, pour slowly down the vases' sides, or extend like flying buttresses. Others still, resembling bowties, leaves, cauliflower ears, fluttering ribbons, braids and wings add whimsical notation and Baroque flair - at times elevating or steadying the vases' necks like attending winged putti. Ms. Federico's vases evoke classical antiquity; her handles bring those forms into the here and now."
March 2014, is the Exhibit that we attended and met Alice while she was putting up her art works in the gallery. Later, we walked to an equally artsy Italian restaurant nearby for lunch.
I took all the photos of the Vessels as well as Alice arranging her work in the George Billis Gallery.
All images provided by the author
You may also like: