WALKING IN TUSCANY
Written by: Amna and Yaver - Posted on: July 15, 2013 |

Comments
Google Translation: اُردو | 中文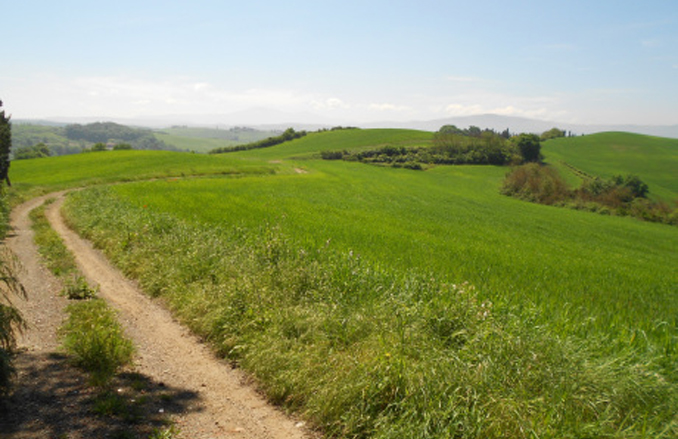 A view from the ridge
So much has been written and photographed about the Tuscan countryside that it is hard to do it justice without descending into cliche or hyperbole. There is a castle or small town on every hilltop, vineyards with accompanying olive groves on most hillsides, pink-walled and red roofed farms and villas set on small rises with long approaches clearly picked out with plane trees and lush green (in spring) wheat fields across the rolling countryside.
I suppose the joy of walking through this country lies in following quiet country roads, hearing the birds and the buzz of farm equipment and enjoying the displays of wild flowers. You get to see and smell the fields of wheat, clover and lucerne. It is striking that the Tuscan countryside has almost no livestock, it is all under cultivation, so we didn't see or hear any cows or sheep. In fact this explains the absence of trees and hedgerows in the fields – something that changes once you get into Lazio. Tuscan fields are unbroken, a continuous ocean of green (and later in the year, gold).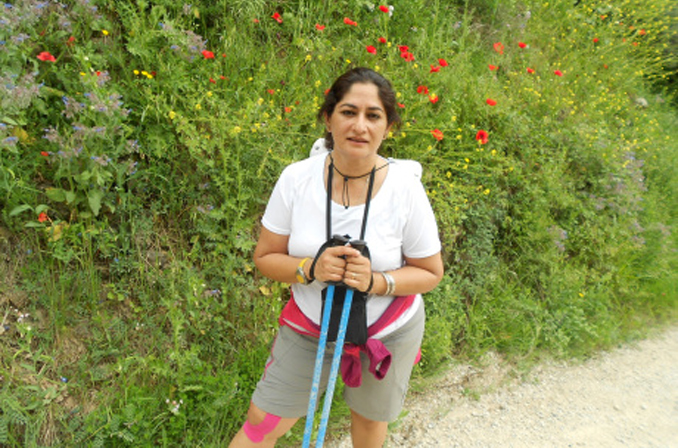 Much of the Via Francigena lies on gravelled back roads and forest paths where you are at one with the countryside. Many sections run on ridges and hillsides giving bird's eye views from horizon to horizon that cannot be captured from roads and railways that run along valley bottoms. Of course the price to be paid is in huffing and puffing up hill with a heavy backpack on your back. But once you are there and the Tuscan sun is shining in the mild heat of a May Day there is a real sense of exhilaration – sometimes it felt that we could walk for ever without stopping. Walking a narrow ridge near Montepulciano, with the town glistening on top of the hill and and the gentle slopes of the two valleys on either side chequered with vineyards and groves is an unforgettable experience.
We also did a 11 km walk from San Quirico di Orcia to Bagno Vignoni involving a lot of climbing and descending. We walked through the tiny fortified hamlet of Vignoni, perhaps 10 dwellings within walls, and visited the thermal baths ofBagno Vignoni, known since Roman times but developed by the Medici into a perfect village square with a large pool filled by the thermal springs in the middle. Across the way was Castiglione d'Orcia, a picture-perfect castle and village.
Looking out across the valley of the Orcia river on the way back, we were struck by the perfect beauty of the gently rolling hills forming the base of the wide valley of the Orcia. In May the tree-less fields look like an ocean of green waves. With no roads or modern buildings in sight, the occasional villa set on little hills with a plane tree driveway looks unchanged from Roman times. It was beautiful, and impossible to capture in a photograph – you'll just have to imagine it!
RELATED STORIES:
You may also like: