A VISION FOR PAKISTAN
Written by: Eeman Amjad - Posted on: November 19, 2013 |

Comments | 中国 (Chinese)
Google Translation: اُردو | 中文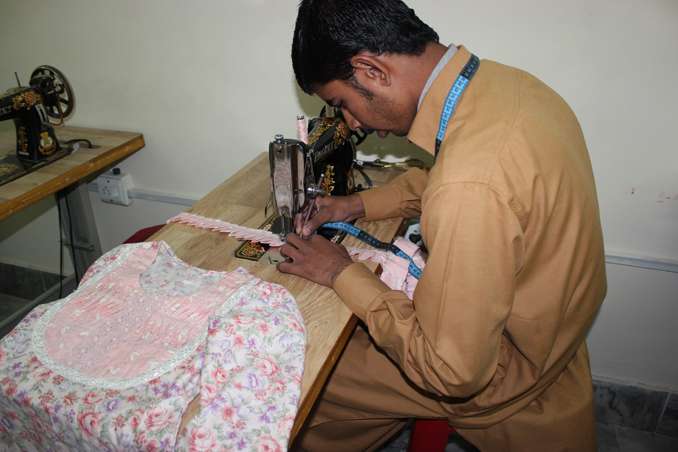 I walked up a narrow dark staircase, in a building thirty minutes outside of Islamabad. The filthy roads outside contrasted with the immaculately clean floors and fresh look of the third floor of the building. From the hall you could hear the sound of sewing machines twirling, the sharp clicks of scissors and low whispers. This was the Institute of Dress Technologies initiated by a trust called Vision Pakistan, a vocational training center based on the philosophy that everyone needs kapra (cloth) for self-sustenance.
Having attended their graduation ceremony, it was hard not to see the talent and jubilation amongst the young boys, who celebrated by dancing, acting, mimicking. A young boy, perhaps a bit older than twenty orated his own poem on his home in Swat. The last piece to the day was the happy cry of success, as the photographer clicked for a photo of the graduating class. Clasped in their hand was the invaluable piece of paper that promised them a future.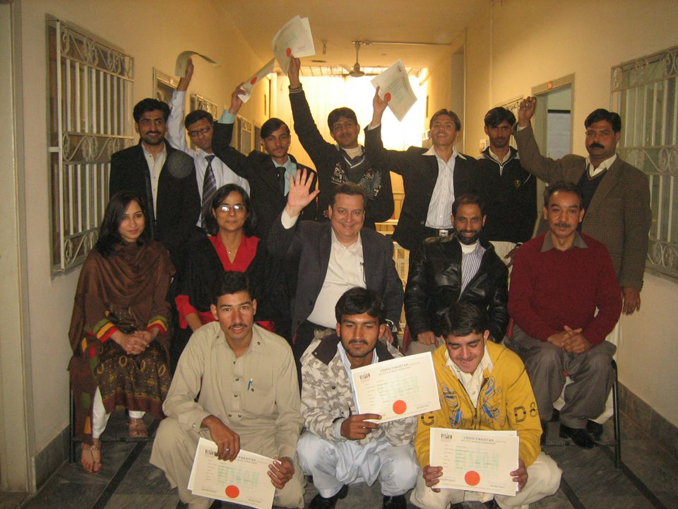 Graduation Ceremony
It was in 2007, when Rushda Qurashi, an educationist and businesswoman decided, "If I have to live in this country, I have to do something to help the underprivileged". She knew exactly who she wanted to target: "I had had this realization that if you were a man beyond a certain age and you don't have any skill or education, you are doomed." She started with a cooking course for the aimless and idle boys in her street; unfortunately, due to personal reasons she and her husband were unable to continue the course the next year. The next stage was then providing scholarships for boys to enroll in governmental technical courses such as mechanics or auto-repair. They subsidized education for 275 boys for different courses of different durations for nearly two to three years. She and her team, consisting of Ghulam Abbass and Mohammad Ansar, kept track of around 100 boys, calling them every month to inquire about their prospects after their training. They found that 52 per cent were unable to get jobs in the industries. Part of the problem was that during the course,the boys had never been exposed to what working in the actual industry would be like; also, the books in their curriculum were dated back to 1970s and 1980s. The problem she sensed in these technical training institutes was a lack of desire to innovate; they had no challenges to meet, just a formality that needed to be completed.
"I wanted to do something myself", but first she had to follow her instinct regarding the potential for providing technical training for male tailors. She enlisted the help of three students, Sarah Qurashi, Nyma Khan and Sameea Butt, to conduct a survey. They interviewed fifty tailors investigating the potential, the market and the feasibility. "It is a piece of art, that study", Mrs. Qurashi beams with pride. "I sent it to all the major vocational training institutes". After the initial feasibility report, they felt ready to begin.

There were various challenges heading forward, no institute had designed a standardized syllabus. The brainchild behind the creation of a unified syllabus was a fashion design student from Britain, Munazza. She left her teaching position at Lok Virsa, bringing along her former student Rabea to help design a course. There was also the problem of boys not wanting to enroll for the whole year nor did they want to turn away any boy who was eager to join, even if the semester was mid-way through. Hence, they devised a curriculum divided into two levels, junior and senior level, each for three months. It would be a rotating curriculum; the levels would be divided into six and eight modules. Each module would only be two weeks long; meaning each topic would take two weeks, after which the boys would take their examination to transition to the next module. This allowed each boy to progress at their own speed and identify their own strengths and weaknesses. After graduating from the two levels, students go on to work in the production lab, where they deal with actual customers.
However, before they learn to stitch a pair of pants and a shirt they learn how to look after their environment and resources.They spend the first half hour cleaning. A neat and organized chart is made for every batch and each boy has a cleaning responsibility; after every half hour in class, two boys get up to clean the room. To avoid any confusion, arguments or bitter feeling, another organized chart is made for both sections. Part of their curriculum is learning Urdu and Math, along with gender sensitivity and life skill classes to help expand their critical thinking skills and help them deal with any emotional pressure or stress. The Vision is to help the forgotten and neglected boys (over 16 years of age), the ones whose families believe have no future and the ones the system has discarded; the aim is to remind them they too can have a vision and future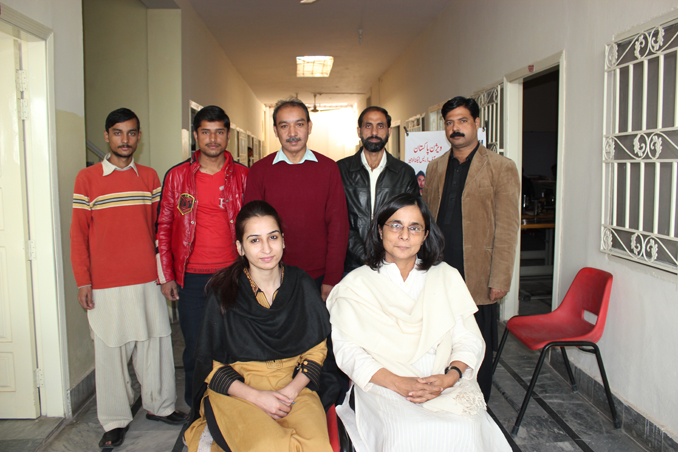 The Moving Spirits behind Vision Pakistan
"My heart is here now," professes Mrs. Qurashi. "I trust my team, we are dedicated and determined, honest with noble intentions. We all had a dream. We were scared to take the first step, but then we did, we decided to jump and hoped everything else would follow", and it did. With every graduating student settling for a job no less than 20,000 to 30,000, the only thing the Institute needs are customers to help subsidize its costs and more young men to enroll. Rushda Qurashi is a woman of empathy and determination, and reminds all of us that all we need is a dream and if we jump right into it, we too can be a part of a better Vision for Pakistan.
To learn more about Vision Pakistan and how to contribute, like their Facebook page. https://www.facebook.com/VPIDT?fref=ts
You may also like: