Al Shifa Trust: Giving Light to a Nation Part I
Written by: Eeman Amjad - Posted on: March 10, 2013 |

Comments | 中国 (Chinese)
Google Translation: اُردو | 中文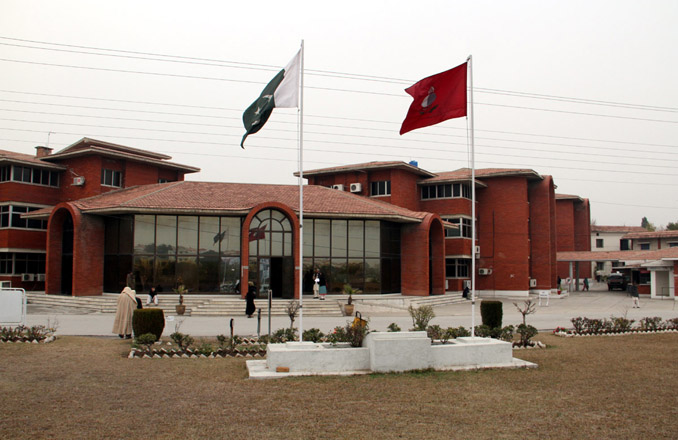 Al Shifa eye hospital
A green flag with the print of a star and crescent blew softly against the wind. The flag of the nation was reflected in the windows of a red brick building across the pavement. Not reflected in them were the dreams and hopes of the people inside. A child lay with a white patch on his eye, a woman rested under a red blanket and hundreds from all over the country filtered into the building, their collective desires wrapped up in the vision of the late Lt General Jahandad Khan. The red brick structure represents hope itself; a dream to give light to an entire nation.

The Al Shifa Trust was established in 1985. After the late Lt General Jahandad Khan retired from thirty-three years of service in the Pakistan Army, he wanted to do something for his country, and continue serving it even after he had removed his uniform. The Potohar region where he had been raised was littered with cases of eye problems, most of those affected being children.He was moved by the impact of blindness in his society. Blindness impacts individuals in more ways than just affecting their ability to visually comprehend the world around them. Many of them fall victim to the role of a social pariah in society; most are unable to provide for their families and themselves; even their risk of fatality becomes greater. It is interesting to note that the first eye hospital had been built hundreds of years ago in Taxila, but public attention to this issue had waned dangerously in recent years. What Lt Gen Jahandad envisioned with the Al Shifa Trust was an institute that would not only prevent this disability from harming individuals, but would also prevent it from endangering an entire nation. It was to be his greatest humanitarian fight.

In Pakistan, most people go blind because of a preventable cause like cataracts, something that, in more developed countries, is easily prevented because of ready access to surgery. The first function of the Trust was setting up a cataract unit, the first of its kind in the country. The response in the form of donations was overwhelming. Philanthropists across Pakistan, individuals and organizations alike, supported the cause generously and helped it grow from a simple cataract unit to a Trust with four eye hospitals that has treated around half a million people to date, seventy percent of whom receive free eye treatment and care.

So generous was the support from Pakistani citizens, that within a few years, the Trust was able to set up its own supply of human resource in the form of the Pakistan Institute of Ophthalmology (PIO). The PIO would go on to form the backbone of the hospital. Since its establishment, it has trained over 200 doctors and 800 paramedics. Currently there are Al Shifa ophthalmologists working all around the country and across the world.

RELATED STORIES:
You may also like: