Charity Begins at Home: Dr. Azhar Mahmood Kayani and ARWT
Written by: Sarah Khan - Posted on: July 01, 2014 |

Comments
Google Translation: اُردو | 中文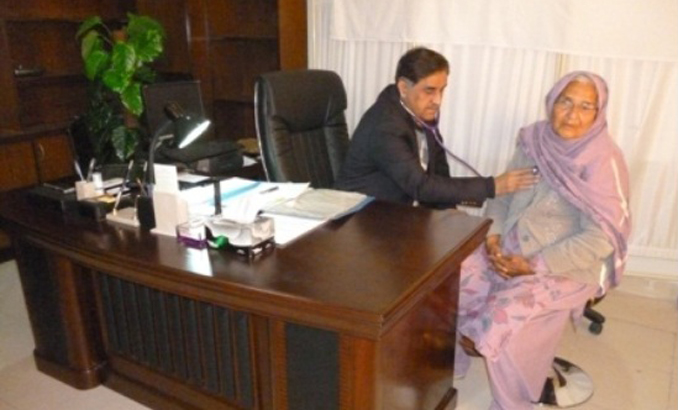 At the clinic
Confucius once said that the first step in putting the world in order is to set one's heart right. Good deeds emanating from a noble heart can transform the world in ways no revolution can. Dr. Azhar Kayani is one such noble heart, who translated the concern for his community into concrete action and established the Abdul-Razzaq Welfare Trust to support the disadvantaged in and around his hometown of Badlot, near Jhelum.
Dr. Azhar Mahmood Kayani
Dr. Kayani had his early schooling from Jhelum and received his MBBS degree from King Edward Medical College Lahore in 1979. He did his specializations in cardiology from the UK and the USA. Later, he received a job offer from Canada but decided to stay back and serve in the army, retiring as a Major General in 2012 after a successful 30 year long career. He has served at various important posts, including the Personal Physician to the Prime Minister and the President, the Director General Medicine for the Army Medical Corps, and the Commandant Armed Forces Institute of Cardiology. Currently, he is the Executive Director at the Rawalpindi Institute of Cardiology.
His dream of founding a welfare trust dates back to the very time when he decided to become a doctor. Even after all the professional success, he wanted to remain in touch with his community, stay connected to his roots, and serve the needy. Every weekend, as a young doctor full of energy and conviction, he would visit his village to conduct a free weekly clinic for the poor. He had to seek official permission to continue with this clinic regularly without fail. With his tireless efforts, this makeshift arrangement gradually evolved into a full-fledged hospital with advanced facilities such as an emergency lab, an X-ray department etc. Soon, the facility of angiography will also be introduced as Dr. Hasnat Khan, along with his UK team, is all set to join this hospital as a cardiac surgeon.
ARWT is a multi-faceted social welfare organization which has been doing incredible work in the fields of healthcare, education, income support, and even sports. Patients from as far as Khuzdar and Jacobabad travel all the way to Jhelum to see Dr. Kayani, where they get good-quality treatment, free guidance, and subsidized medicines. The hospital also runs a state of the art ambulance service, one of the best the country has, with the most advanced gadgetry and equipment for effective transportation of patients to the hospital.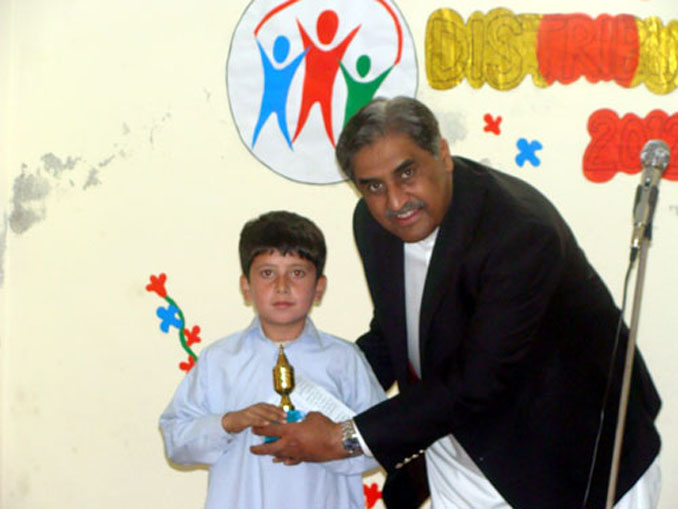 At school prize-distribution ceremony
Maj Gen (R) Dr. Kayani has also passed on his philanthropic values to his children who assist him a great deal in managing trust's operations. ARWT runs a school system, either free or at concessional fee, for the poor children with the aim that nobody remains deprived of education. Additionally, it also offers scholarships to bright but under-privileged boys and girls to fund their further studies. ARWT also provides income support to families who have lost a breadwinner, in terms of financial assistance as well as provision of monthly ration. With a view towards enhancing their employability and self-sustainability, poor women and youth are also given different types of vocational training.
ARWT takes special pride in its sports venture, which aims to constructively channel the energies of the youth and prevent them from the hazards of drugs and violence. Thus, promotion of sports gels in with ARWT's overall vision of social welfare. It arranges and funds cricket, football and volleyball tournaments. Last year, ARWT organized and fully funded one of the biggest football tournaments of the country in which the Pakistan Football Federation, as well as more than 500 players, participated.
We asked Dr. Kayani as to what drove him to take all these commendable initiatives to give back to his community. He shared with us that he has always been motivated to serve his own people because he spent his childhood in that village and can relate to the problems of those people. "I always try to put myself in their shoes to realize how helpless and frustrated you can feel when you have no money and no resources." Such empathy is enough to keep his conviction alive. Dr. Kayani highlights that people in the villages live a very difficult life where they have to undergo great travails in order to get little things done. The community needs security, moral support, and the feeling that someone feels a sense of ownership towards them, he opines; and his trust is doing exactly all of that and much more. Therefore, ARWT has been effective in terms of engaging the community and providing them with a focal person that they can direct their issues to. The response to his healthcare services has remained particularly substantial, as people deem it a great blessing to have medical aid and such specialized advice available almost right at their doorstep.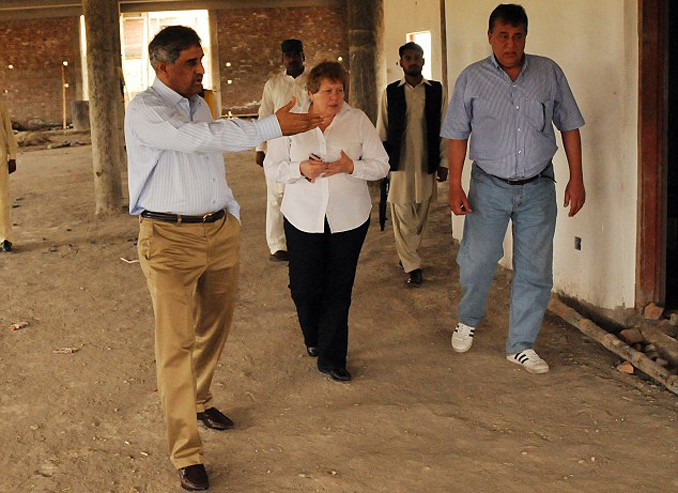 With Dr. Hasnat Khan
Dr. Kayani named this trust after his father, a school teacher by profession, because of his father's substantial contribution in his upbringing; he always guided him towards being not only be a successful person, but also a good human being. This selfless initiative has been a way of Dr. Kayani to try to repay his father in the form of people's prayers, as he tells us.
Incredible generosity: Although ARWT receives some donations, but over 70% of the expenses of the trust, including educational scholarships and income support packages, are met by Dr. Kayani himself. More than just that, he also supports 60 to 100 families in terms of monthly rations as well as clothes and presents for special occasions such as Eid.
We asked Dr. Kayani if he believes the government is doing enough to support philanthropy, to which he responded in the negative. He stated that he had started this project independently owing to apprehensions that progress would be delayed if government support were to become the determining factor in moving ahead, and he did not want to lose any time.
Dr. Kayani's advice to the young people who aspire to make a difference: "If you want to serve humanity, you need to look no further. Just go back to your own villages and help your community. Do anything for them that you can possibly do; even something as small as a word of counsel will make a huge change in their lives."
To help Dr. Kayani in this noble cause, we can all donate to his trust in either monetary or material (rations, equipment for instance) terms.
Please find the bank account details below for making the donation through a bank transfer:
| | |
| --- | --- |
| Title of Account: | Abdul Razzaq Welfare Trust |
| Account Number: | 0801-02000001606 |
| Bank Name: | Meezan Bank |
| Branch: | Bank Road Branch, Rawalpindi |
| Branch Code: | 0801 |
| Swift Code: | MEZNPKKA |
| Website | |
You may also like: