NO ORDINARY MORTAL
Written by: Adeel Wahid - Posted on: December 31, 2013 |

Comments | 中国 (Chinese)
Google Translation: اُردو | 中文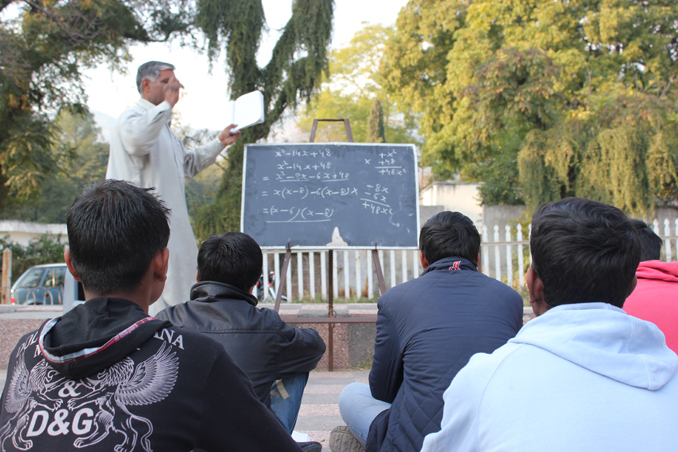 Master Ayub taking the math class
I went to the park in F-6 in search of an angel named Master Ayub, but the person I met there was a mere mortal.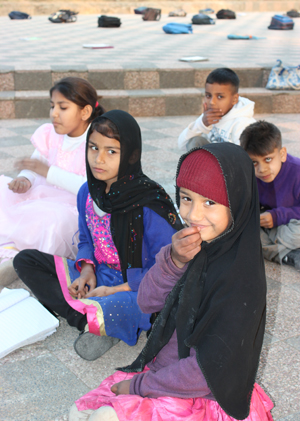 A young student shying away from the camera
As I sat there waiting for him to come, the children were engaged in cleaning the cemented floor on which they sit and take lessons every day. With the arrival of Master Ayub, they positioned themselves in rows and columns, standing in pin drop silence. I was taken by surprise when Master Ayub suddenly thundered, "Who took away my possessions yesterday? They were lying on the edge of the park." He explained to me that the files contained important documents and replacing them would take a lot of time and hassle.
In time, the lessons began. The children formed eight groups of six to seven children each, and sat in semi circles around their respective teachers. This informal setting, said Master, has produced a large number of students who have eventually gone on to become doctors, engineers and professors. While I could not be sure of the veracity of the claim, I did observe that many of the teaching assistants had once been students of his that he had taught in that very spot, and who have eventually gone on to become government servants or are currently enrolled in higher educational programs.
As I conversed with him and observed him during class, I felt I was looking at a man of contrasts. Subtle marketing does not appear to be his strongest forte. For instance, I asked him about his work and received a number of clichés: love for humanity, children, and Pakistan. He told me about the number of occasions he had donated blood and would occasionally call over a student to testify to the fact. You couldn't deny what the man was doing for society and that his passion was genuine, but hearing it being recounted in that manner made it feel too pat and rehearsed.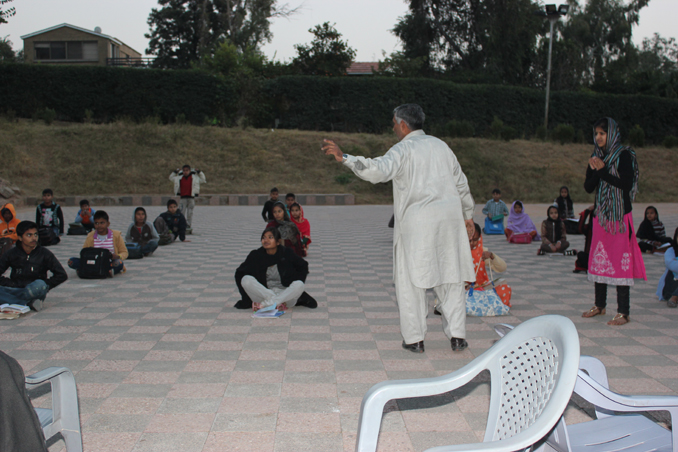 Master Ayub addressing the assembly
But then I talked to his students, and saw a different side as well, and the twinges of skepticism began giving way to admiration. Mortal, he may be indeed but no ordinary mortal. The reverence that I saw in the eyes of his former students and the genuine appreciation, with which their words were laden, showed me the extent to which lives can be transformed with help from even a single individual.
Zahid Habib, a salesman in a bookshop, was spotted by Master Ayub when the latter had gone to purchase books for his school children. Zahid had had only primary schooling, but understood that education was the only way through which he could do something worthwhile in life. Financial constraints, however, meant that he had had to make an earning in order to sustain his family. Master Ayub's school was ideal for Zahid, since he could work in the morning and attend school in the evening. Zahid told me that at night he would sleep very little since he spent a lot of time with his books, working hard in order to benefit from the opportunity given to him. He went on to do not only his matriculation and intermediate, but also a BA from Allama Iqbal Open University. He has already applied for a Master's program in Islamic Studies. His education and Master Ayub's reference eventually secured him a position in Emergency and Disaster Management (E&DM) in the Capital Development Authority (CDA), where Master Ayub himself works. A similar story is that of Muhammad Rukhsar, who used to work as a day laborer when Master Ayub gave him an opportunity that changed his life. He is also now employed by the CDA, having once sat on the floor with beaming eyes and huge dreams in front of Master Ayub.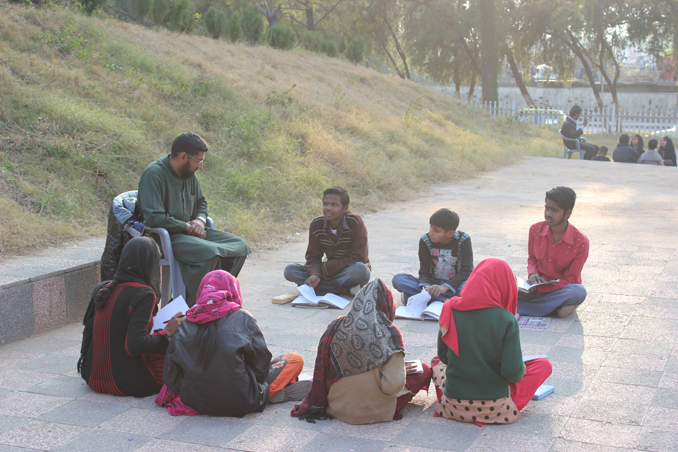 Zahid Habib - from a shop keeper to a teacher
Zahid Habib distinctly remembers an incident during his time as a student under Master Ayub, which has compelled him to take an oath of loyalty to the man. During his intermediate examinations Zahid fell ill, and with failing health, his motivation to do well at the exams fell as well. Zahid Habib remembers the effort that Master Ayub undertook in convincing him to sit for the exam. Master waited outside the hall the entire time his student sat inside taking the exam. And there were other similar stories to be heard.
Master Ayub was the eldest brother of orphaned siblings, when he made his way to Islamabad in search of a job from Mandi Bahauddin (located in upper Punjab) back in 1975. Driven by concern for his four brothers and three sisters, and their educational needs, he had to start work as a Civil Defense Razakar, initially without any salary. Subsequently, after having completed various courses, he finally started to make money to be sent back home. He now holds a position of importance in the fire department of the CDA, supervising around fifty to sixty individuals. For Master Ayub, personal success was not all that he sought. From the very beginning he longed to do more. That longing began to be fulfilled when he convinced two street boys who were picking garbage from dustbins to study under him. This was back in 1982. The rest is history.
Every evening now, as you drive by the park opposite the katchi abbadi (slums) in the F-6 sector, you see the whole park full of children sitting with their teachers, avid faces seeping in the knowledge their teachers have to give to them. Many a times, this informal school's operations have been disrupted by the police, but the late Ahmed Faraz, outside whose house the park is located, always intervened to make sure the school remained operational. Financial assistance for the school, children's books and stationary have all come from various sources but never at an institutionalized level. The school remains unsheltered and at the mercy of the whims of nature; children have to sit on the icy floor in winters. When it rains, they pack and move to a two bedroom house in the katchi abbadi, under a patched roof. The children complain because of the lack of drinking water at or near the site where they study.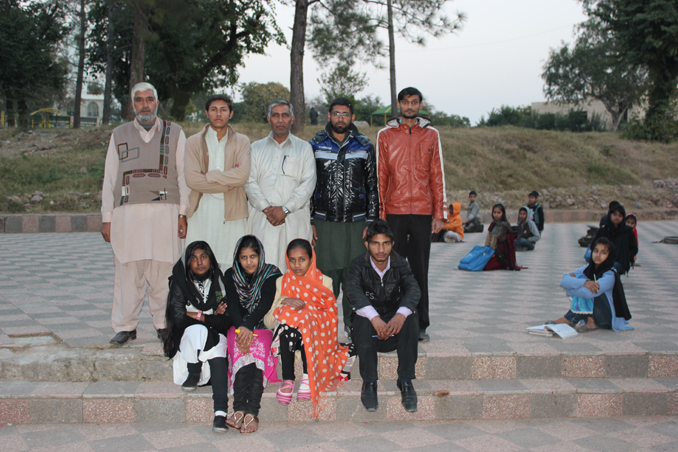 The team of Master Ayub spreading the fire of education
The colossal houses amidst which this park is located provide a satirical juxtaposition of haves and have-nots. People in Pakistan complain a million about the state of affairs, about illiteracy, about the uneducated masses keeping them behind, but it is seldom that they would do anything other than criticizing over tea and pastry in their drawing rooms. Master Ayub is someone who is showing us how it should be done. With lack of resources and even an adequate education, this man has created a platform for the poorest segment of the society to empower themselves with the help of education, while the rest of us casually bemoan our fate.
It was to a mortal that the angels bowed down after all.
You may also like: