Parveen Saeed: Feeding the Hungry of Karachi
Written by: Shahzeb Ahmed - Posted on: April 07, 2014 |

Comments | 中国 (Chinese)
Google Translation: اُردو | 中文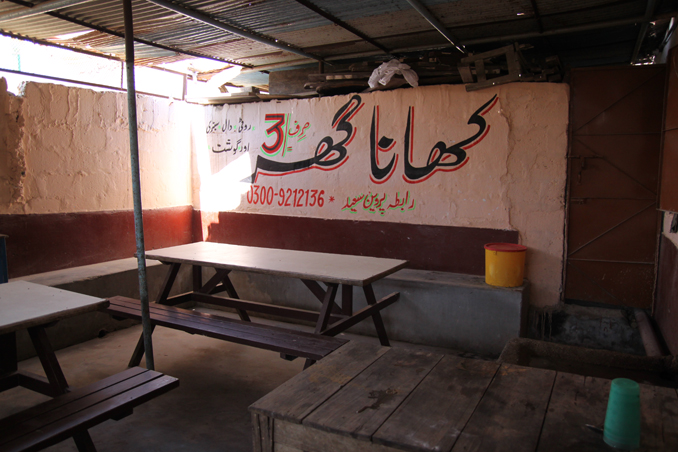 For Parveen Saeed, hunger is the root of all problems. "People commit suicide because of hunger," she says sadly. "They get involved in street crimes and start using narcotic substances to absolve themselves of the responsibility of feeding their families."
Fourteen years ago, when she heard that a woman had killed her children because she did not have the means to feed them, her grief gave way to a new passion. She vowed to feed as many mouths as she could so that no other person would have to go through the same ordeal.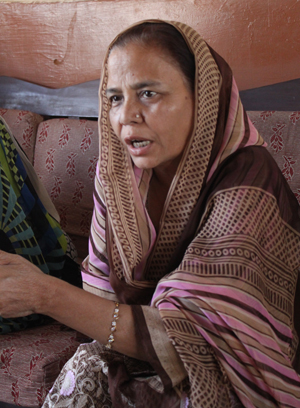 Parveen Saeed
Fourteen years on, as she sits in an old armchair to relate what her life has been since. Her voice trembles with emotion. Dressed in a simple shalwar kameez with a dupatta on her head, it is evident that age has taken a toll on her health. She speaks in a low voice, her words barely audible over the constant hum of a generator.
For Saeed, the journey from operating a small kitchen in her home, feeding about a dozen neighbouring families, to operating a charity organisation called Khana Ghar, the journey has been a long and arduous one. Khana Ghar currently feeds over 3,000 families in Khuda ki Basti and its adjoining areas, six days a week. Each meal costs Rs. 3 at the kitchen. "We charge Rs. 3 so people do not feel it is charity," she explains. "The biggest thing for a human being is their self-respect. When people feel they are paying for the food, no matter how small the amount, it does not feel so shameful."
The kitchen itself is located at a two-minute drive through narrow unpaved lanes, from the main road. The armchair she waves to me to sit on is placed in a middle-room between the kitchen and the dining room, a door on right leading towards the latter where long tables with attached benches are laid out. A delicious aroma of spices emanates from the outdoor kitchen to the left where two men are at work. One of them is making the special rotis and the other serves the freshly-prepared lentil curry. The meals vary between vegetables and lentils on alternate days, while meat is served on Sundays and special holidays like Eid. It is lunch time and women and children have started queuing up for the afternoon meal.

Resdients queued up outside the kitchen
The organisation works within the community and helps its residents in any way they need – be it financial assistance for funeral arrangements or books for school children.
Initially when Saeed started out, she and her husband managed to put up enough funds to feed the handful of families living in the area. For the first two years, she would prepare the meals at home and distribute them among the neighbouring households. "My husband gave half of his income towards the meals. He has been the rock behind me, supporting me every step of the way," she says.
Over time, with more mouths to feed, Saeed's charitable deeds gained popularity and donations from both local philanthropists and international donors started trickling in. "We were only able to do so much on our own. But then people started sending us money and we were able to expand and feed even more people than before." The running of the kitchen has not been easy though. "When I started out, 80 kilogrammes of wheat was priced at Rs. 450. Now, it costs Rs. 2,100 for 50 kgs. The price of lentils has also increased ten-fold."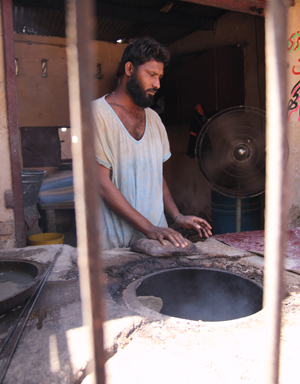 Preparing roti at kitchen tandoor
Khuda ki Basti, the area that she primarily runs her organisation in, has seen a stark transformation over the last few years, she tells me. Hardly about a decade or so ago, there was little sign of life in the neighbourhood. At the time, there was no gas, electricity or even water available to the residents. The area itself was home to a handful of families. Over the years, however, the community has expanded as more and more people settled on the available land. Khuda ki Basti now largely comprises single-storey brick houses, most of which have been built by the residents themselves.
This expansion, however, has come at a cost. Land-grabbers, under the aegis of major political parties, have tried to enforce their control over the area. This has led to a surge in crime and the once-peaceful community is now torn by strife. Indeed, the one thing that stood out among all the poverty and haphazard building structures in the area were the larger-than-life billboards of various political parties.
Over the last decade, Saeed had expanded her operations to six kitchens in the area, but now she has only one left, with a vehicle transporting the meals to three other pick-up points. An inquiry into the reason behind their closure is met with an eerie silence for the next few seconds as she stares into space as if trying to decide whether to tell the truth. "Let's just say I don't come to the kitchen anymore because of security reasons," she concludes.
This does not, in any way, mean that Saeed has given up. Rather, her resolve has grown stronger over the years. "I have lived among these people and know their problems. The government only sees these areas as slums," she laments. "What we must understand is that a hungry stomach does not have the capacity to think. The government shows us big dreams about mega-projects. I want to ask these politicians if they have ever experienced hunger-pangs. If they know what it feels like to see your children cry out of hunger?"
Saeed feels there is still a long way to go. But for her, "The look of joy on a child's face when he gets new clothes in Ramazan is what makes it worth it." She plans to open a Khana Ghar in every slum area in the city.
Photographer: Tooba Masood
You may also like: