OF TEACHING AND LEARNING IN THE LAND OF THE PURE PART II
Written by: Aiza Azam - Posted on: May 16, 2013 |

Comments | 中国 (Chinese)
Google Translation: اُردو | 中文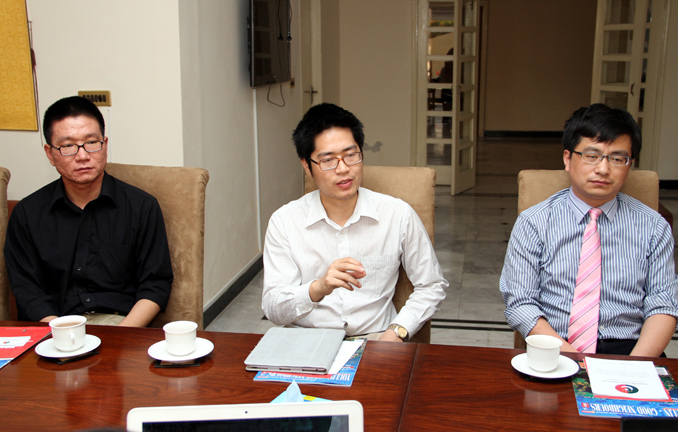 Confucius Institute Team
Keeping in mind the notion that Chinese is often said to be one of the most difficult languages to learn, I ask how their Pakistani students take to it. Zhang Haiwei tells that that is in fact one of the most common reasons why young students want to learn Chinese - because it's considered such a challenge. But there are other reasons as well, the usual suspects: as a prelude to studying in China, to facilitate business operations, and, for those belonging to the northern areas close to the Chinese border, to avail pertinent work opportunities in their home towns. As for studying it, once they begin, they are able to let go of their preconceived ideas about how Chinese is 'the toughest language in the world' to learn, and then they do quite well. He relates with a teacher's pride, "One of my students, a young lady, has received a scholarship to go to China this summer for further studies."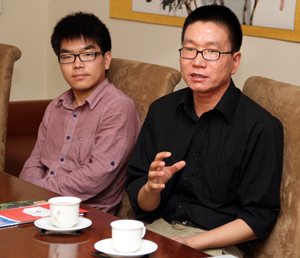 Shen Xinmin and Zhang Haiwai
Most students, he adds, have certain fixed notions about Chinese society and culture, life in China, even their festivals and clothing. But as they continue to study, their understanding improves.
More on their experience of living in Islamabad: anything in particular that they like or dislike about it?
Dr. Zhang: "The people here are very, very kind."
Shen Xinmin: "I'm in love with the beautiful environment. Blue sky and flowers."
Zhang Haiwei: "The warmth and hospitality of the people."
Zhang Tiejun: "I really dislike the power cuts."
There's something I remember that I forgot to ask earlier. Does working in Pakistan contribute towards opening up specific work opportunities?
Zhang Tiejun
One answer is that their records show all teachers who have served in Pakistan have gone on next to good teaching positions in the West. But why? After a slight pause, Zhang Haiwei says quietly, "Well, maybe it's a bonus policy, after living in a difficult country."
Once our collective giggles subside, Dr. Zhang gives the serious explanation. It's because China wants its young people to experience and be open to different cultures, and not just limit themselves to the overkill of Western culture. In this regard, he explains, Pakistan is high on the list of logical choices, not simply for its proximity but also for its excellent relations with China.
That brings us to another vein: what are their views on the Pak-China friendship. Is it all clichéd statements, or do they see the popular image reflected in reality?
Dr. Zhang is emphatic about the fact that it is strongly grounded in reality. "Before I came here, I had several discussions with my colleagues, and I discovered that we all echoed the same idea, that Pakistan is China's strong and steadfast friend; it's the first thing that comes up in all such discussions. This is understood as a fact. And as far as we are concerned, it's not just about words. It is evidenced by the ever-strengthening strategic, cultural, political and economic ties between our countries."
"But," he continues, "I feel that there is not enough being done to promote communication between our people. There is a need to generate more informative exchanges, interpersonal exchanges. We need to begin focusing much more on cultural communication than we have been doing till now."
The others echo his views.
"It's true," says Zhang Tiejun. "Most Chinese people have certain inflexible ideas about Pakistan and its people, and they find it difficult to believe us when we relate something different because they haven't experienced it themselves. Vice versa for Pakistanis."
Dr. Zhang suggests the introduction of cultural products in China from Pakistan, such as Pakistani songs, films and television shows. He cites the example of 'Mera Naam Hai Mohabbat,' which was very well loved in China and still remembered by that generation.
His views speak to you. Cultural exchanges go farther and work much faster, not only in terms of educating people about life across the border, but also in generating interest in learning more. With the rich diversity of all both our countries have to offer, it seems a waste not to expend more effort in this direction.
Could a Pak-China Music Idol or a joint Sino-Pak Film Festival be the answer?
RELATED STORIES:
You may also like: