Make Way for Class! Annual Classic Car Show Comes to the Capital
Written by: Ismail Umar - Posted on: November 20, 2014 |

Comments | 中国 (Chinese)
Google Translation: اُردو | 中文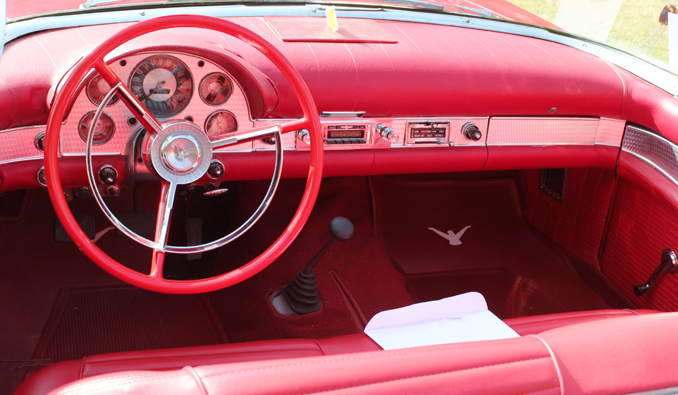 The gorgeous leather interior of the 1957 Ford Thunderbird
The Serena Hotel in Islamabad hosted the Annual Classic Car Show 2014 on Tuesday, organized by the Vintage & Classic Car Club of Pakistan (VCCCP) and attended by a host of car enthusiasts from all over the capital. It was the second show organized by the club in Islamabad, and was part of a series of car shows en route from Karachi to Khyber Pakhtunkhwa.
45 vintage cars spanning almost 100 years were displayed at the show, originating from Italy, Germany, Great Britain and the US. The exhibition boasted household names in car manufacturing such as BMW, Jaguar, Rolls-Royce, Cadillac, Mercedes, Chevrolet, Ford, Buick, British Leyland, Volkswagen; the list goes on and on. The collection included a variety of muscle cars, sports cars, tuners and luxury cars.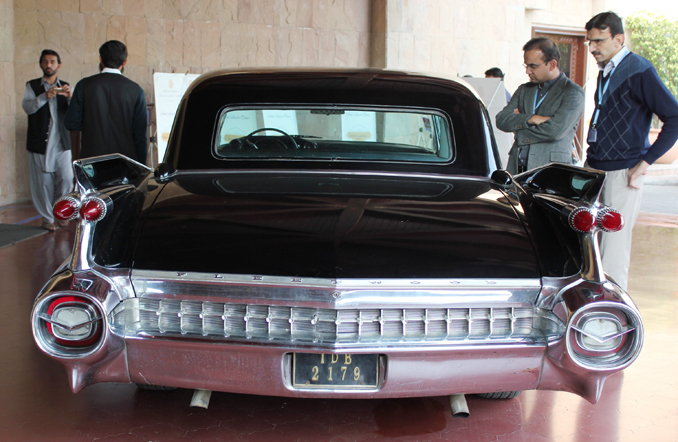 The stunning 1959 Cadillac Fleetwood, owned by President Ayub Khan
Among the most prominent vehicles on display were the 1924 Rolls-Royce Silver Ghost, driven by Quaid-i-Azam Mohammad Ali Jinnah back in 1947, President Ayub Khan's stunning 1959 Cadillac Fleetwood, and the Nawab of Bahawalpur's glinting black 1948 Jaguar, which was driven for Queen Elizabeth and Prince Phillip during their visit to Pakistan. The owners of the vehicles belonged to different areas within the country, and a number of them had driven all the way from Karachi to Islamabad specifically for this exhibition.
Guests at the show included not just aficionados from within the country but also a number of foreign diplomats including the ambassadors of Argentina, Austria, Cuba and South Korea, who lauded the efforts of the VCCCP for promoting a soft image of Pakistan though such initiatives.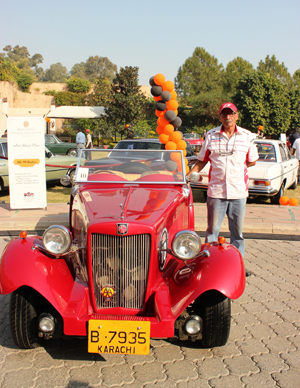 Khalid Aslam with his convertible 1950 MGTD
Youlin interviewed Khalid Aslam, the proud owner of a convertible MGTD 1950, driven all the way from Karachi to Islamabad for the car show. He bought the car about fifteen years ago in a worn-out state, and replicated its missing pieces in fiberglass in order to get it restored to its original condition. The restoration process took him three years.
Aslam commended the efforts of the VCCCP for increasing awareness in the country about the maintenance of vintage cars and providing a platform for car enthusiasts to express and share their passions. "10-15 years ago, only about 10 people in the country owned and appreciated the importance of vintage cars. But today, there are 600-700 owners of vintage cars all over Pakistan who look after their vehicles and keep them in mint condition", said Aslam, attributing this progress to the initiatives of the car club.
The VCCCP, based in Karachi, is the only club of its kind in the country, catering to classic and vintage cars. With every passing year, the car shows are reaching more cities and receiving greater acclaim and coverage. It is hoped that the club will thrive and continue to be appreciated in the country.
Click to view picture gallery
Click to view related video
You may also like: