'Streetwise' - Finding Beauty in Simplicity
Written by: Ismail Umar - Posted on: January 29, 2015 |

Comments | 中国 (Chinese)
Google Translation: اُردو | 中文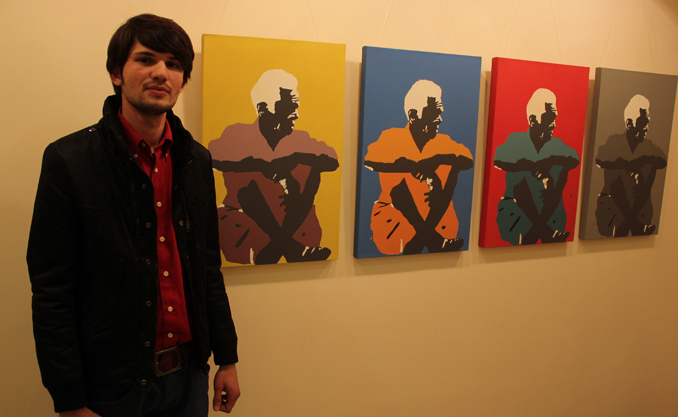 Artist Qadir Jhatial with his paintings
An exhibition of paintings by budding Lahore-based artist Qadir Jhatial opened up at the Khaas Gallery on Tuesday evening. The show was curated by renowned art critic Aasim Akhtar. Titled "Streetwise", the collection features 13 enamel-on-canvas paintings which depict everyday life in urban settings through the use of dynamic images and vibrant colors. The artist, a recent graduate of the National College of Arts (NCA), has already established an identity as a contemporary painter with bold, vibrant artworks. This is the first solo exhibition of his career.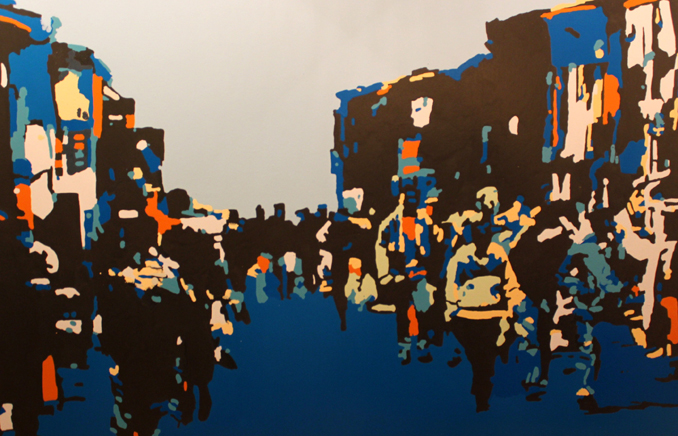 Jhatial seeks to elicit the joys of everyday life and simple interactions in urban settings
Through striking colors and stimulating images that remind one of a tasteful comic book, Jhatial seeks to elicit the bright side of everyday life and simple interactions in urban settings. "You don't really find these colors in nature, but merely see literal perspectives stretching in front of you", the artist comments on his artworks. He incorporates subtle details into his paintings which depict the joys of simple life that are overlooked by most people today. Jhatial acknowledges that his art is uncomplicated. "I want to do away with conceptual art and just paint for the eyes", he says.
Aasim Akhtar, the curator of the show, also comments on Jhatial's paintings: "Complicating image and action, undermining resolution, and willfully imposing bizarre equivalences between successive stages of the painting, Jhatial's representational figures paradoxically ensure that his painted forms can never be anthropomorphic. It is a way of painting, not picturing, real time".
Jhatial's paintings will be on display at the Khaas Gallery till 2nd February, 2015.
Click to view picture gallery
You may also like: