Art for a Cause
Written by: Ayesha Belal - Posted on: March 25, 2014 |

Comments
Google Translation: اُردو | 中文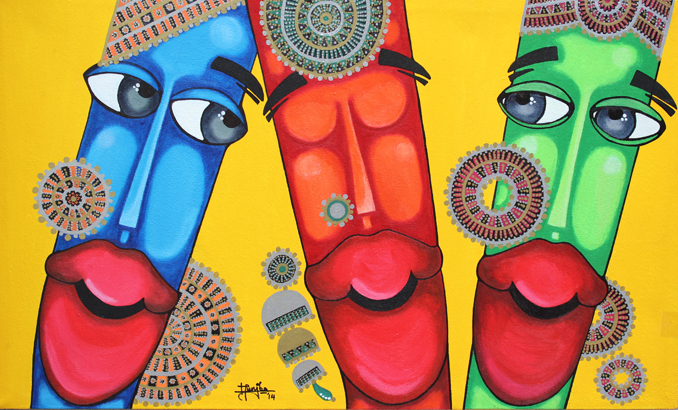 Art for a Cause
MyArtWorld is an online public gallery that serves as a platform for emerging artists. It allows them to showcase their work and connects them with potential buyers. On the occasion of Pakistan Day, MyArtWorld opened its door to art enthusiasts all over the city and beyond for a brilliant art fair in commemoration of this special day.
The title itself speaks eons about the distinctive nature of this exhibition; given the appellation Artistan, it was a befitting tribute to Pakistan's vibrant and diverse culture which is a legacy of this historic day, 23rd March. Showcasing 30 different emerging as well as established artists under its wing, MyArtWorld put up a grand show that was marked by its diversity.
Premised on the historical significance of Pakistan day, the prominent themes of the art work revolved around Pakistan's history, culture and values, and the current scenario, a seemingly hefty package. Contrary to what might be expected, the exhibition was anything but monotonous. This no mean accomplishment must be credited to the artists who, with their conglomeration of sorts, put forth distinct and unusual manners of interpretation of the theme: each artistic creation highlighted the artist's unique trademark in painting (no pun intended) their own picture of historical and current struggles in Pakistan.
Scheduled to open at 12:00 PM, the gallery was only seen beaming with life after noon. The most uplifting aspect of the fair was the diverse population it drew to its doors. The gallery not only had spectators from the local population but also attracted throngs of foreigners who were amused by the colorful Pakistani art on display. The visitors were observed taking long pauses, in silent contemplation, on the paintings that would strike them. Some of the paintings that displayed folk culture, marked by subjects in traditional arrays, sold out like hot cakes.
The CEO of MyArtWorld, Zainab Omer, who was seen beaming with pride on the success of Artistan gave onus to the emerging artists who, in her opinion, are brimming with talent. Artistan was an effort at accentuating the positives of this country by pitching in our shares, particularly by using the powerful language of art. Most importantly, it was absolutely heart-warming to know that, in the true spirit of the Pakistan Day, all the proceeds of this art fair would be donated to the famine-stricken people of Thar.
You may also like: