Yahsir Waheed Unveils the Colors of Spring in Karachi
Written by: Zoha Rizwan - Posted on: Februrary 24, 2015 |

Comments | 中国 (Chinese)
Google Translation: اُردو | 中文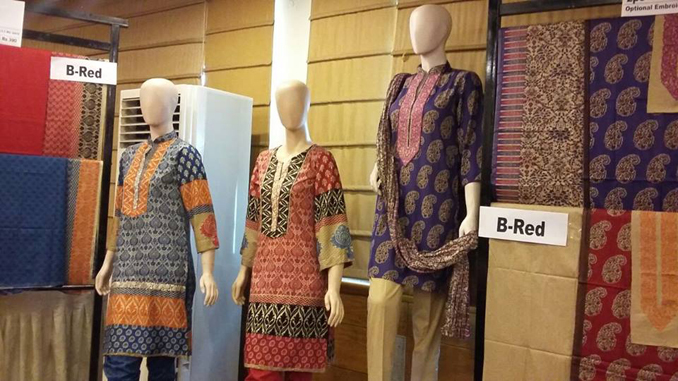 Elegant prints in breezy colors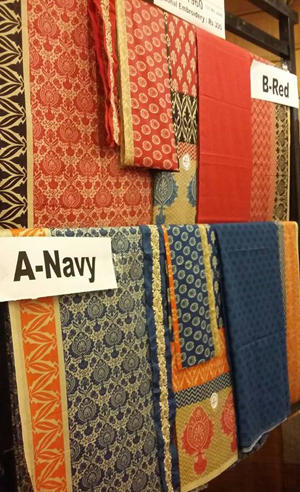 Yahsir's signature block print in vibrant hues
Yahsir Waheed welcomed spring in the city of lights by launching his latest lawn collection at a well-attended exhibition that opened on Saturday, 21st February at Pearl Continental Hotel, Karachi. Popular in the fashion sphere since 1985, Yahsir has also worked as a teacher, and later as Dean at the Pakistan Institute of Fashion Design (PIFD). Hailing from the robust city of Lahore, Yahsir is inspired by designers such as Vivienne Westwood, and like her, is never afraid to experiment with unique designs on the ramp. The same spark of originality was evident in the designer's new collection, and it seems like his dresses will be quite popular amongst the fairer sex this spring.
The exhibit is dominated by breezy, ethereal prints, mainly in hues of blue and black. The lawn is available in one-piece kurtas, two-piece dupatta-shirts and three-piece dupatta suits. Intricately embroidered borders and necks are a noticeable trend in the new collection. The prints are mostly floral, with petite blocks in contrasting color combinations of maroon-black, blue-off white and pink-beige. While only the unstitched suits are available on sale, the stitched samples displayed on mannequins sport knee-length shirts with straight pants, hinting on a much needed transformation in design from lengthier, baggy shirts to shorter ones.
According to the manager at the exhibition, the opening saw more clientele than expected, and the venue had been flooding with customers since morning. Yahsir's prints, with their trendy designs and affordable price range, seemed to attract all age groups, from young teenagers to adults, as well as a variety of social classes.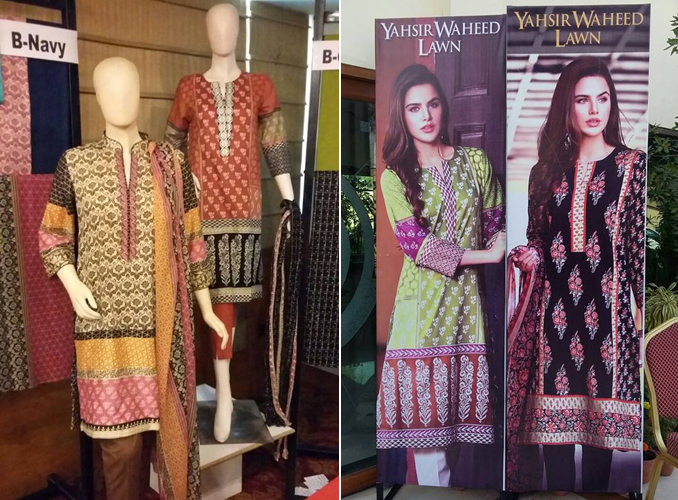 Eye-catching displays at the venue
One of the customers appreciated the quality of the fabric and the simple yet elegant prints, which make Yahsir's lawn a perfect choice for the humid climate of Karachi. Another young lady was enthusiastic about the kurta designs, which can be donned over pants and still give a touch of our rich eastern culture. Such a positive response at the first day of the exhibition showed that Yahsir has already won over a large share of the emerging lawn market by striking the right chords at the onset of spring.
You may also like: