Mubashir Iqbal's Dervishes at Nomad
Written by: Aiza Azam - Posted on: February 08, 2015 |

Comments | 中国 (Chinese)
Google Translation: اُردو | 中文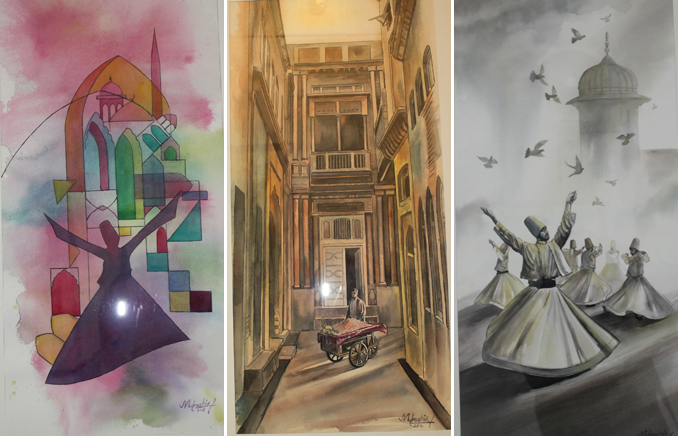 The Nomad Art Gallery is currently showing a solo exhibition by Mubashir Iqbal, featuring two different themes: Turkish Sufism and street life in the old city.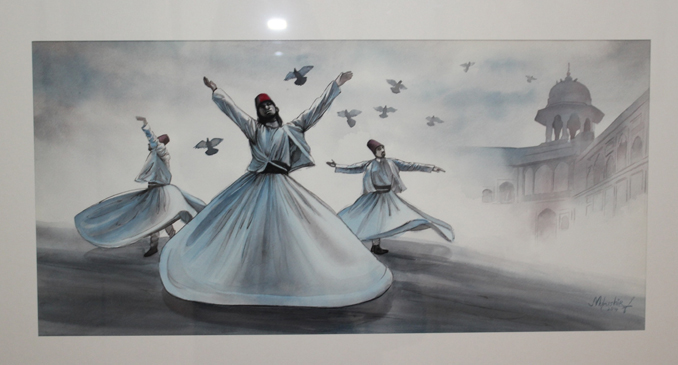 Mubashir uses the whirling dervishes of Turkey as his subject. Channeling the spirit of the Divine, these characters are captured in watercolor. Most of the paintings make use of subdued grayish tones with no more than a hint of colour very subtly woven, and feature pigeons in flight, combining two sacred elements of Turkish culture and mysticism. Iqbal uses blurred lines to emphasize the dervish's movement or the bird's flight; while simultaneously creating an almost hazy visual that produces a calming effect and serves to underscore the complete detachment of the dervishes from the material world as they manifest their craft. The expressions of ecstasy on the face of the dervish, which Iqbal has captured with skill, radiate a surprising intensity from the painting, and practically pull the viewer into the same calm and meditative state of mind. Some of the work also features the solo dervish, his flight of ecstasy captured in a glorious burst of vibrant colour. Nearly all of them show the dancers juxtaposed against familiar ancient Turkish landmarks.
Also on display are Mubashir's renditions of the old city, depicting street life in the subcontinent as it would be caught by a quite passerby: a vendor trudging through empty narrow streets with his cart, boys sitting on the doorstep watching a scanty stream of passersby or breakfast vendors preparing for the morning rush with their enormous vats and flat plates of food waiting to be served. The artists has painted buildings with wooden façades, featuring jharokas and intricate balconies, using shades of colour infused with monochrome to create a weathered effect.
A self taught artist, Mubashir Iqbal, who has been working with Nomad since 2005, says he enjoys painting ancient structures, symbolic of the country's heritage and pulsating with "the memories of our forefathers". The whirling dervishes he finds calming as a subject, and enjoys the peaceful effect they create.
Nomad displayed Iqbal's work in Shanaakht (Identity), a recently created space to display the work of emerging artists. The exhibition continues till February 15.
Click to view picture gallery
You may also like: