Dramatic Reading on World Literacy Day
Written by: Eeman Amjad - Posted on: September 12, 2014 |

Comments
Google Translation: اُردو | 中文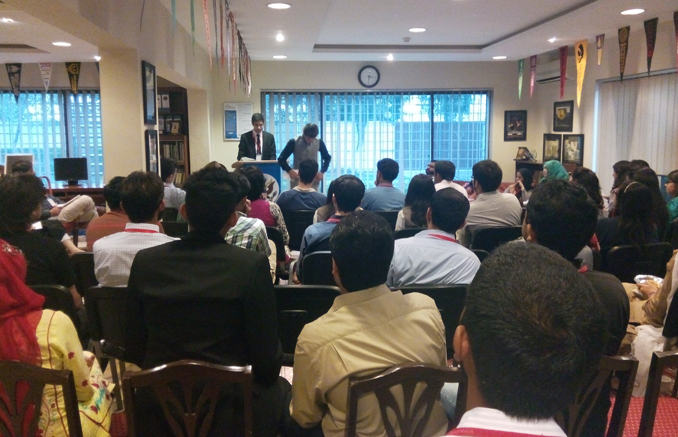 DRC Participants
In a country with the lowest rate of literacy in South Asia, the International Literacy Day on September 8 went almost unnoticed. The slogans for better and sustainable education were overshadowed by the ongoing political strain. This year's theme focused on Literacy and Sustainable Development, with an aim to not only encourage the ability to read and write, but also to promote engagement as active citizens.
The United States Education Fund (USEFP) in Islamabad observed the day by hosting its first Dramatic Reading contest . The Education Advisors perceived that a dramatic reading would be a creative spin on encouraging people to engage with literature. Broadcast as a public reading of any kind of prose with any interpretation of voice, the contest received approximately 250 applications for participation. The sole stipulation of the contest was that performances range from one to three minutes, and was free for the public. It was judged by members of the editorial teams from The Missing Slate, and Desi Writers' Lounge, and the first prizewinner would receive an amazon kindle
Over seventy people attended the event, ranging from ages eight to over seventy. The top prizewinners included "Allah ka Shukar Hai" an essay by Saadat Hassan Manto, "Be prepared" from Disney's Lion King and Al Pacino's famous speech from the movie "Scent of a Woman". First place went to Eissa Syed, whose reflective and poignant reading of Beyonce's 'All the Single Ladies' had the judges impressed. The varied and engaging recitations had the audience laughing, tearing, and, most importantly, pushed to contemplate on the various emotions and thoughts that were articulated and exhibited.
Other performances included passages from the Harry Potter series, a speech by Zulfiqar Ali Bhutto and Jinnah, as well as scenes from different plays. Most of the participants seemed excited to be presented with the opportunity, as well as requests by DWL and The Missing Slate for future collaborations on similar contests.
You may also like: