'Revered Calligraphy by Chinese Painters' at Gallery 6
Written by: Aiza Azam - Posted on: December 26, 2014 |

Comments | 中国 (Chinese)
Google Translation: اُردو | 中文

An exhibition titled Revered Calligraphy by Chinese Painters opens at Gallery 6, today, featuring artwork from the collection of Asad Raza, a U.S. based collector and consultant on Islamic arts.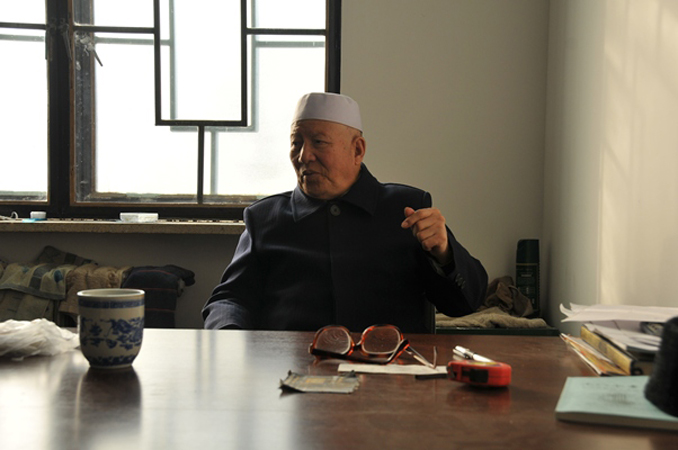 Haji Abdul Hakim
Of the 27 calligraphic works which will be on display, many are the work of leading Chinese Muslim calligrapher Haji Abdul Hakim (Haji Liu Jingyi in Chinese). He is Chairman of the Chifeng Islam Association and Imam of the mosque of Chifeng. Imam Hakim studied Chinese calligraphy under the famous calligrapher Guo Zhenduo. In his teens, he developed an affinity for Islamic calligraphy. He was then selected as a student by famous Arabic calligrapher from Eastern China, Imam Cao Jinzao, who honed his skills in Arabic calligraphy.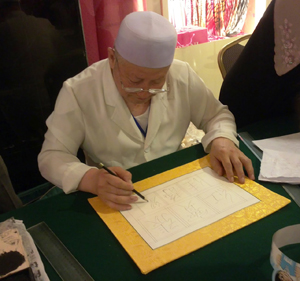 Haji Abdul Hakim's work earned him international acclaim. He began his work by using the traditional Chinese method (i.e. the Chinese brush) to write Arabic calligraphy in the Sini style. But soon he started using the common reed pen and wooden spatula in his works also. He writes Arabic calligraphy with a hint of typical "Chinese style" in the form of using the dry ink to maintain the flying white effect, while the harp semi triangular, clear cut tips of his vertical letters are indications of the use of the reed pen. On the other hand, he uses a brush to write the Chinese translation of the text, along with his signature. Another hint of "Chinese" is his use of the scroll and couplet format in his works, which is an indication of his early education in the Chinese calligraphic tradition.
The artwork features Arabic calligraphy alongwith a translation of the text into Chinese. He uses a variety of standard Arabic calligraphic scripts in his work, including the Thulth and Diwani. The frames vary in size and have beautiful silk borders in white, yellow, green and red.
The exhibition will continue daily from 11 am to 7 pm till January 4, 2015.
Click to view picture gallery
You may also like: