Iranian Art and Craft at the PNCA
Written by: Aiza Azam - Posted on: February 08, 2015 |

Comments | 中国 (Chinese)
Google Translation: اُردو | 中文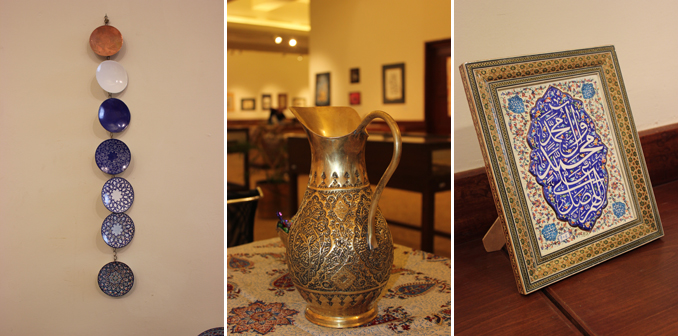 An ongoing exhibition of Iranian arts and crafts is being held at the PNCA, to mark the 35th anniversary of the Iranian Revolution. The display, organized by the Iranian Embassy, features the paintings and crafts of various Iranian artists, as well as ancient poetry books and copies of the Quran on loan from the Iranian Embassy for the duration of the exhibit.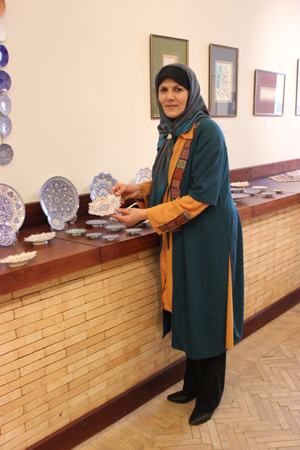 The handicrafts on display include all forms of traditional Iranian craft, including tile work, silverware, brasswork, copperware, Khatamkari (incrustation work), and Minakari (metalwork decorated with enamel coating). Khatamkari, which originated during the Safavid period, involves the use of incrustation patterns made from wood, brass, camel bone, and occasionally ivory, gold and silver. The material is carved into very thin sticks which are assembled in triangular beams and glued together to form a cylinder, the cross section of which forms the motif. The cylinder is cut into shorter ones which are compressed and dried before being cut down further to 1mm width. These are then glued onto an object and finished with the application of lacquer. Minakari, typical of Isphahan, originated in the Achaemenian and Sassanid dynasties. It is used to decorate metal dishes, vases, boxes, bangles, etc.
The items demonstrating these skills included small decorative and jewelry boxes, plates with geographic patters, plates with poetry, holy verses or the names of Allah and the Holy Prophet (SAW), frames and vases. They were displayed atop exquisite Persian rugs and Termeh, the handwoven cloth of the Yazd province. The calligraphy covered a wide spectrum, ranging from the monochromatic to the densely coloured, depicting holy names and verses, and some capturing verses of poetry.
Many of the items are also on sale, and are very reasonably priced. The exhibition continues till Tuesday and, a rich lesson in Iranian art, merits a visit at least once.
Click to view picture gallery
You may also like: