Jewel Up, Islamabad!
Written by: Amna Javed - Posted on: February 06, 2015 |

Comments
Google Translation: اُردو | 中文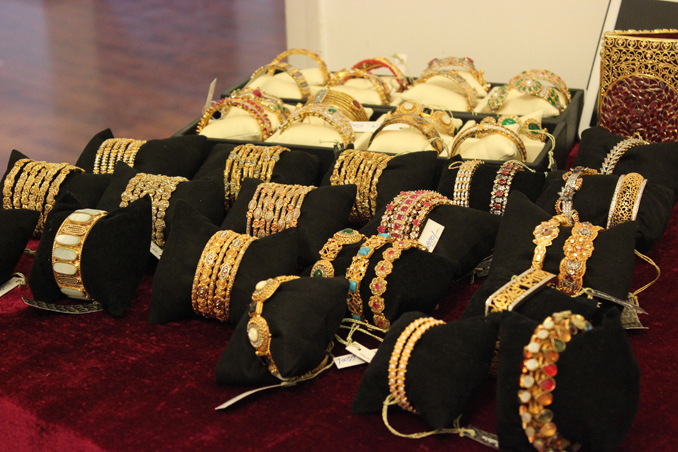 A glimpse of bracelts from Iquera's display
This Wednesday, Islamabad hosted two jewellery exhibitions, back to back, to cater to the ever-increasing appetite for jewellery in the once lifeless city of Islamabad.
Iquera's Couture displayed their Mughal-era inspired collection at L'atelier, while the Columbian-Pakistani Aysha Bilgrami chose Café Lazeez to showcase her exquisite pieces.
Iquera, along with her brother Maffaz, presented a wide range of hand-made silver and gold-plated jewellery encrusted with precious and semi-precious stones. The entire collection offered a striking blend of contemporary designs and traditional cuts. The designer had worked wonders with her newest designs in kundan, polki and diamond. While talking about her collection, Iquera revealed that her collection caters to the modern-day Pakistani woman from all age groups and social backgrounds. With the increase in gold prices and the decline in purchasing power, her pieces are modestly priced to cater to a wider range of buyers. "My inspiration for this collection is basically from the Mughal era. I have tried to infuse a modern touch to it, while maintaining an elegant outlook for each piece," said Iquera. The designer runs a store in Lahore and also takes customized orders. However, she was of the view that her jewellery collection comprises a wide range of styles, colors and cuts, which means that there is something for everyone, and usually the need for customizing an order does not arise. The collection, intricately designed, comprised rings, necklaces, earrings and bridal sets etc. Iquera's Couture has a presence in all big cities across Pakistan as well as the USA, UK, UAE and India.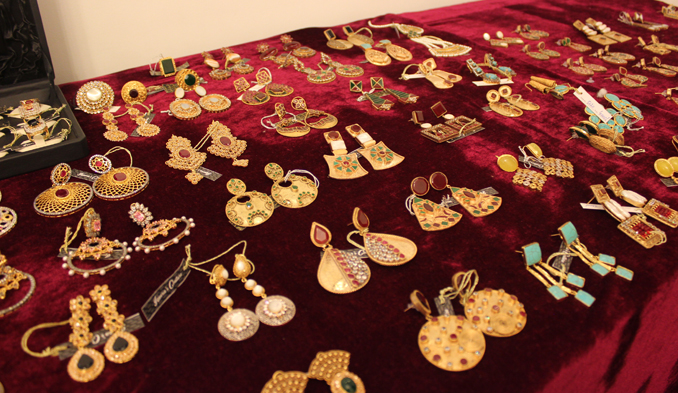 Intricately desgined collection by Iquera Couture
On the same day, Aysha Bilgrami, a jewellery designer of Colombian-Pakistani roots, exhibited her first collection in Pakistan.
Inspired by her Pakistani and Colombian origin, Bilgrami launched her jewellery line in Colombia in 2013. "Different cultures and ethnicities have always fascinated me and that is my main inspiration for my collection," she said, in conversation with Youlin. "I like to call it 'Pakilombian' since it's a mixture of both Pakistani and Colombian heritage," she added.
Aysha's collection is a fusion of styles with an ethnic-modern touch to it. Her pieces have been crafted in gold, silver and copper and are complemented by gemstones such as the Colombian emerald and the Pakistani lapis. Colombian craftsmen at Aysha's workshop in Colombia have meticulously handcrafted each piece. While most of her jewellery is in silver with gold plating, she has also fashioned a few pieces in copper with gold plating. As compared to traditional jewellery, Aysha's collection stands out due to its edgy and trendy outlook.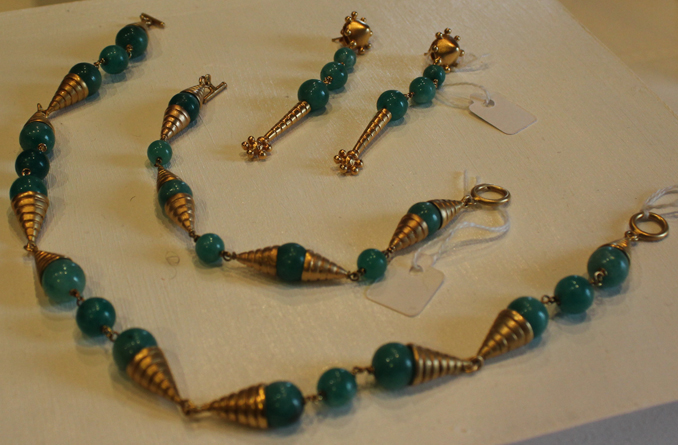 An elegantly desgined 'Pakilombian'piece from Aysha's collection
The debut collection, titled 'Meraki', featured bracelets, beaded necklaces, earrings and cocktail rings. Even though her collection is inspired by indigenous styles, it is essentially modern and can add a touch of glamour to a simple outfit.
For Aysha, jewellery is something she has loved since childhood, and after receiving a positive response at her exhibitions in Karachi and Islamabad, she plans to cater to the Pakistani clientele with a bigger collection in the future.
Both exhibitions put forth their unique styles and offered residents of the city with a wide variety of items to choose from.
Aysha Bilgrami talks about her debut collection in Pakistan
RELATED STORIES:
You may also like: