Komail Aijazuddin at Khaas Art Gallery
- Posted on: September 18, 2013 |

Comments
Google Translation: اُردو | 中文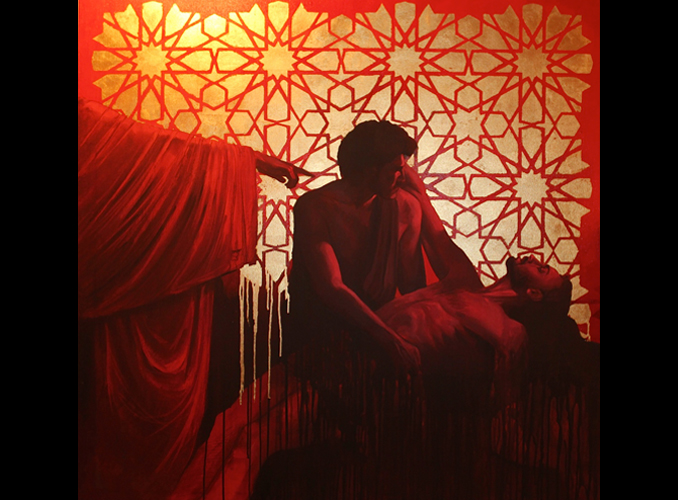 Khaas re-opened with the young artist Komail Aijazuddin's show, in attendance was a large turnout of Islamabad's intelligentsia and a good sprinkling of the diplomatic community. Architect Rweeda Himayat has renovated Khaas to its' owner Zishan Afzal Khan's exacting demands.
The colour scheme of this series by Komail is red and gold, and the subject is Christ's sacrifice and martyrdom. According to the artist, "gold is my stand in for the divine", and red gives his work in gold leaf a warmer tint. The influence of European religious art is strong, co-existing with geometric patterns of Islamic art. One of the more powerful paintings in this show was, the "Gilded Accusation", a re-working of Michelangelo's Pieta, but instead of Madonna a young man holds the martyred Christ in his arms. The most provocative painting is the "Hijaban Durga", with her multiple arms reaching out menacingly, a commentary on our new militant moral brigade.
A graduate of New York University and the Pratt Institute in Brooklyn, it was this promising artist's first exhibition in Islamabad.
Komail on his first exhibition in Islamabad
You may also like: