Ahmad Habib Expresses His Internal Feelings through Sculpture
Written by: Ismail Umar - Posted on: December 15, 2014 |

Comments
Google Translation: اُردو | 中文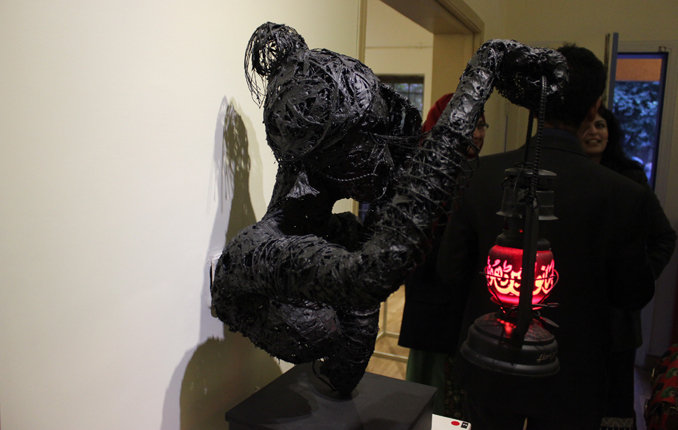 Ahmad Habib has experimented with metals, fibers and wires
The Nomad Gallery on Saturday opened an exhibition of sculptures and paintings by Ahmad Habib, a celebrated sculptor from Islamabad. Titled "Nirvaan-II", the exhibition features 17 matte charcoal sculptures and 5 acrylic and charcoal paintings, and is a continuation of the artist's previous collection titled "Nirvaan", which centered on the themes of spirituality and serenity. As the name implies, the artworks are a depiction of nirvana – an ideal state of tranquility and contentment.
Ahmad Habib has experimented with metals, fibers and wires in this exhibition, expressing his personal struggles and emotions through his sculptures. "I tried to mold my poetic compositions on these mediums hoping that it would be easier for me to express my heartfelt emotions", Habib commented on his work. "These symbols are portraying the unbearable pain of love, prolonged agony of waiting for someone, life struggle and the consistency to explore more on one's own expense".
Habib's latest collection is the result of three years of constant deliberation, followed by six months of relentless labor. "I had been juggling with words and ideas like forever. I nurtured these ideas right from conception to execution", the artist explained.
Among the most prominent sculptures at the exhibition were "Dhanwaan" and "Kaghaz Ki Kashti (paper boat)". The former is a human figure whose right arm holds on to a flower. According to the artist, the flower signifies love which is being sucked away, as if pulled by gravity. The latter is a depiction of the journey from childhood to adulthood.
Nageen Hyat, the curator of the gallery, also commented on Ahmad Habib's work: "These artworks are born from the artist's love for all that is sacred in his life. The fragments of human anatomy and the symbolism appear to reflect and encapsulate a burden of emotions and existence".
"Nirvaan-II" will continue at the Nomad Gallery till 22nd December.
You may also like: