Nomadic Footprints: Storytelling through Art
Written by: Sarah Khan - Posted on: June 05, 2014 |

Comments
Google Translation: اُردو | 中文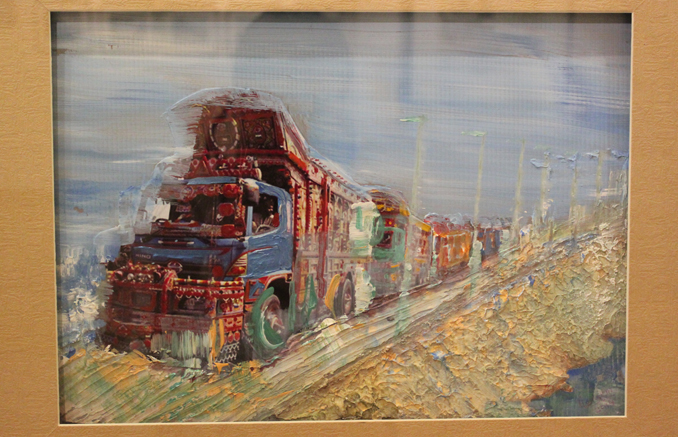 Nadeem Ahmed's Artwork
An exhibition titled 'Nomadic Footprints' was launched at the Nomad Art Gallery on Tuesday, June 3rd. It displays brilliant photography by Nageen Hyat, beautiful watercolor paintings by Riffat Khattak and outstanding mixed media art combined with pen-and-ink sketches by Nadeem Ahmed. The exhibition showcases a rich fusion of scenic beauty, culture, and architecture from within the country and beyond.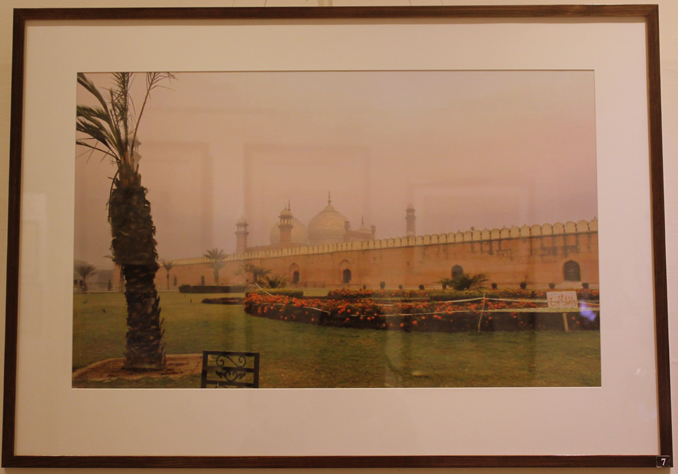 Nageen Hyat's Photography
Through her simply exquisite photography, Hyat unfolds the magnificent wonders she came across during her pleasurable trips to Skardu and the Walled City of Lahore. Out of the cockpit of an aircraft, she has captured mesmerizing shots of snow-capped mountains and the beautiful lush terrain of Northern Pakistan. Her portfolio also includes glimpses from inside the shrines of Sufi saints imbued with shades of peace and spirituality. With an impressive aesthetic finesse and an eye for detail, Hyat narrates, through photography, her stroll down the Walled City of Lahore from Delhi Gate to Lahore Fort. She has presented the gorgeous architecture of Wazir Khan Mosque, Sonehri Mosque and other heritage monuments, in the most appealing manner. As Hyat talked passionately about her work, what fascinated us the most was the way she had connected in depth at a human level with each person whose portrait she captured along the bustling streets of Old Lahore.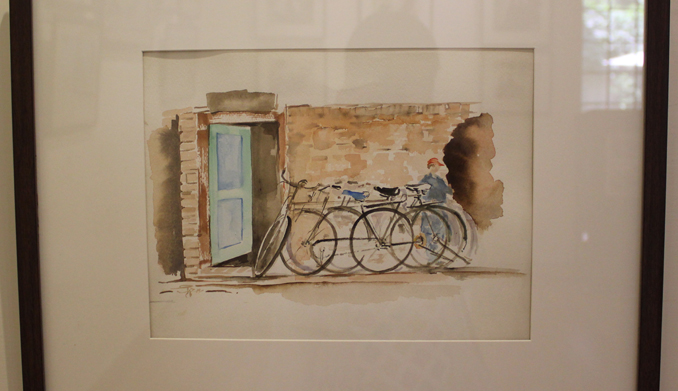 Riffat Khattak's Artwork
Ahmed's paintings are composed of a spectacular amalgamation of bright acrylic art with plain pen-and-ink sketches. In one of his series, he has portrayed local trucks painted in rich and vibrant colors. In the second series, he takes us, through brilliant artwork, on a visual tour of his recent trip to Zambia, Africa. He reminisces about the surprising contentment that he found in the people there, despite the extremely adverse living conditions. Ahmed depicted the tourist attractions such as the city of Living Stone and the famous lake Victoria Falls in his artwork. The sketches aim to present a blend of Pakistani and Zambian cultures.
Khattak, an artist from KP, used warm, subdued and natural tones to create striking watercolor paintings depicting a typical rustic setting of his hometown, composed of charpoys, traditional musical instruments, and local women and children engaged in everyday chores. He also presented Ghani Khan's poetry in alluring calligraphic handwriting.
This exhibition will run till June 15.
You may also like: