Serena Reception Honors Samina and Mirza Baig
Written by: Saman Shafiq - Posted on: August 08, 2014 |

Comments
Google Translation: اُردو | 中文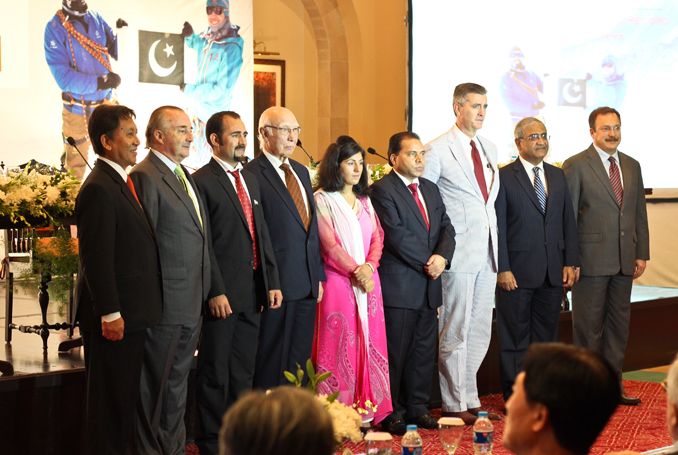 On Tuesday, August 6, in an event organized by Serena Hotel Islamabad, the mountain climbing brother and sister team, Samina Baig and Mirza Ali Baig were honoured at a reception to celebrate their latest achievement: successfully climbing the 7 highest mountain peaks in the world. The event also commemorated the support for this initiative which had been galvanized by the Adventure Diplomacy Group. The ADG, also host of the event, comprises of Serena Hotel and the Embassies of Argentina, Indonesia, Nepal, Russia and the United States. A large number of dignitaries, including several members of the diplomatic community, were in attendance.
Samina and Mirza Baig addressed the audience on the occasion, holding them mesmerized as they related their experiences. They were then presented with a frame on which all the summits they had climbed were marked and painted. Mirza Ali, an avid photographer, displayed photographs of the duo atop each summit, holding the Pakistani flag. All these pictures were printed and signed by Samina and the ambassadors of the respective countries. They were arranged for sale, the proceeds from which were to be collected for the IDPs of Waziristan. National Security Advisor Sartaj Aziz also honoured the event with his presence.
The duo on top of Mt. Elbrus, Russia
Youlin asked the siblings which of the expeditions were the most memorable for them. Samina replied that Mount Vinson was the most memorable because that mountain was all the way in the South Pole where there was absolutely no sign of human or any other life. However, Mirza told us that Mount Denali was his most memorable because it was the most stressful out of the lot. The siblings also jokingly commented that the constant air travel was what tired and stressed them the most and not the mountain climbing.
Youlin congratulates both Samina Baig and Mirza Ali and wishes them luck in all their future endeavours.
You may also like: