Through the Looking Glass - Diversity on Display
Written by: Ismail Umar - Posted on: September 19, 2014 |

Comments
Google Translation: اُردو | 中文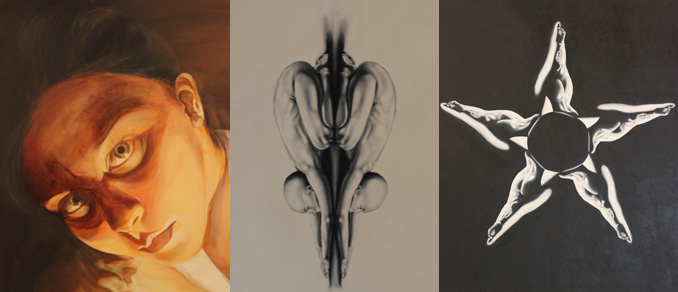 The artists interpret the theme in amazingly diverse ways
The Satrang Gallery recently inaugurated Through the Looking Glass, an exhibition that presents the works of six innovative female artists – Sara Pagganwala, Annem Zaidi, Faryal Ahsan, Cyra Ali, Zahra Malkani and Sheherezade Junejo. It centers around the theme of portraiture, and each of the artists exhibits great skill in interpreting it and giving it her own distinctive element. The expansive theme encompasses not only the physical and emotional aspects of the individual; it goes further and communicates an identity, shaped by culture, society and history.
Annem Zaidi's work seeks to represent the strength and perseverance of women. Each of the faces depicted in her paintings is distinctive in appearance and expression. Some of her work gives an incandescent feel with its realistic portrayal of emotion through facial expressions. In her other pieces, however, the meanings are more fine-drawn and subtle, allowing more freedom for the viewer's interpretation.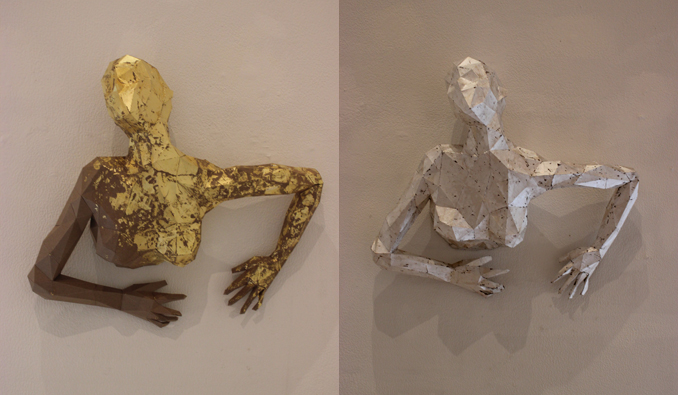 Sara Pagganwala uses stimulating images and flagrant structures to explore the notions of individuality and self-image
Sara Pagganwala presents a multifaceted display, consisting of mix media. Two of her pieces are particularly intriguing, with their portrayal of the female form using gold and silver leaf paper in a geometric model. Utilizing her versatile background in arts, Pagganwala explores the theme using experimentation and innovation. She uses stimulating images and flagrant structures to explore the notions of individuality and self-image.
Sheherezade Junejo's display focuses on physical structures and human anatomy. Her pieces are symmetrical and methodical in nature, while still possessing a human aspect. Her work seems to have a variety of elements to it, leaving it open to discussion and interpretation.
Cyra Ali's work seeks to confront predetermined notions on the masculine and the feminine, trying to oppose the longstanding subjugation of female sexuality. Finally, Zahra Malkani and Faryal Ahsan have utilized this exposition to make heartrending political remarks. The former has created nebulous displays to evoke protest over the lost lives of missing persons in Balochistan and Sindh, whereas the latter has made intricate collages depicting the victims of acid and kerosene attacks.
All in all, this exhibition is a must-see for anyone even remotely interested in the field.
You may also like: