'Suspended in Patterns'
- Posted on: November 28, 2013 |

Comments
Google Translation: اُردو | 中文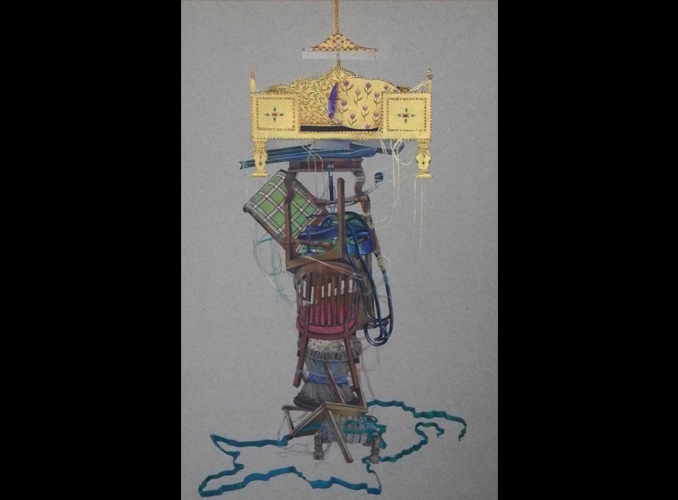 Saima Beenish - Untitled, Gouache on Wasli
"The elements of a pattern repeat in a predictable yet visually pleasant manner, they combine, they interact and fuse," says the curator of the exhibition 'Suspended in Patterns', Mehrbano Khattak, who has also put up her own artwork for display at the Satrang Gallery, Serena Hotel. The six young artists, whose works are on display, showcase their talent by highlighting the intricacies of emotions, and through the usage of symbols and patterns revealed their sensitivities toward the world they inhabit.
Saima Beenish's comments on society and its socio-political structures, through the use of chairs, whereby on the map of Pakistan is a ladder of different kinds of chairs, reflecting the social statuses of people and how a hierarchy is created due to the inequities in wealth, an attempt to bemoan the current status quo structure of Pakistan. While Saima Beenish presents sentimental interaction with macro issues, other artists narrate their personal stories of how they have felt, and perhaps dealt with a particular event in their personal lives. Using the techniques of miniature, Maimoona Riaz, walks her audiences through how she felt being attached to a tangible space, her house, and how after leaving it, she passed through the states of "aggression", "confusion" and eventually her transition in to the phase of "reconciliation", accepting the new reality.
The work of Beenish Khalid, also relates her experience of living in a particular home for seven years through her paper collage in seven different pieces. The message is clear; home is with people rather than the structure. Mehrbano Khattak's display of an emotional journey before and after marriage, with the use of ribbons, highlights the way a marriage can change the very conception of individuality. Two human forms of a woman without any face, perhaps is a critique of how a woman in our society is expected to become identity-less once she gets married.
The paintings by Nadia Rahat, presents an irreconcilable confusion between illusion and reality. In one of her paintings, a woman's dress is acting as a cage which, perhaps, highlights the egoism and haughtiness that is essentially found in varying quantities in each one of us. Outside the dress/cage is lying a mousetrap which might indicate that we are fettered by both our internal feelings as well as external phenomena. Nida Bangish's influence from Iran manifested in her precise Islamic geometric patterns in miniature painting, shows "the complexities of cross cultural experiences".
In a nutshell, the art exhibition sums up the struggle the human beings have to undergo in accepting (or not accepting) the tangible realities of life.
The exhibition has its opening on 28 November, and it will run on till the 18th of December.
You may also like: