Youth Drama Festival 2015 Opens at PNCA, Islamabad
Written by: Amna Javed - Posted on: March 03, 2015 |

Comments
Google Translation: اُردو | 中文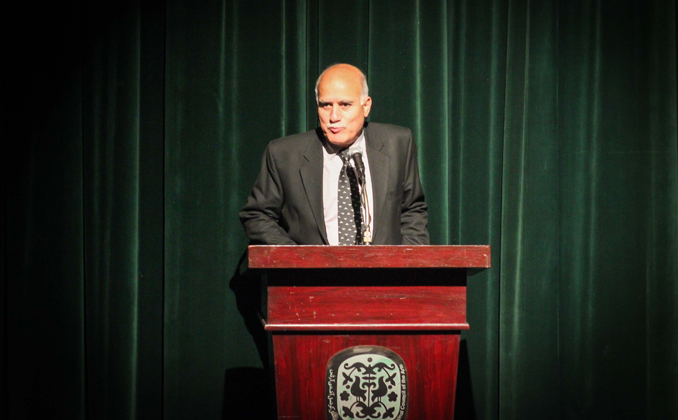 Dr Mohammad Naeem, Director General PNCA addressing the opening ceremony of Youth Drama Festival 2015
The Youth Drama Festival 2015 opened here at Pakistan National Council of Arts Islamabad, on Monday, 2nd March 2015. The weeklong Youth Drama Festival is part of PNCA's initiative to encourage art, culture and the concept of thoughtful theatre in the country. Throughout the week, students from various universities from the twin-cities will stage performances at the PNCA Auditorium.
Speaking at the occasion, Director General PNCA, Dr. Muhammad Naeem remarked, "I expected that the residents of Islamabad would come out in throngs to support these young artists; however, due to the heavy rain the attendance in the hall is low." In his opening remarks, he also announced that at the end of the Drama Festival, awards would be given out for the best play, best actor as well as the best actress. Mr. AfzalLatifi, Mr. Sabir Khan and Mrs. FoziaTahirawill judge the performances and announce the winners on the closing day of the Festival.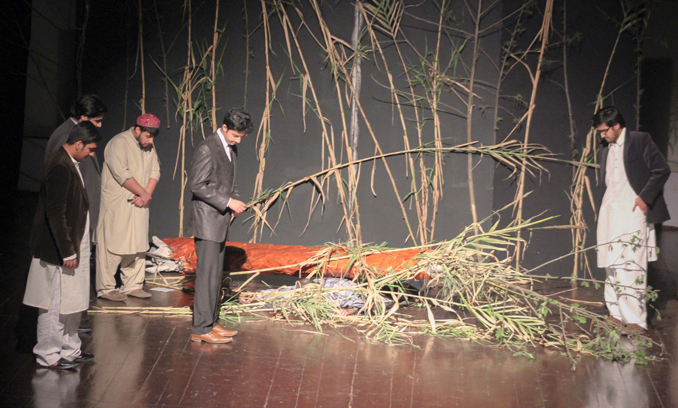 Characters mourning the death of the poet
As the lights on stage dimmed and the act began, a poet, stuck under a fallen blackberry tree, could be heard screaming for help. A passer-by tried to pull him out from under the tree, but failed. Upon spotting an office boy from the nearby government office, the passer-by requested him to get help. In return for a small sum of money, the office boy fetched two officers from his workplace(the nearby government office). While the poet fought for his life, the request for the removal of the tree was passed on from one department to another. After a stretch of time, the permission to remove the tree was obtained, but by then the poet had already passed away.
Presented by a group of students from NUST Business School, the play titled 'JamunKa Pair' was based on Krishna Chandar'sshort story known by the same name. Although the play had witty dialogues and a tinge of humor, the theme revolved around the important topic of bureaucratic red tape. Through their performance, the artists evoke the irony of Pakistan's bureaucratic system that is marred by inefficiency and delays.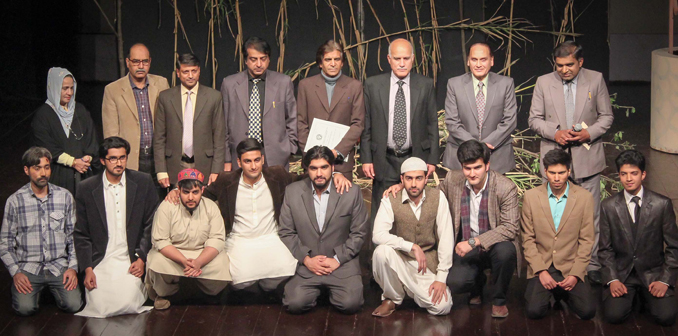 Cast of the play (Students from NUST Business School) poses for a picture with the judges and DG PNCA
The next play, 'Ibtada-e-Ishq', by the students fromComsats University will be staged on Tuesday, 3rd March 2015.
Click to view picture gallery
Click to view related video
RELATED STORIES:
You may also like: