'Meri Kahani' Depicts the Hardships Faced by Pakistani Women
Written by: Ismail Umar - Posted on: March 07, 2014 |

Comments
Google Translation: اُردو | 中文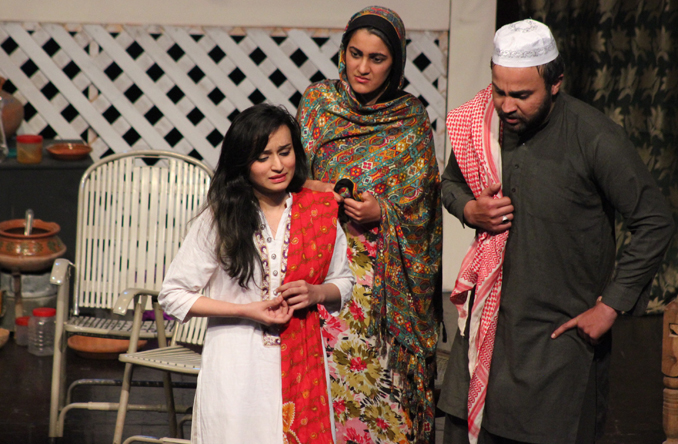 The fourth day of this year's Youth Drama Festival brought with it a stimulating theatrical performance by students from Quaid-i-Azam University. The play, titled "Meri Kahani", depicts the hardships faced by Pakistani women belonging to lower-middle class families, and it shows that even in this day and age there is blatant discrimination on the basis of sex at home, in the workplace, and in society as a whole.
A young girl, Mariam (played by Yusra Ambreen), lives with her aging parents in a mohalla (small community) in an old part of the city. Her ailing father (Afraz Shah) suffers from a lung disease and is unable to earn for his family. Mariam wants to give up her education and support her parents by working, but in her family, women are forbidden to have jobs or to even leave the house. However, eventually, as their financial situation worsens, her parents reluctantly agree to let her work.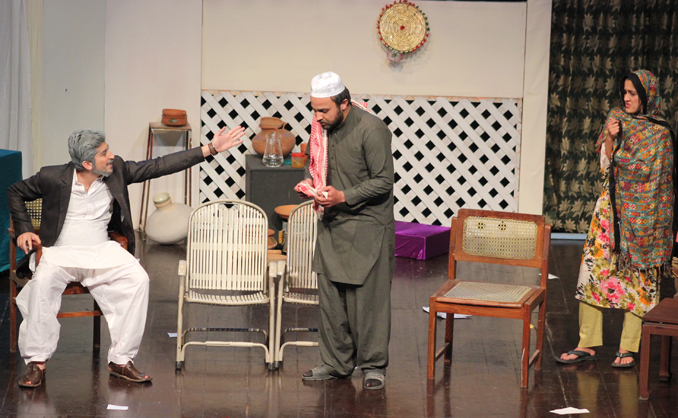 Mariam's character is a significant one for women in Pakistan, as it exemplifies the adversities faced by our women, even in the most mundane situations and settings. Working as a salesgirl, she is frequently harassed by her male customers. Her employer, Saith Ashfaq (Bilal Satti), is a loan shark who tries to exploit her parents by telling them that he will not give up the money they owe him unless they get him married to Mariam, even though he is her father's age. Another character who betrays her is the young tenant, Salman (played by the director, Jasin Abbas), who helps her out under false pretenses and plans to exploit her. When he fails to do that, he spreads lies about her and tries to defame her. Naseema Khala is the nosy neighbor who interferes in all personal matters of the family and who likes spreading hearsay about them. In an otherwise serious storyline, her hilarious character provides some much needed comic relief.
Mariam's story was appreciated by the fully packed PNCA crowd, who remained engrossed throughout the performance.
The next play, "Jaaray ki Dastaan", will be performed by students from Fatima Jinnah Women University on Friday, 6th March.
Click to view picture gallery
Click to view related video
RELATED STORIES:
You may also like: