Afghani Burgers: The Refugee's Brainchild
Written by: Syed Hashir Ali
Posted on: September 23, 2016 |

Comments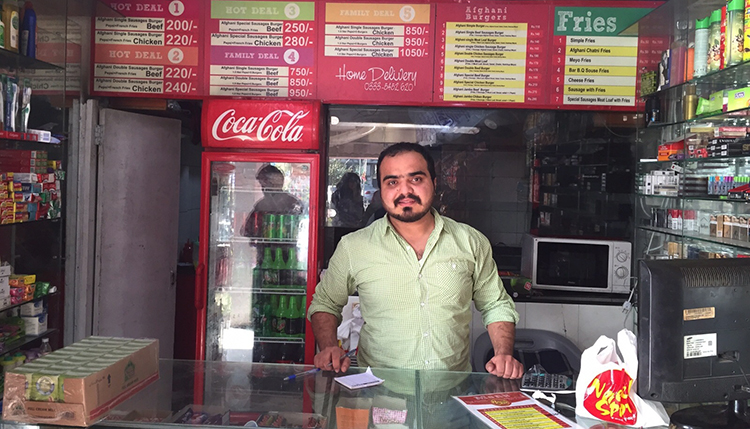 Najeeb Abbasi, owner of Najeeb Spot (source - The Chefling Tales)
Afghan cuisine has gained immense popularity in Pakistan in recent years. A 2% minority in the capital's population, Afghan refugees have made a major contribution to Islamabad's street food industry. Yet there is one food item that is neither purely Afghani, nor purely Pakistani. The Afghani Burger – a humungous wrap consisting of everything that your cheat meal could include – is the brainchild of early Afghan settlers in Pakistan.
The roots of the Afghani burger can be traced back to the Afghani fries that were first sold by refugees in Peshawar. The exact period when these fries were introduced is difficult to pinpoint due to the absence of formal records. Nonetheless, they were an instant hit among the locals, with small shacks mushrooming across KPK and Islamabad. Crispy on the outside and soft on the inside, these fries are nothing like what you would get at regular fast food chains. They have a unique charm due to the zigzag cutting, the overdose of chaat masala, and the serving of complimentary Afghani chutney. The immense popularity of these fries eventually led to the invention of the Afghani burger: a wrap of fries, herbs, spices, sauces, meatloaves and sausages, tucked into a cutting of Afghani naan (bread). The seemingly bizarre combination of fries, sausages and meatloaves could be explained by the fact that most local sausage brands have their factories in Peshawar, the birthplace of the Afghani burger.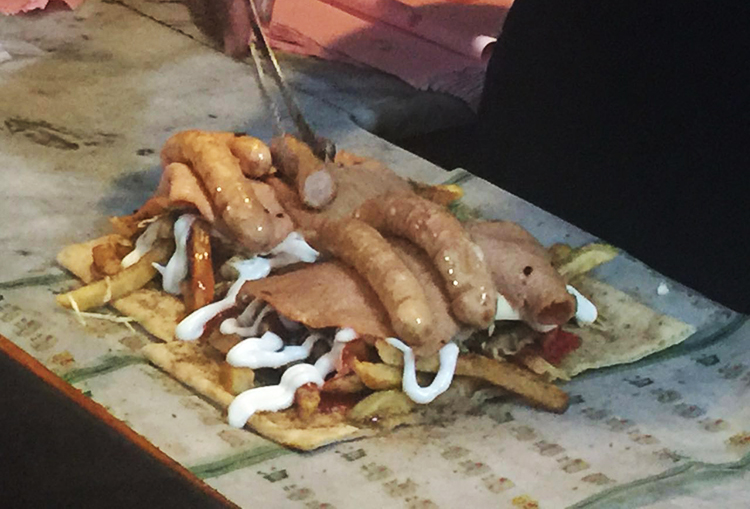 Afghani burger in the making
Following its introduction into Peshawar's vibrant street food scene, it wasn't long before the Afghani burger gained a loyal fan base across the rest of KPK, and also reached Islamabad. Today, there are restaurants and food shacks serving Afghani burgers in Rawalpindi, Lahore, and even Hunza!
There are three highly popular vendors of Afghani burgers spread across Islamabad. Oldest among these is a small shack in Khawaja Market, G-9/4, called Tasty Bites. Ajmal, the owner of this outlet, has been selling Afghani burgers and fries for over a decade now. The unique element in Ajmal's burgers is the amount and the kinds of spices used. The fries are heavily sprinkled with a masala that mixes together a variety of local spices. Moreover, the filling inside the wrap includes onions, cabbages and salad leaves – ingredients that most other vendors do not include.
Another famous vendor is the Najeeb Spot, located in F-10 Markaz. The owner, Najeeb, now rarely seen at the outlet, also started with a stall selling fries in sector F-10. Having previously changed the location of his stall several times, he now owns an Afghani burger shop at the main road in F-10 Markaz. Thanks to its central location, Najeeb Spot attracts a large number of customers. Many associate it with their late night cravings, as the outlet provides home delivery services and is open till 5:30 am. Najeeb Spot's Afghani burgers are comparatively less spicy, but are loaded with mayonnaise, Afghani chutney and ketchup, giving them a distinct flavor.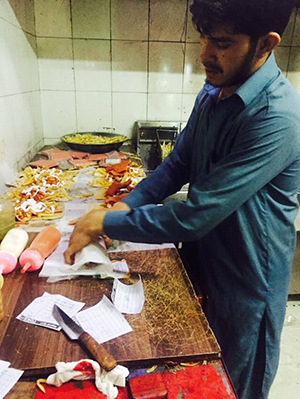 Almost ready to serve
The third popular vendor is situated in Sangam Market, sector I-8/3. Although this shop is not part of I-8 Markaz, it is located quite close to sector H-8, which is home to many schools, colleges and universities. Hence, this vendor caters to a large number of students every day, and is also frequented by residents of Rawalpindi. The cook at this outlet uses three combinations of masalas, and truly believes in the concept of "the bigger, the better".
Eating the Afghani burger is not only an art in itself, but also a challenge. Due to its appeal among the young male population, this burger has largely been known as "dude-food". However, even when "dudes" with the largest appetites help themselves to more than one Jumbo Afghani Burger (which has 3 sausages and 2 meat loaves), they often end up regretting it the next morning. With oozing sauces and meat just waiting to slip out of the wrap, people often find it difficult to eat the entire burger without spilling at least some ingredients. The trick is to never remove the burger from the newspaper wrapped around it. You must hold the burger upright and tear away pieces of newspaper while biting your way down. It is also crucial to neither grip the burger too tightly, nor bite it so aggressively that the next bite is left with less filling and more bread.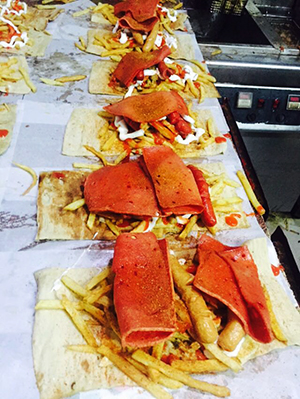 Afghani burger before it's wrapped
With rapid urbanization in recent years, the restaurant industry of Islamabad has witnessed an explosion of eateries. However, this has had little impact on the street food industry, with vendors of Afghani burgers and fries still majorly contributing to the capital's street food scene. Unfortunately, though, you might be aware that the Proof of Registration Cards of about 1.5 million Afghan refugees in Pakistan will expire by the end of this year. Among a host of other consequences, this would mean that the Afghani burger would, for obvious reasons, be under direct threat.
For several years, Afghani burgers have been prepared with special ingredients by Afghan refugees. Locals have tried to replicate the burger on many occasions, but have failed every time. As more than a million Afghans pack their bags and plan to return home, it would be interesting to see what becomes of the Afghani burger in the years to come.
You may also like: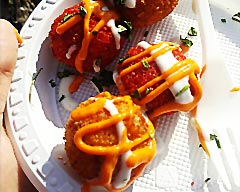 Karachi Eat 2018: The Good & the Bad
(January 16, 2018)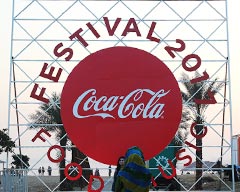 Coke Festival 2017 comes to Islamabad
(December 11, 2017)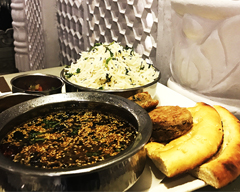 Food Review: Rahdaari
(December 07, 2017)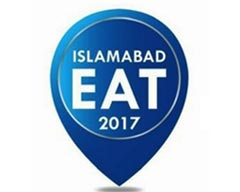 Islamabad Eat 2017: Don't Speak, Just Eat
(November 14, 2017)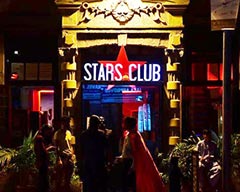 Stars Club: Karachi welcomes its first film-themed café
(November 06, 2017)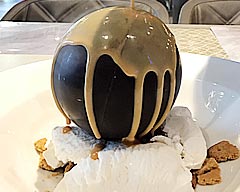 Food Review: Browns, Islamabad
(October 19, 2017)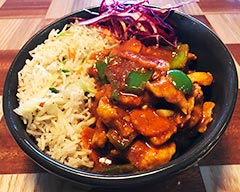 Wok Fusion Café
(October 09, 2017)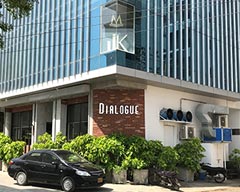 Food Review: Dialogue Restaurant, Karachi
(September 29, 2017)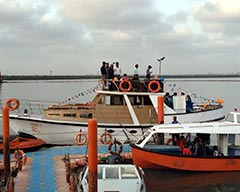 Savor Boating and Restaurant: A Unique Experience
(September 08, 2017)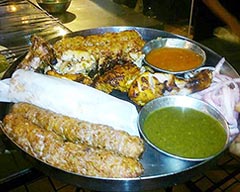 Boat Basin Food Street, Karachi
(August 25, 2017)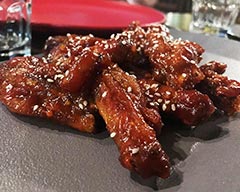 Food Review: #EAT, Islamabad
(August 11, 2017)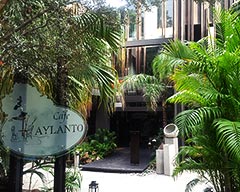 Food Review: Café Aylanto, Islamabad
(August 04, 2017)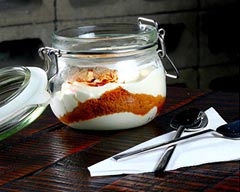 Food Review: Soi Asian Bistro, Karachi
(July 28, 2017)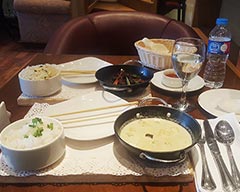 Food Review: The Chinese Café
(July 21, 2017)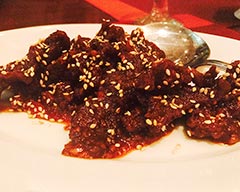 Food Review: Yum Chinese and Thai Restaurant
(July 14, 2017)