'I Live Pakistan': An Exhibition of 26 Artists at Studio Seven Karachi
Written by: Nageen Shaikh
Posted on: January 02, 2017 |

Comments | 中文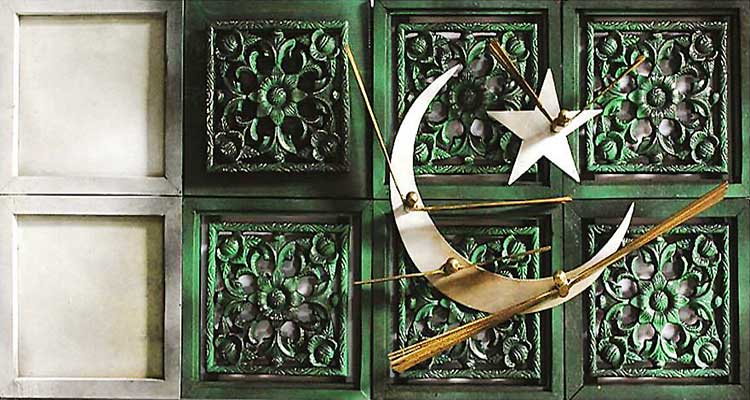 'My First Love' by Abdul Jabbar Gull
Studio Seven in Karachi is celebrating Pakistani art, culture and society by putting up a wonderful show of 26 renowned artists, capturing the patriotic spirit of Pakistanis belonging to various age groups. I Live Pakistan consists of a combination of works by versatile artists and sculptors, who have each put up one piece of art reflecting the spirit of the country. The theme of the exhibition centers on the Pakistani flag, which has been interpreted in diverse ways to produce striking and thought-provoking works of art.
The show is being curated by acclaimed artists Irfan Gul and R.M. Naeem. The latter runs the Studio RM, which has collaborated with Studio Seven for this exhibition. Irfan Gul, hailing from the National College of Arts Lahore, has been a recipient of art camps and residencies for several years. His work for the current exhibition is remarkable: a huge installation that uses mixed media to form rectangles representing the national flag, titled Tera Mera. R.M. Naeem has also showcased exceptional skill by putting up a beautiful rendition of the flag titled Take Off, with a faint image of a plane in the background.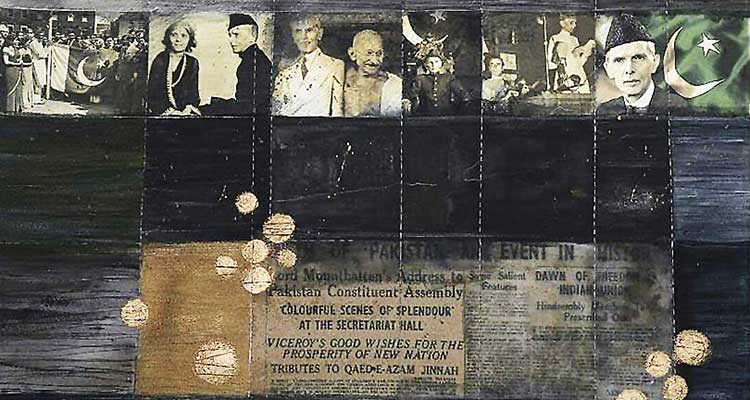 The artworks comprise different textures and materials, ranging from oil and acrylic paints to mixed media such as wood, ceramics, glass, fiber and gold sheet paper (locally known as panni). The multitalented Noor Jehan Bilgrami has produced An Event in History, which shows the Quaid-i-Azam, Fatima Jinnah and Mohandas Gandhi in the Partition era. Rahat Naveed, former Dean of the Faculty of Arts at the University of Punjab, portrays everyday life in Pakistan with the exquisitely painted Field of Dreams, which features a woman sitting beside a fruit stand. A thoughtful sculpture titled Shad Baad Manzile Murad comes from Munawar Ali Syed, who is a faculty member at the Indus Valley School of Art and Architecture, as well as the University of Karachi.
Maria Khan works with charcoal in black and red for her piece titled Blooming Bouqet, in which the star of the national flag can be seen amidst three red roses. Hamid Ali Hanbhi uses oil on canvas to paint two burqa-clad females, whereas Ali Azmat shows the Pakistani flag tied up with fabric binders. Ashan Jamal, on the other hand, approaches the theme in a very different way. He renders his canvas in dark hues of charcoal, depicting a cricket lover decorating his room in green and white. This artwork is especially engaging, as it symbolizes a glimmer of hope from the surrounding darkness binding all of us together, as we seek out a world of hope and positive change.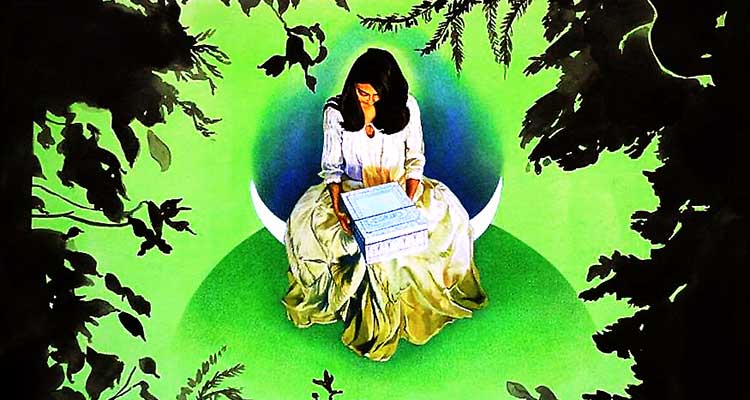 Artists belonging to the younger generation depict a Pakistan filled with hope and a vision of positivity. Dua Abbas's Grass Stained and Sky Doused is an intriguing work in oil, ink and pencil with a '90s touch, which features a woman sitting in a white frock, holding a traditionally designed box. Sajid Khan uses watercolor on wasli to compile several small images that use the motif of the flag throughout. Interestingly, one of the standout works comes from Abid Aslam in the form of mixed media. Titled Evergreen, this piece shows a man sitting in a rickshaw, which is a popular mode of transport in the country. By representing the rickshaw in the colors and design of the flag, Aslam's fascinating work successfully captures the spirit of the local culture and its importance in our lives.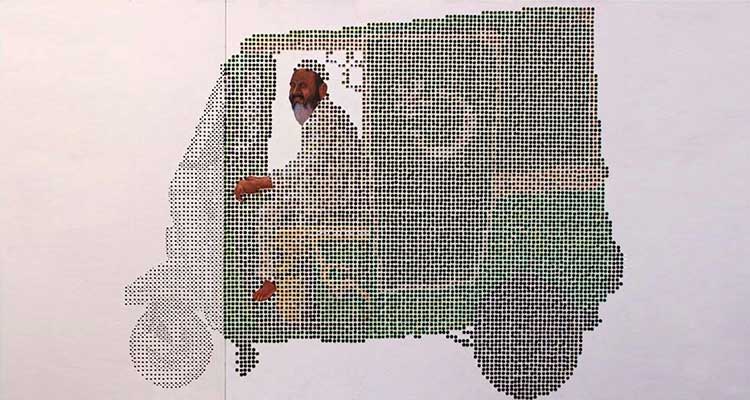 Other versatile works include Gama Pakistan by Amra Khan, The Sky I Lived For by Afshaar Mallik, and My First Love by Abdul Jabbar Gull. It is interesting to note that most artists have used the theme of the flag as a direct motif, and have induced a sense of patriotism in their works in one way or another.
As expected, the exhibition has been warmly received by art enthusiasts as well as art critics. The galley was packed with visitors, artists and curators on the opening day, providing an ideal transition into the New Year. The exhibition will continue till January 17, 2017.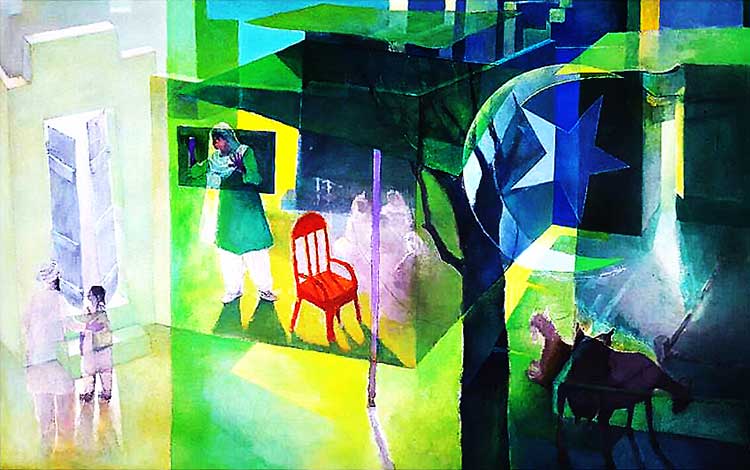 'I Live Pakistan' by Masood Alam Khan
All images have been provided by Studio Seven Gallery
You may also like: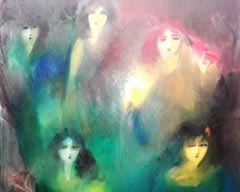 Art Review: Raja Changez Sultan at Tanzara Gallery
(January 19, 2018)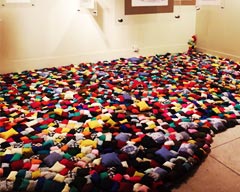 NCA Rawalpindi Degree Show 2017
(January 17, 2018)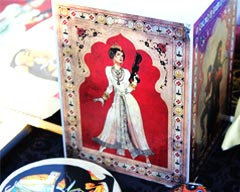 Winter Fete, Islamabad
(January 09, 2018)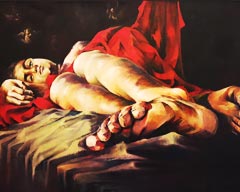 Review: 9th National Exhibition at PNCA
(January 02, 2018)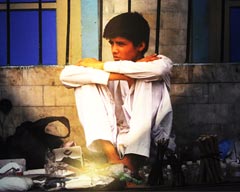 Yeh Hai Karachi 2: Photography and Film Exhibition
(December 20, 2017)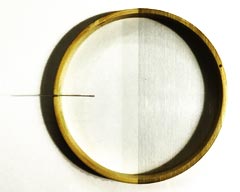 Art Review: Reading Between the Lines at Sanat Initiative, Karachi
(December 05, 2017)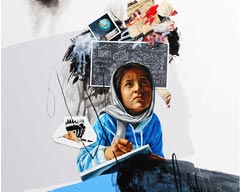 Art Review: The Onrushing 2 at Gallery 6, Islamabad
(December 04, 2017)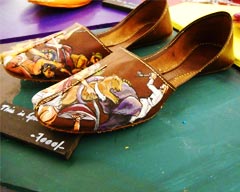 Daachi Arts and Crafts Exhibition 2017
(November 13, 2017)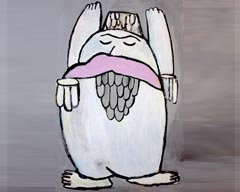 Art Review: 'Loompaland' at Studio Seven, Karachi
(November 09, 2017)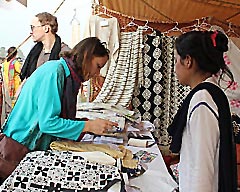 The Behbud Bazaar, Islamabad
(November 07, 2017)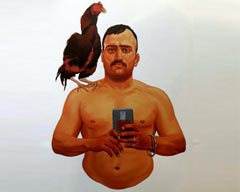 The Karachi Biennale 2017 (KB17)
(October 27, 2017)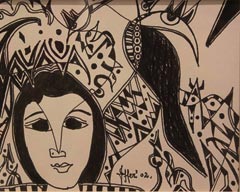 Wahab Jaffer Exhibition Opens at Tanzara Gallery, Islamabad
(October 20, 2017)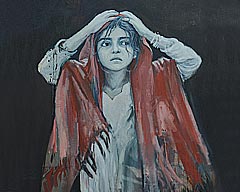 Art Review: Socio-Domestic at O Art Space, Lahore
(October 11, 2017)