Business and Literature Unify at the Lahore Literary Festival 2016
Written by: Momina Mindeel
Posted on: February 23, 2016 |

Comments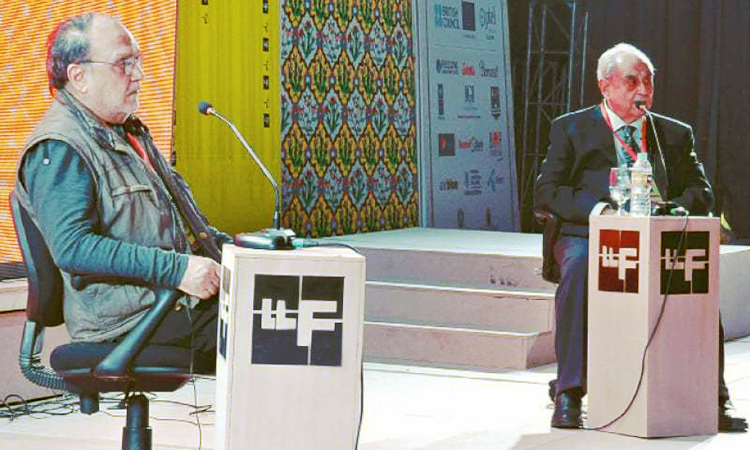 Syed Babar Ali and Khaled Ahmed
Unveiling the Titan: In Conversation with Syed Babar Ali
The concluding day of the fourth annual Lahore Literary Festival was an amalgamation of art, culture, literature, and amusingly, business. Although a number of interesting sessions were truncated from the original schedule, Day II witnessed some remarkable sessions, including one on the life of Syed Babar Ali – 'Unveiling the Titan: In Conversation with Syed Babar Ali.'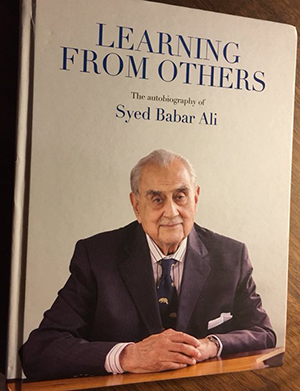 Babar Ali, the founder of some of the biggest brand names of Pakistan (two examples are 'Packages' and the Lahore University of Management Sciences (LUMS)), narrated his success story in front of a colossal audience at the Marquee Hall. The session was moderated by Khaled Ahmed – a veteran Journalist – who seemed to have thoroughly read Babar Ali's life story. Mr. Ali was welcomed with a standing ovation by the crowd. His life story, interspersed with witty remarks about his young Karachi days, kept the audience glued to their seats until the very last moment. The entire session revolved around Babar Ali's autobiography, 'Learning from Others', and was a fascinating reflection on his life in light of the things he has written.
Syed Wazir Ali, Babar Ali's grandfather, first started his business in Ferozpur. His death left his two sons – Syed Ehsan Ali and Syed Maratib Ali – struggling for its resurrection. With the help of their father's close friends, they eventually got back on their feet. Babar Ali, Maratib Ali's son, carried on his family's legacy with equal commitment.
Babar Ali went to Sacred Heart School as a child. Later, he joined Aitchison College, followed by Government College, Lahore. His trip to Harvard Business School prompted him to establish a world class management school in Pakistan, and that was when he shared this idea with Razak Dawood, one of the founding members of LUMS. Together, they worked day and night to turn this ambitious idea into reality. A major part of the funding for the establishment of LUMS came not only from the USAID, but also from his clients at Packages.
Today, LUMS boasts to have produced over 10,000 graduates, out of which almost 1,000 are working in North America and earning enormously. Almost all of them, as Syed Babar Ali told the audience, have their entire life dynamics changed for the better. The story does not end here. Packages, the first packaging industry in Lahore, currently caters to almost 25 percent of the total companies in Pakistan that require packaging. The remaining 75 percent is dealt by 500 different packaging industries all over the country. Amusingly, a number of them have been established by those who previously worked at Packages. Babar Ali is very meticulous in his business formalities. He explained to the audience that one has to be very careful about the kind of material one uses for a particular product. For instance, soap is a hydroscopic material, and its packaging should be done in a way that ensures no moisture enters through it. Throughout the session, he kept going back to his older brothers, Bhai Amjad and Bhai Wajid, who played a significant part in shaping his personality. Babar Ali is the epitome of grace and eloquence. His words struck a chord with almost everyone in the audience. The session concluded with the audience giving a heartfelt round of applause to Syed Babar Ali – the true titan.
'Love Letters'
The Marquee Hall witnessed another exciting act towards the end of the second day. This free evening performance included a play, titled 'Love Letters'. Written by A.R. Gurney, the play is merely a two-character love story told through 50 years of love letters, exchanged between Melissa Gardner and Andrew Makepeace. The characters were played by Rehana Saigol and Imran Aslam (President GEO TV and Jang Group).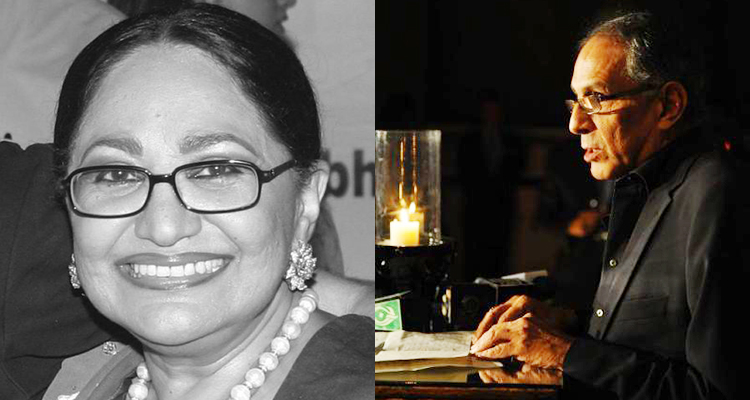 Rehana Saigol and Imran Aslam portrayed their characters with great intensity
The hall overflowed with eager audience members sitting almost everywhere; the central aisle, along the walls, on the carpet, and even at the entrance. The aura was enchantingly serene and the set was intriguingly simple. The play was directed by Hameed Haroon, CEO of Herald Publications. Although the actors read from the script and there was no physical movement whatsoever, the epistolary play nonetheless kept the audience thoroughly engaged through its remarkable portrayal of youth and disillusionment. Both actors delivered their lines with great skill and intensity, and were only interrupted by nostalgic music interludes, which kept changing according to the mood of the play.
Small booklets containing elaborate details and photoshoots of the actors and team members had been handed out before the play began. The last page of the booklet contained the final letter before Melissa Gardner met her tragic end. I accidently read most of it while flipping through the pages, and kept cursing myself till the end of the performance. 'Love Letters' is a perfect combination of melancholy, associated jealousy and love that touched almost everyone in the audience in one way or the other. As actor Brian Dennehy said, "You cannot stage a play more simply than this, and yet it's about everything in life."
RELATED ARTICLES:
You may also like: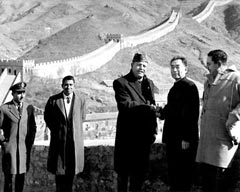 From People to People, Pakistan-China Relations since 1965
(December 12, 2017)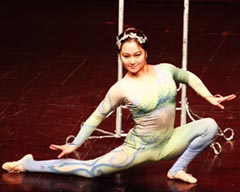 Rhythm of Liaohai Gala at PNCA, Islamabad
(December 08, 2017)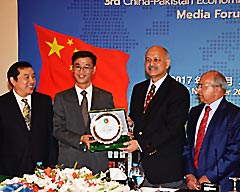 3rd CPEC Media Forum, Islamabad
(November 28, 2017)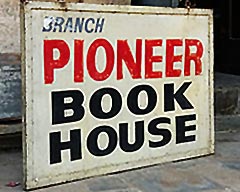 Pioneer Book House, Karachi
(November 24, 2017)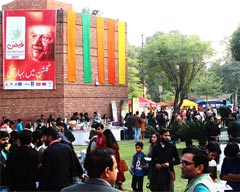 Faiz International Festival 2017
(November 22, 2017)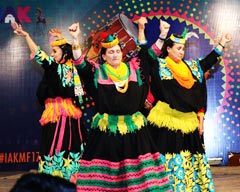 Lok Mela comes to Karachi
(November 17, 2017)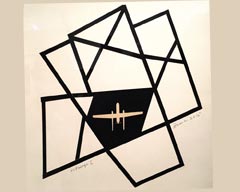 Writing Partition in Urdu
NYU's Urdu Conference
(October 13, 2017)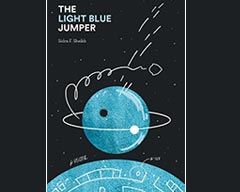 Book Review: The Light Blue Jumper by Sidra F. Sheikh (First Pakistani science fiction novel)
(October 02, 2017)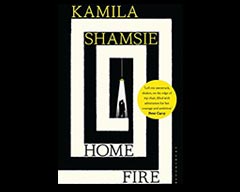 Book Review: Home Fire by Kamila Shamsie
(September 07, 2017)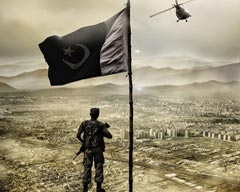 Pakistan's Armed Forces face challenges in 2017 with a New Confidence
(September 05, 2017)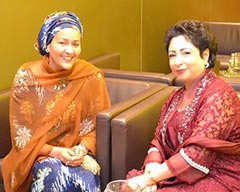 August 14 celebrations at the UN with the Sachal Orchestra
(August 15, 2017)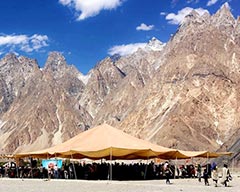 FACE Mela 2017, Passu
(August 10, 2017)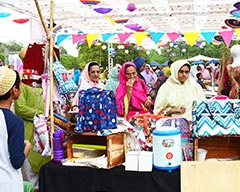 The Bohra Bazaar, Karachi
(August 07, 2017)