The Ambassador of the People's Republic of China hosted a reception to celebrate the 67th anniversary of the founding of the People's Republic of China at a local hotel. Chairman Parliamentary Committee on CPEC, Senator Mushahid Hussain, as well as politicians, senior members of the armed forces, diplomats and the civil society were present in large numbers, while Mr Ayaz Sadiq, Speaker of the National Assembly, was the Chief Guest on the occasion.
Ambassador Sun Weidong said in his address to the huge crowd assembled that during President Xi Jinping's state visit last year to Pakistan, the $46 billion pilot project of the China-Pakistan Economic Corridor (CPEC), part of the Belt and Road Initiative, was launched, and how it has made significant progress since then. He said that 16 of the 30 early harvest projects have either been completed or have made significant progress with an investment of $13 billion, and have provided jobs to tens of thousands of local people. He emphasized the inclusive nature of the project, and how the infrastructure, energy and industrial development is likely to improve people's lives. His Excellency Sun Weidong introduced to the guests at the reception engineers and technicians who were working in the field on KKH Phase II, Multan-Sukkur motorway, on various power plants, Gwadar and Qasim Port, and helping transform the economic landscape of Pakistan. Mr Ayaz Sadiq in his speech reinforced the critical importance of the strategic and economic relationship of the two countries.
A day later, on the 28th of September, a lavish cultural show was held in the auditorium of the Pakistan National Council of Arts (PNCA). The Chinese cultural troupes performed to a packed hall, a display of their rich culture, dances and music. As a befitting tribute to the friendship of the two countries, a Chinese singer movingly sang "Mein bhi Pakistan hoon, tu bhi Pakistan hai" (I am Pakistan, and so are you)!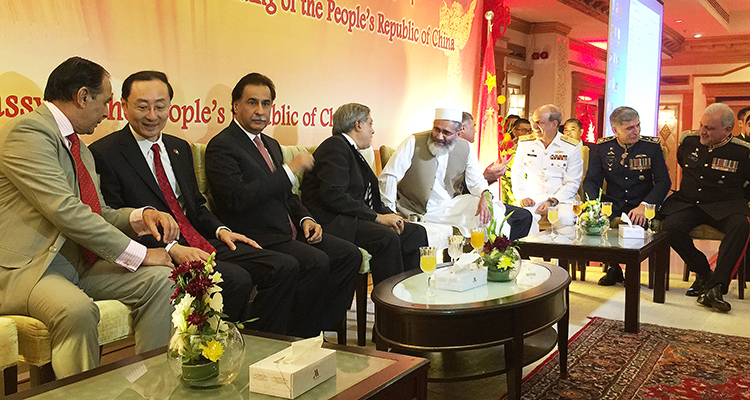 Speaker National Assembly Ayaz Sadiq (Chief Guest) with H.E. Ambassador Sun Weidong and guests