'Climate Change & Art' at Gallery 6: A Practitioners' Retreat
Written by: Sana Shahid - Posted on: October 10, 2016 |

Comments
Google Translation: اُردو | 中文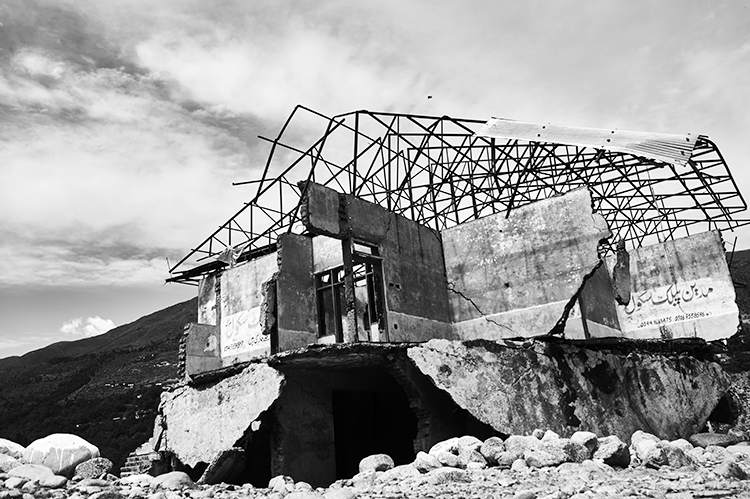 It is no secret that our planet is experiencing drastic environmental changes. Accelerated global warming is altering Earth's climate at an alarming rate. In order to highlight this issue, a Practitioners' Retreat was organized by the Ministry of Climate Change and the government of Pakistan in collaboration with Gallery 6 and the East-West Center Association.
The retreat took place in the beautiful Swat Valley where seven artists (Abid Khan, Ahsan Javaid, Ayub Wali, Irfan Gul, Raja Najamul Hassan, S.M. Khayyam and Zain-ul-Abideen), three photographers (Ayesha Akif, Saram Maqbool and Shaheer Ahmed), a filmmaker (Ali Ijaz) and a writer (Junaid Babar) spent three days together in Miandam. This multifaceted team was led by the Director and Curator of Gallery 6, Dr. Arjumand Faisel. Other participants who worked from their own studios include sculptor Abbas Shah, as well as painters Sadaf Naeem, Sana Arjumand and Shahla Rafi.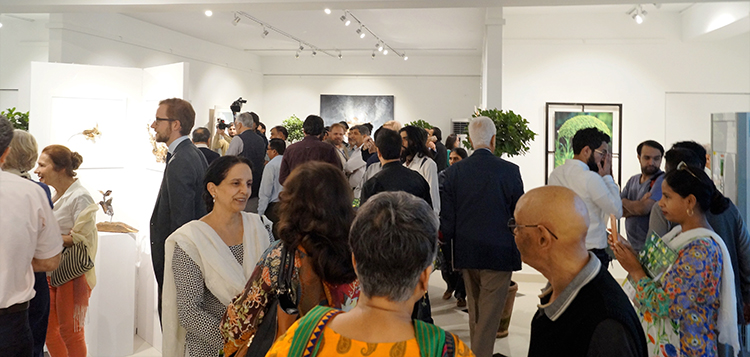 Guests at the inauguration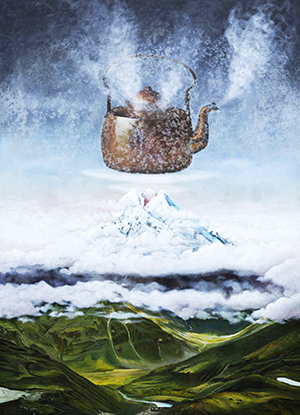 'A Little More', an intriguing painting by Irfan Gul
The title 'Climate Change & Art' perfectly explains the purpose of the retreat: to spread awareness about climate change among the public and preserve the natural beauty of Swat in the form of paintings, photographs, and sculptures. Gallery 6 hosted a three-day art exhibition following the retreat, which was inaugurated on 7th October, 2016. The show was one of a kind as it not only focused on the beauty of Pakistan's north, but also presented perspectives never witnessed before in landscape art. The artists also highlighted the areas that have been destroyed by floods, deforestation and land erosion, leading to the absence of birds and wildlife. The entire collection followed a color scheme, and it seemed like the whole gallery was painted in shades of blue and green for the opening.
Irfan Gul's painting, 'A Little More', was among the highlights of the exhibition. It stresses the need to preserve the beauty of Pakistan's northern areas rather than damaging them bit by bit every day. "What we can't see is the little more damage that we have been causing to the climate every day", Irfan comments on his work.
Ahsan Javaid has created an intriguing art piece by juxtaposing different aspects of nature onto the canvas. "You may appreciate the image that has been constructed as art. But the real question is, can you live with a distorted face of Mother Nature?" asks Ahsan. The rest of the painters, Zain-ul-Abideen, Najamul Hassan, Abid Khan and S.M. Khayyam have skillfully captured the beauty of Swat and touched upon the theme of climate change in varying and impactful ways.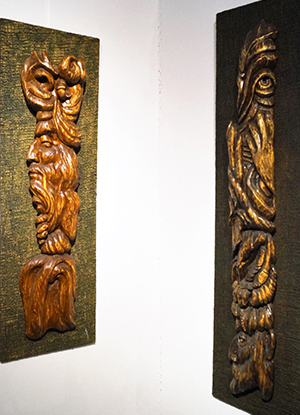 'Spirit of Tree' series by Abbas Shah
Sculptures added a third dimension to the show. One of the sculptors, Ayub Wali, has worked with brass to replicate autumn leaves in stunning detail. On the other hand, Abbas Ali Shah has worked with wood in his Spirit of Tree series, demonstrating his expertise in carving.
Photography is an art form that highlights the interplay of light and shadows, compositions, and the vibrancy of colours captured by the camera lens. Ayesha Akif and Shaheer Ahmed have expertly depicted the beauty of Swat being destroyed by huge blocks of concrete houses, while Saram Maqbool has skillfully recreated natural landscapes and demonstrated how human activity has been damaging them over time.
Muhammad Ali Ijaz's documentary was played at the exhibition, which follows the participants and their exciting journey during this retreat. It includes interviews of the artists in which they explain their work and talk about what climate change means to them.
'Nature's Painting' by Ali Ijaz
'Climate Change and Art' is not simply an art exhibition, but an important step towards the promotion of social and environmental welfare through art. The entire event was sponsored by the Ministry of Climate Change, The East-West Center Association and Gallery 6. Organizers and attendees were truly impressed by the pieces on display. People from all over the twin cities attended the inauguration, suggesting that public awareness on the issue of climate change is increasing, and people are finally determined to work towards the protection of our environment.
You may also like: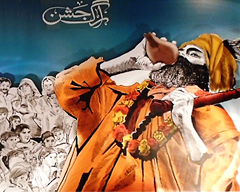 The Indus Valley School of Art and Architecture (IVS) Annual Degree Show 2016
(December 09, 2016)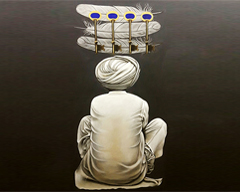 Kaleidoscope at Asia House London: A New Perspective on Contemporary Pakistani Art
(November 25, 2016)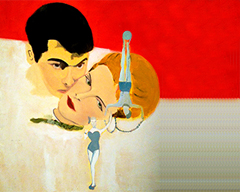 'Director's Cut': Argentine Artist Gonzalo Sojo at Satrang Gallery
(November 02, 2016)
Karachi Art Galleries: Giving a Voice to Budding Pakistani Artists
(October 26, 2016)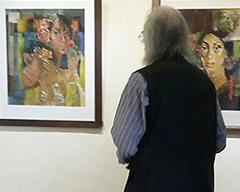 'Collective': Nomad Gallery Showcases the Work of Multiple Artists
(October 14, 2016)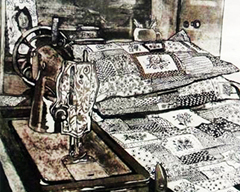 Entanglement: An Exhibition of Printmakers at Nomad Gallery
(September 26, 2016)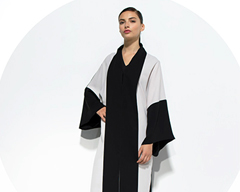 Feeling Like Royalty? Try Homa Qamar's Chic Abaya Collection!
(September 19, 2016)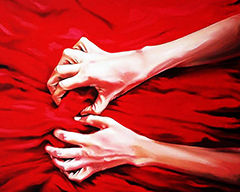 Facial Recognition: An Online Exhibition by My Art World
(September 16, 2016)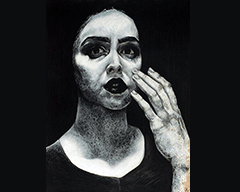 Young Talent: Nomad Gallery Showcases the Works of Miniaturists, Painters and a Printmaker
(September 02, 2016)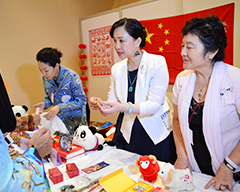 IFWA Charity Bazaar: Supporting the Pink Ribbon Cause
(August 29, 2016)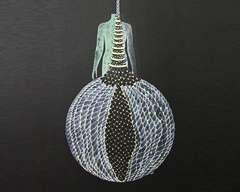 'Structural Intricacies' at My Art World
(August 26, 2016)