Conversation with Prof. Li Xiguang of Tsinghua University
Written by: Aiza Azam
Posted on: February 07, 2014 |

Comments | 中文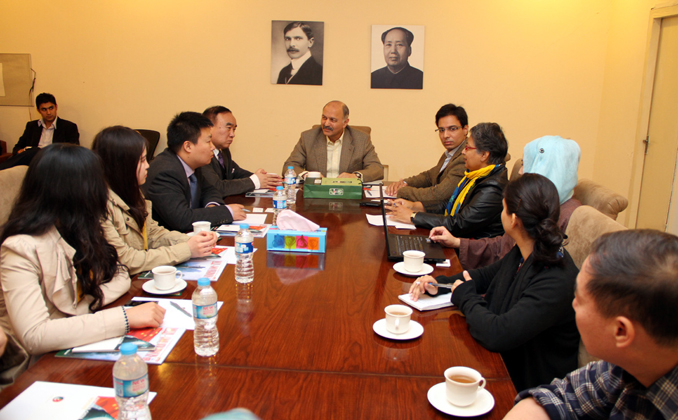 Meeting held at PCI
Eminent Dean and Professor Li Xiguang, Director Tsinghua University International Centre for Communication Studies and Director Tsinghua University Center for Pakistan Studies, recently led a delegation from Tsinghua University to Islamabad, during which he held a meeting with the Pakistan-China Institute to discuss potential avenues for collaboration. Prof. Li, former journalist and a long time and staunch advocate of Sino-Pak relations, organized the recent think tanks conference held in Beijing, where the Chairman of the Pakistan-China Institute Senator Mushahid Hussain was presented with an award for Outstanding Contributions to Pakistan-China Public Diplomacy with China. Senator Mushahid lauds Prof. Li as an intellectual and free-thinking person.
This was not Prof. Li's first visit to Pakistan, having come here thrice before. The first time, he recalls, was in the winter of 1990, with Prof. Hassan Dani, whom he refers to as having been his mentor. "I followed him along the Silk Route for two years, to the desert of Western China and the Steppes. He was a great friend of China." Prof. Li is also an admirer of Dr. Abdus Salam, and recalls that he organized Dr. Salam's trip to China in 1988. During that trip, he relates, Dr. Salam met with Chinese Premier Deng Xiaoping in Beijing, and the Chinese leader told the Pakistani scholar that China would always support the third world countries. "The spirit of that meeting and those words is important. And I hope that it will be sustained. Though some Chinese elite may feel that China should no longer remain associated with the phrase 'Third World country', given its tremendous progress and velocity of development, I still think we should uphold the banner, and lead Third World countries together towards prosperity."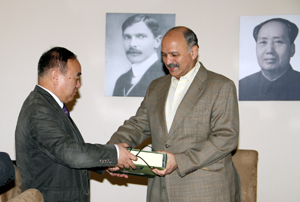 Prof. Li presents Senator Mushahid with a gift
Prof. Li also stated his belief that China should pursue reinforcing ties with Pakistan more than with any other country. He cited their close economic and political relations and also touched upon the advantage Pakistan offered to Chinese exports, which at present rely on a tortuously long and time consuming route. "Historically and also currently," he says, "Pakistan has been at the crossroads of China's route to the West. As such, it is uniquely positioned to provide transit for Chinese exports to South Asia, the Middle East, Africa and Europe."
"I also think," he continued, "that the Chinese and Pakistani people should develop a better understanding of each other. So many Pakistanis have visited China and have even lived here, but they still don't know how to conduct advantageous business with the Chinese; I don't see many good Chinese products being sold in Pakistan. They have seen China's high quality of life, its high speed trains, its skyscrapers, Chinese fashions, etc, but somehow this is not being translated into exploring advantageous collaboration. For instance we have our high speed trains, but Pakistani people are importing the Chinese Qingqi only! I also think that Chinese business persons have a limited understanding of Pakistani people. These are issues we must address. Recently, I set about organizing a workshop for interaction between Chinese and Pakistani business people. Several keynote speakers from the corporate sector were invited to deliver talks on how to bring foreign business in China. But when certain events in Pakistan caused an exacerbated security situation at the time, they canceled their trip. This was very negative."
Prof. Li also feels that both the Chinese and the Pakistani media must lay greater focus on the positive stories coming out of Pakistan, but without focusing on that exclusively. He thinks that neutral coverage is the best option and also expresses disapproval for mimicking stories or themes from Western publications. "Both China and Pakistan should see each other neutrally, objectively, factually."
He ended by congratulating the Pakistan-China Institute on its work, and expressed his belief that the institute is playing a significant and crucial role in understanding China.
You may also like: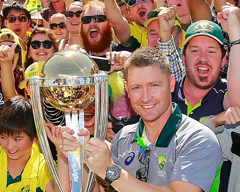 Australia Pulverizes New Zealand to Bag World Cup 2015 Trophy
(March 30, 2015)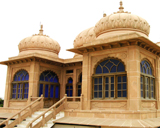 The Undying Grandeur of the Mohatta Palace Museum
(March 29, 2015)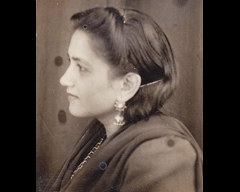 Ada Jafarey: A Tribute
(March 27, 2015)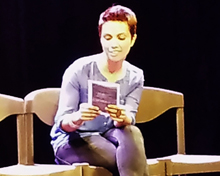 Me, My Mom & Sharmila: Fawzia Mirza and the Brown Woman
(March 26, 2015)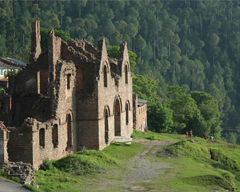 Silk Road: The Picturesque Mansehra and Abbottabad-VI
(March 25, 2015)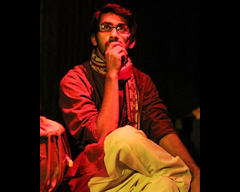 Azeem Hamid and the Independent Theatre Company
(March 25, 2015)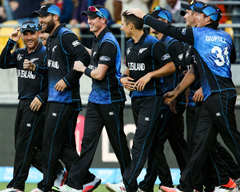 New Zealand to Choke South Africa and India to Overpower Australia?
(March 24, 2015)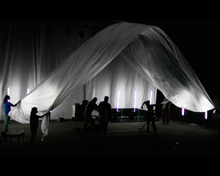 NAPA International Theatre Festival 2015: 'Among Fog'
(March 20, 2015)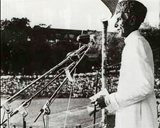 Pakistan Resolution Revisited
(March 20, 2015)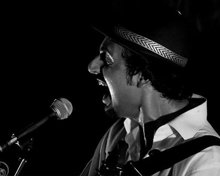 Faizan Tirmizi - The Ideology of an Aspiring Musician
(March 12, 2015)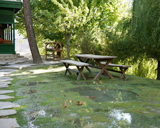 Hunza Valley: A Fine Balance between Tradition and Modernity
(March 10, 2015)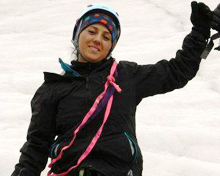 Samina, we are proud of you!
(March 06, 2015)