'Dil to Pagal Hai' - Annual Artist Residency at Sanat Initiative
Written by: Nageen Shaikh
Posted on: March 03, 2017 |

Comments | 中文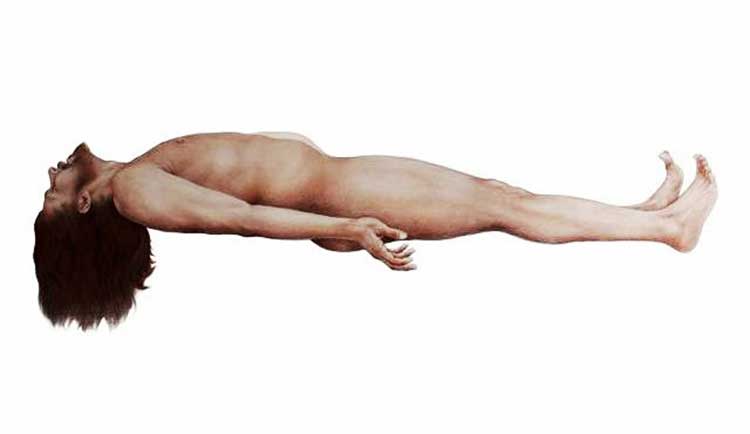 Video projection and conte on paper by Arslan Farooqi
Art residencies have gained much popularity and recognition in recent years, as they see various artists living under one roof to collaborate and create artworks based on a particular theme. On February 28, 2017, Sanat Initiative launched a group show for its annual art residency at the Sanat Gallery in Karachi. Curated by artist Muhammad Zeeshan, the works of the participating artists based on a six-week residency are diverse in content as well their use of media, resulting in an art show that is creative, stimulating and very 'contemporary' in its style.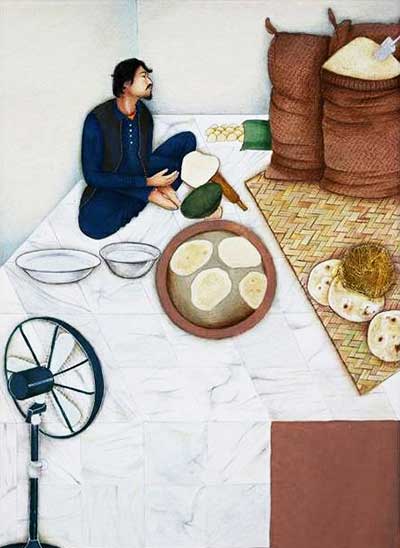 Untitled - Ahmed Javed
The artworks revolve around the theme Dil to Pagal Hai ('The Heart is Crazy'), a term taken from the popular 1997 Indian film of the same name. The techniques involved range from traditional painting and bold colors to large installations, video art and sculptural forms, combined with excerpts from Urdu Literature. Themes of memory, nostalgia, peace, death and identity frequently feature in the artworks.
Jovita Alvares uses photo transfer to create works that capture stills from a camel ride at the beach. Photo transfer is a creative method for rendering video or photographic stills on paper or canvas with the use of paints, glue and other materials. According to Jovita, her works are a way of capturing memories and special moments by slicing them into different portraits placed together.
The concepts behind the works of these artists are multi-layered. In order to grasp their essence, one must deconstruct each layer to comprehend the interplay between different themes and how they are shaped into one body of work. Razin Rubin has experimented with the idea of reconstructing the works of other artists in this residency as her own. She plays around with neatly arranged drawings that consist of many elements. She has taken parts of the other artists' works and deconstructed them to produce fresh pieces. Her works focus on themes related to anatomy and physical health.
In a separate room next to the gallery space is the video projection by Arslan Farooqi. Depicting death and loneliness, a nude, horizontally placed airborne man is shown almost being swept away by an invisible current of wind. This man, presumably dead, is an expression of the hopes and desires that are beyond the human grasp, as the post-death period is mysterious and unknown to us. A sense of curiosity arises in one's mind as to the intention of the artist, who has chosen to project a male form and has not employed any other medium.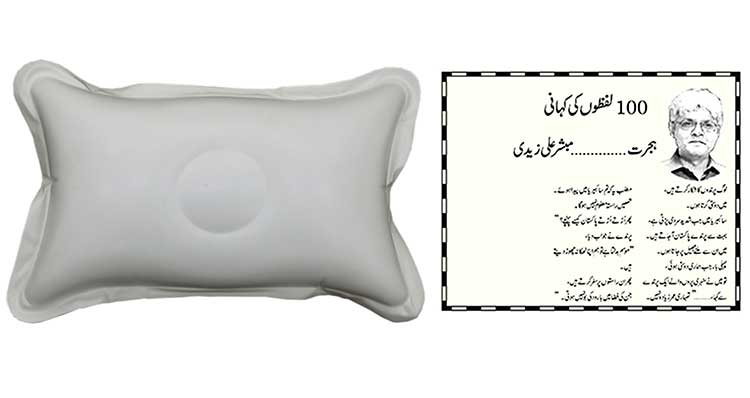 'Hijrat' by Noman Siddiqui
Noman Siddiqui explores different materials with digital paint and fiberglass artworks. He uses white pillows to portray the feelings of Karachi's citizens, who long for peace, but are constantly faced with harsh realities. Carefully chosen excerpts from his favorite author Mubashir Ali Zaidi are a major part of Noman's works, which do not offer a lot visually, but are thought-provoking. Noman has also placed a bicycle with self-created balloons and finishes, which follow a similar theme. While the installation is attractive and shows skillful handling and finishing of material, one feels it could have been slightly altered to a less obvious structural form, which would have allowed more room for self-created and conceptual work.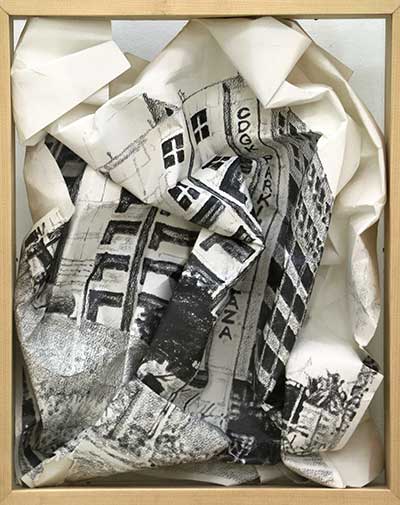 Untitled - Haider Ali
Haider Ali Naqvi skillfully draws with graphite. His untitled work featuring rumpled paper inside a glass frame is multi-layered in context and striking in appearance. Qadir Jhatial has painted '99 Household Objects', which is also the title of his work. The panels are boldly painted in enamel and serve to demonstrate the significance of these seemingly mundane objects, although some may question whether painting silhouettes of objects such as a hammer, tap, lattoo, smoking pipe and other tools is a significant enough theme to be a part of the annual residency. Ahmad Javed paints traditional miniature works that are untitled, but complex and visually appealing.
The opening reception of the exhibition saw numerous guests and visitors, as well as coverage by prominent TV channels and newspapers. With hopes of seeing more female participation and explorative works in Sanat's future residencies and exhibitions, these shows help nurture Pakistan's budding talent and serve as evidence of the boom that our contemporary art scene is experiencing on a local and international level.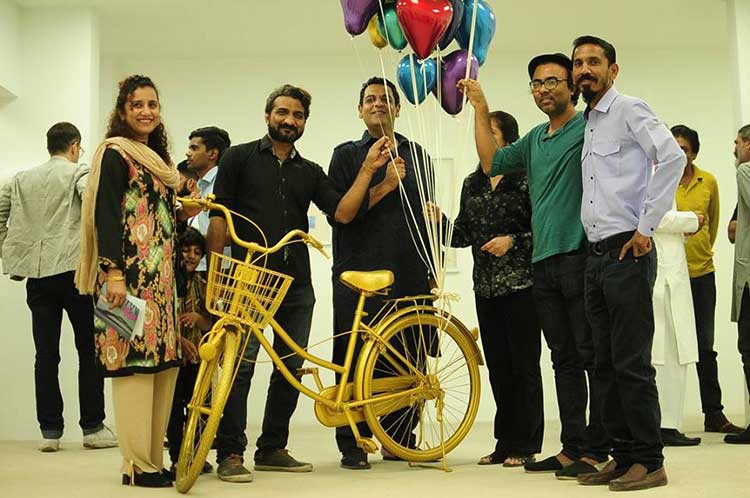 Artists and guests at the opening
You may also like: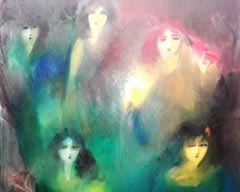 Art Review: Raja Changez Sultan at Tanzara Gallery
(January 19, 2018)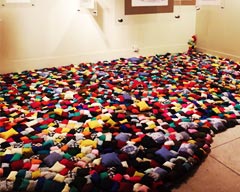 NCA Rawalpindi Degree Show 2017
(January 17, 2018)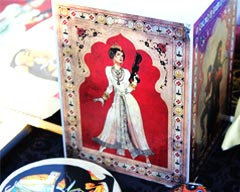 Winter Fete, Islamabad
(January 09, 2018)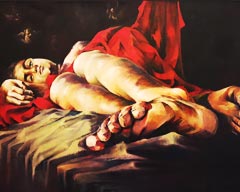 Review: 9th National Exhibition at PNCA
(January 02, 2018)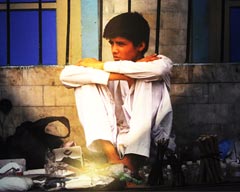 Yeh Hai Karachi 2: Photography and Film Exhibition
(December 20, 2017)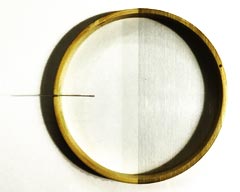 Art Review: Reading Between the Lines at Sanat Initiative, Karachi
(December 05, 2017)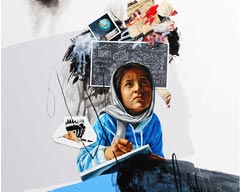 Art Review: The Onrushing 2 at Gallery 6, Islamabad
(December 04, 2017)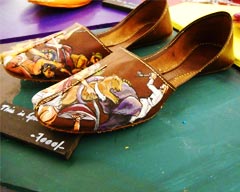 Daachi Arts and Crafts Exhibition 2017
(November 13, 2017)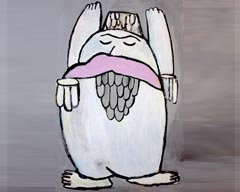 Art Review: 'Loompaland' at Studio Seven, Karachi
(November 09, 2017)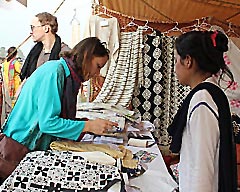 The Behbud Bazaar, Islamabad
(November 07, 2017)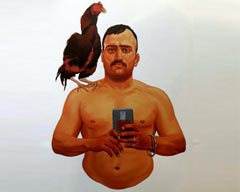 The Karachi Biennale 2017 (KB17)
(October 27, 2017)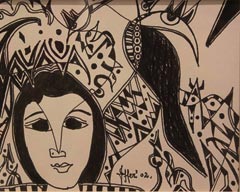 Wahab Jaffer Exhibition Opens at Tanzara Gallery, Islamabad
(October 20, 2017)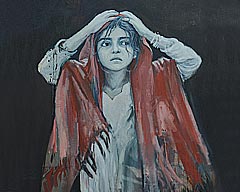 Art Review: Socio-Domestic at O Art Space, Lahore
(October 11, 2017)