Multi-Designer Eid Exhibition at the Fashion Pakistan Lounge
Written by: Geena Saleh
Posted on: July 09, 2015 |

Comments | 中文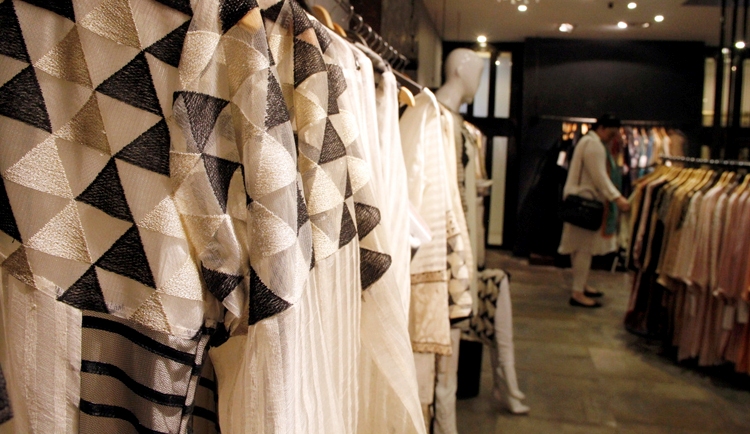 JEEM's Eid collection (photos by Mahnoor Ali Zaidi)
Fashion Pakistan Lounge (FPL) is known to be a fashion house that showcases both new and old talent in the Pakistani fashion industry. On 6th July, 2015, FPL welcomed Eid by bringing together twenty local brands under its roof to showcase their much-awaited Eid collections in an exhibition titled 'Catch of the Festive Season' at College Road, Lahore. Despite the scorching heat and the bustling traffic, the anticipated exhibition received a very warm response throughout its hours of operation.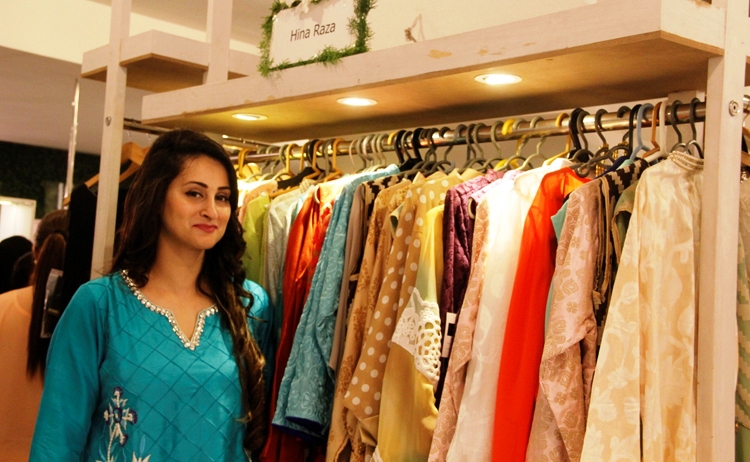 Hina Raza with her collection
A multitude of designers and brands participated in the Eid exhibition, including Charment, Nariman, Shahmeen, Jannat & Sadaf, Hiba Asim, JEEM, Elegante, Pasho, XR Couture, Faiza Saqlain, Haute Form, Asher Imran, Ayesha Naveed, Muzna Danish, Nadia & Sana Yousaf, Zahra Hiraj, Mehwish Ikran and Yasir Bukhari.
In terms of clothing, the exhibit was dominated by light yet stylish materials such as cotton net, chiffon and raw silk. A common element found in many of the collections of the multi-talented designers was the use of florals in their respective pieces. The elegant blend of pastel hues with flowers was at the heart of many designs for this coming Eid. Designer Muzna Danish, when asked about the choice of materials and florals in her current collection, stated that her aim was to make the clothes stylish, but also "breathable" for the coming festivities.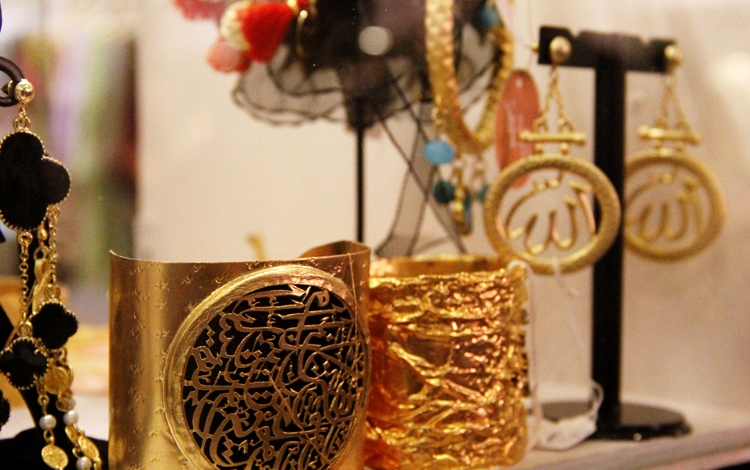 Jewellery by Yasir Bukhari
Two collections that set themselves apart from the floral trend were The Greek Civilization by Asher Imran and Cartes by Pasho. Asher Imran's collection embodied darker tones and murkier hues, while Pasho's designs merged the culture of the subcontinent with that of Cartes, Istanbul, Rio, and several other regions to create the perfect balance of contemporary class and comfort. The brilliantly creative trio of designers heading Pasho aims to provide the everyday shopper with a high-end product at a fair price. The notion of "more for less" is not only a stepping stone for each of their mesmeric collections, but is also the reason why their Eid collection was met with tremendous success at the Fashion Pakistan Lounge.
The accessories and jewellery showcased at the exhibition attracted a multitude of shoppers, ranging from young girls to elderly women. Zahra Hiraj's intricately designed local clutches made out of kundan received great appreciation and admiration from the crowd. Exquisite Turkish kangans, rings and neck pieces by Yasir Bukhari also allured many rampant shoppers to the YHB stall. Generally, the customers deemed the jewellery as high in quality yet fair in price.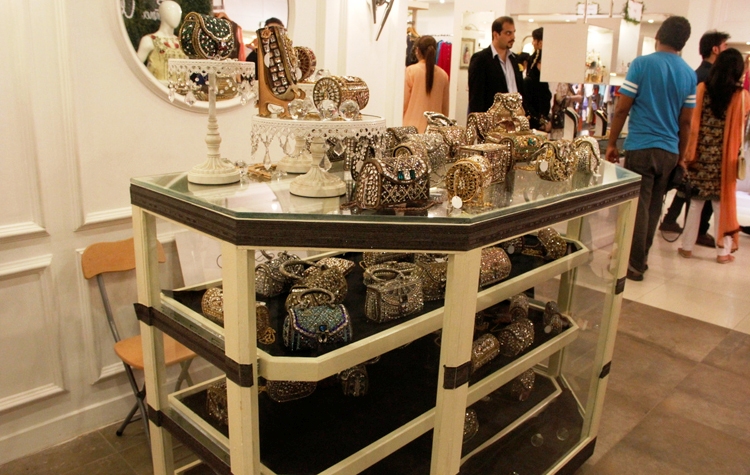 Zahra Hiraj designer clutches
Overall, the exhibition was met with a highly positive response. It attracted people from all social classes because of its multi-price range and large palette of cuts, silhouettes and designs. Excited shoppers rushed in and out of the venue to reap the affordable prices in preparation of Eid. The diverse talent, impeccable timing, grand location and vast price range of the Eid exhibition all amalgamated to produce an exhibition worth remembering.
Photos by Mahnoor Ali Zaidi
You may also like: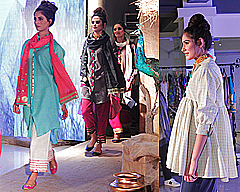 From the Desert to the Ramp: 'Taanka' at PFDC's Fashion Active Show and Exhibition
(November 21, 2016)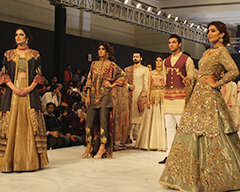 PFDC L'Oreal Bridal Week: Day 2
(September 30, 2016)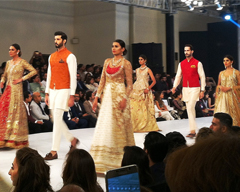 PFDC L'Oreal Bridal Week (PLBW) Kicks Off in Lahore
(September 29, 2016)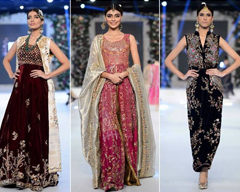 PFDC L'Oréal Bridal Week 2015
(September 22, 2015)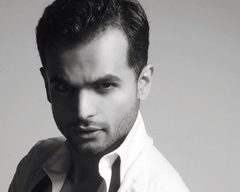 A Fashionista in Pakistan
(August 04, 2015)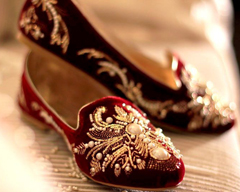 CHAPTER 13: Funky Handcrafted Shoes
(July 08, 2015)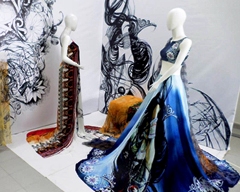 PIFD Thesis Display 2015
(June 16, 2015)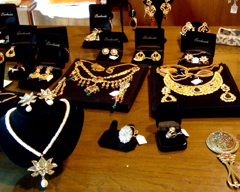 Persian Nights - The Timeless Saga
(June 10, 2015)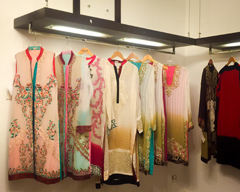 House of Zunn Comes to L'atelier
(May 29, 2015)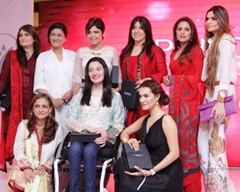 Pond's Miracle Journey 2015 - Redefining Pakistani Women
(May 12, 2015)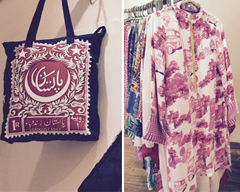 Maheen Khan's Gulabo Fashion Exhibition
(April 20, 2015)

Fashion: Where Traditional Meets Avant-Garde
(July 11, 2012)