FESTIVAL BY THE SEA
Written by: Salman Tarik Kureshi
Posted on: August 23, 2013 |

Comments | 中文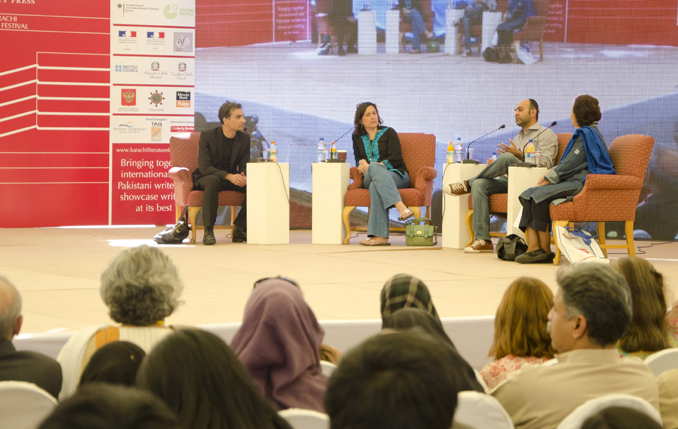 Session: Political Engagement in the Pakistani English Novel Speakers: Nadeem Aslam, Kamila Shamsie, Mohsin Hamid, and Muneeza Shamsie
In the lands of the South Asian subcontinent, Spring comes early. By the middle of February, the last of the winter rains have passed and the season of blossoming and rejuvenation is set to begin. This is the time when, since ancient days, the harvest and other festivals are celebrated. For the last four years, it has also been the time when the coastal city of Karachi celebrates another kind of festival, a Festival of the Mind: the Karachi Literature Festival.
Since its inauguration in 2010, the Karachi Literature Festival has been a feature of the Calendar of Events in this city. People throng here to celebrate the wonder of books and to help promote the habit of reading. Elsewhere, the fresh air of springtime may be polluted by wars and violence; the brightness of the sky may be darkened by bigotry, war and hunger. But here the organisers, participants and attendees all seek to open up the dark corners of the human mind,illuminating them with knowledge absorbed through reading and books.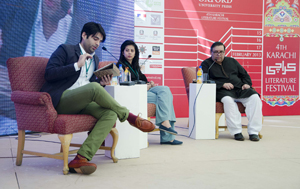 Session: The Fall and the Rise of the Pakistani Cinema Speakers: Adnan Malik, Meher Jaffri, and Nadeem Mandviwalla
The annual Karachi Literature Festival, the first of its kind in Pakistan, is open to all and attendance is free.It brings together Pakistani and international authors writing in diverse languages. It features creative writing workshops, debates, discussions, lectures, mushairas(poetry recitals), a book fair, book launches, readings, signings, and more. This year, the Festival was organised in the verdant grounds of the Beach Luxury Hotel, beneath the swaying fronds of coconut palms, all set against the picturesque backdrop of the China Creek and its dense copses of mangroves. A particular feature was that, for the first time, a Children's Literature Festival was held in parallel with the Karachi Literature Festival.
Directed by Ameena Saiyid, co-founded by Ameena Saiyid and Asif Farrukhi, and produced by Oxford University Press, the Festival has grown rapidly since its inception. Attendance rose from only 5,000 in 2010 to 10,000 in 2011, to 15,000 in 2012, and to 30,000 in 2013. (William Dalrymple, co-director of the Jaipur Literature Festival, remarked in 2012: "[t]his is much bigger than what we were in our third year.")
The 2013 Festival, the fourth of its kind, was a three-day whirlwind of events. There were participants from Nepal, India, Palestine, France, Italy, Germany, Sweden, Russia, Canada, US, UK and Pakistan. The languages in which the authors wrote included Urdu, Hindi, Sindhi, Punjabi, Russian, French, English, Italian, Swedish and German.
It was not only the variety of languages and countries that made this year's Festival such a kaleidoscope. It was also the astonishing range of literary and intellectual experiences on offer. On a single day, a single Hall of the many Halls and Gardens of the Beach Luxury Hotel successively witnessed panel discussions on Cricket Writings, on the relevance of the great nineteenth century Urdu poet Mirza Ghalib, on writing about Pakistan in English, on Pulp Fiction, and finally featured the incomparable Dastangohs(story-tellers) Danish Husain and Darain Shahidias they applied their classic art form to a modern subject in their dramatisation of the great Urdu short story writer Saadat Hassan Manto's works.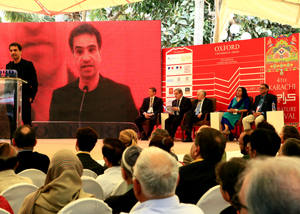 KLF Inauguration: Keynote Speaker: Nadeem Aslam; Speakers: German Ambassador, Dr Cyril Nunn; French Ambassador, Mr Philippe Thiebaud; Italian Ambassador, Mr Adriano Chiodi Cianfarani; KLF Founders: Ameena Saiyid and AsifFarrukhi
There were numerous instances worth remembering among the various sessions this year. Since the laws of time and space made it impossible for this scribe to attend every session, I can mention only some of the high points personally witnessed. Not the least of these was the standing ovation given at the Inaugural Session to the aging Pakistani author Intezar Hussain as he came to the podium to give his keynote address. Applause was also drawn by the French Ambassador's announcement of the conferment on Ameena Saiyid of a Knighthood in the Order of Arts and Letters by the government of France. Nuclear scientist and educationist Dr. Parvez Hoodbhoy was frighteningly lucid in launching the book edited by him:Confronting the Bomb: Pakistani & Indian Scientists Speak Out. Cartoonist Nigar Nazar delighted both children and adults in her session on The Power of Illumination. The British poet of Ethiopian origin,Lemn Issay, galvanised his audience with his explosive demonstration of Performance Poetry. And this was only the first day.
My choice of the second day's high points would begin with the Readings and Conversations with Urdu poets Kishwar Naheed and Iftikhar Arif, moderated by Raza Rumi. It would include the Conversation with Indian writer Farouq Dhondhy, the vigorous anti-establishment opinions of the charismatic British MP George Galloway, and of course the elaborate evening Mushaira that featured some of the most prominent subcontinental poets.
For this writer, the dissertation on Secularism by civil rights icon Asma Jahangir – standing out alongside such luminaries as lawyer Hamid Khan, liberal politician and author Javed Jabbar, retired Justice Nasira Iqbal, and columnist Irfan Husain –began the third day on a powerful note. Socio-political themes seemed to remain prominent through the day, reflecting the temper of our times. Chief Election Commissioner Fakhruddin G. Ibrahim, very much the man of the moment, drew laughter from the audience as he impishly queried journalist-cum-political commentator Najam Sethi regarding the coming elections. One may mention that Najam Sethi seems to have assumed a kind of Rock Star status among media personalities; it took all of twenty-five minutes to move a total of fifty yards, as Najam was repeatedly surrounded by youthful autograph seekers, when he and this writer were heading to the Lounge for a cup of tea and a chat. Who says that TV audiences are being "dumbed down"?
Also worthy of mention was the Conversation with Palestinian peace activist, Dr. Izzeldin Abuelaish. The painful events that accompanied the secession of Bangladesh from Pakistan were recalled at the launch of Aquila Ismail's book Of Martyrs and Marigolds. Eventually, it was pure literature that won the day with the crowds that thronged Zia Mohyuddin's readings from his book A Carrot is a Carrot.
The down side included a sudden spring rainstorm that blew in off the sea, necessitating the abrupt cancellation of a few sessions and the relocation of others, as well as frenzied panic in the Book Stalls and Food and Drink Stalls that had been set up. Also, the prominent Indian literary and cinematic personality Gulzar, who had been in Pakistan earlier but had unexpectedly returned to Mumbai, was much missed. So were Indian novelist Shobha De and vocalist Ila Arun.
Each year, the keynote speakers have been outstanding: Shamsur Rahman Faruqi (2010), Karen Armstrong (2011), William Dalrymple (2012). This year, Pakistani-British author Nadeem Aslam and Booker Lifetime Award nominee Intizar Husain gave the keynote addresses.
The Karachi Literature Festival Prize goes to the best non-fiction book in English by a Pakistani/ Pakistan-origin author published in the preceding year. In 2013, this Award, renamed the "Karachi Literature Festival-Coca Cola Prize", was won by historian Ishtiaque Ahmed for his work Punjab: Bloodied, Partitioned & Cleansed.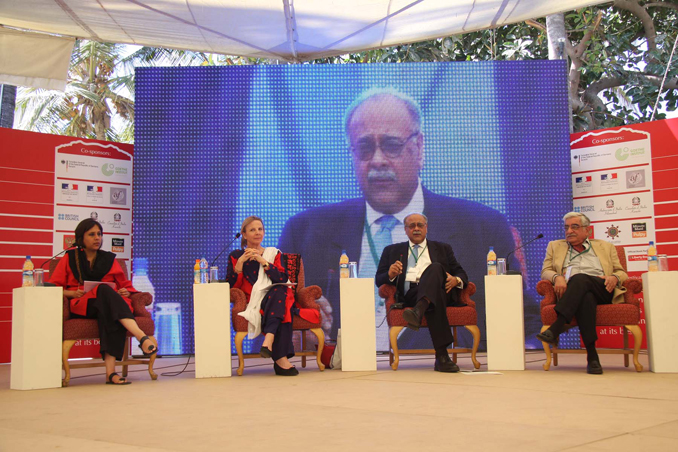 Session: Dynastic Politics Speakers: Barkha Dutt, Victoria Schofield, Najam Sethi, and Najmuddin Shaikh
The Festival also celebrates music, dance, film, puppetry, theatre and other related arts. 2010 featured Song of Mohenjodaro (dance drama) and Inshaka Intezaar, an Urdu play based on Beckett's Waiting for Godot, by Tehrik-e-Niswan. 2011 began with a homage to Amir Khusro by Sheema Kermani's group, featured Ajoka's performances of sections of Shahid Nadeem's Bulha (Punjabi play) and Dara (Urdu play), and culminated with a tribute to Faizon his birth centennial, with literary and music favourites like Zehra Nigah, Tina Sani, Laal (band), Raza Rumi and Ali Sethi. In 2012 members of Arcola Theatre and Punch drunk Enrichment (UK) celebrated Dickens' birth bicentennial with a theatrical session inspired by his work, The Uncommercial Traveller. Manto's birth centennial was celebrated with a talk by his niece and renowned historian Ayesha Jalal, a talk that "was a first of its kind and a prelude to her forthcoming book" on Manto (Raza Rumi). 2012 featured puppet and muppet shows by Rafi Peer (all day, every day), films, a satire session with Ali Saeed and Saad Haroon, and dance and music by Nritaal and Junoon.
In 2013, this celebration of arts related to literature – dance, film, theatre, puppetry, photography, spoken word poetry, the Art of Book Making for children (by Varda Nisar) – continued with still greater gusto. As already mentioned, Dastangoi, dramatic readings and Performance Poetry were added to the mix.
This fourth Karachi Literature Festival certainly achieved its purpose of creating a space for varied intellectual discourse and dialogues: dialogues of scholarship, dialogues of cultures, dialogues of peace, and, ultimately, dialogues of civilization. In our troubled times, this kind of achievement is certainly worthy of note.
You may also like: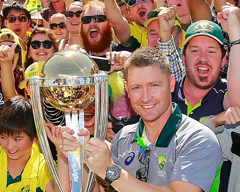 Australia Pulverizes New Zealand to Bag World Cup 2015 Trophy
(March 30, 2015)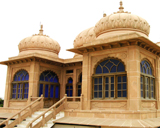 The Undying Grandeur of the Mohatta Palace Museum
(March 29, 2015)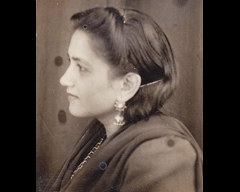 Ada Jafarey: A Tribute
(March 27, 2015)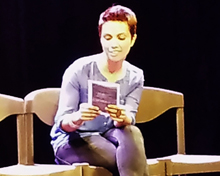 Me, My Mom & Sharmila: Fawzia Mirza and the Brown Woman
(March 26, 2015)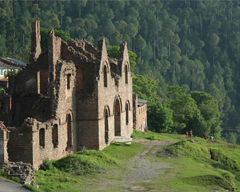 Silk Road: The Picturesque Mansehra and Abbottabad-VI
(March 25, 2015)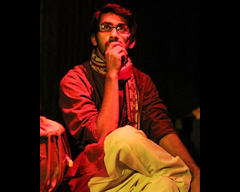 Azeem Hamid and the Independent Theatre Company
(March 25, 2015)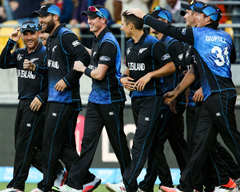 New Zealand to Choke South Africa and India to Overpower Australia?
(March 24, 2015)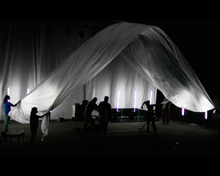 NAPA International Theatre Festival 2015: 'Among Fog'
(March 20, 2015)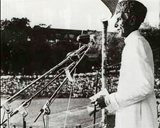 Pakistan Resolution Revisited
(March 20, 2015)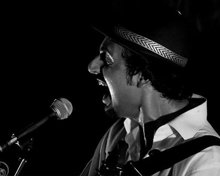 Faizan Tirmizi - The Ideology of an Aspiring Musician
(March 12, 2015)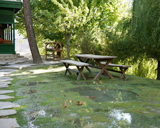 Hunza Valley: A Fine Balance between Tradition and Modernity
(March 10, 2015)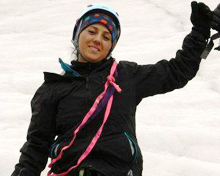 Samina, we are proud of you!
(March 06, 2015)