Right to Play & Total Football kickoff Girls Football Tournament 2017
Written by: Mirza Salam Ahmed
Posted on: December 28, 2017 |

Comments | 中文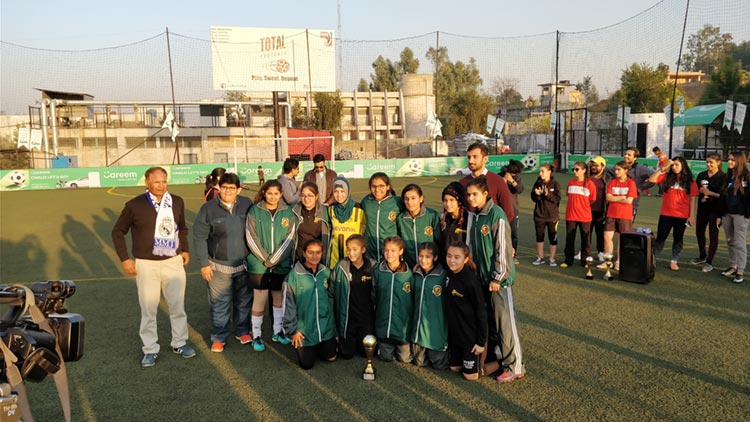 Pioneer women's football team, DIYA F.C. travelled from Karachi to participate and were runners up
Total Football, in collaboration with Right to Play Pakistan, kicked off its women's football tournament at their ground in Chak Shahzad, Islamabad. The event, which occurred from 22nd December to 24th December, featured players from Pakistan's female National Football Team as well as 12 teams of young women, who could give most football players in our country a run for their money on the football field.
The football tournament came to life through the hard work of two football-crazed individuals, Hamza and Asmara Kayani. Hamza, who is the CEO of Total Football, and Asmara who is the Sports Development Coordinator, had support from the ex-captain of Pakistan's National Football Team, Sana Mehmood, who also happens to be the Project Officer for Right to Play.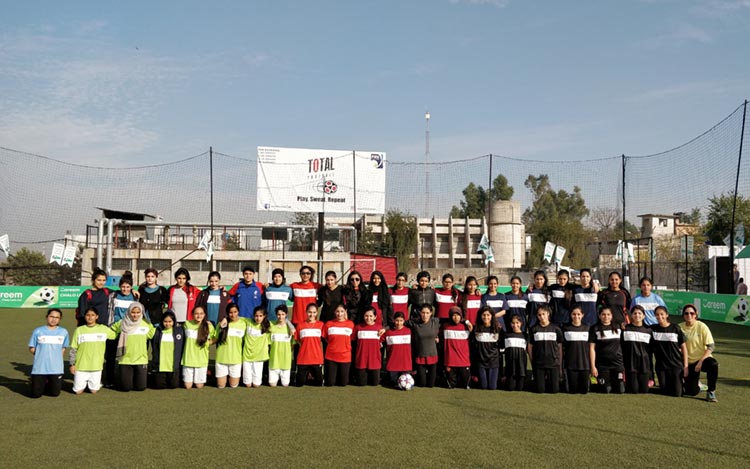 Participating teams including clubs, schools and colleges
The trio managed to pull together a successful tournament, which showcased that women could grace the field for Pakistan in the future, and in its wake delivered a powerful message – football is no longer a sport dominated by men. Proof of that was present at sight, where there were brothers roaring chants while rooting for their sisters, fathers role-playing as managers shouting tactics at their daughters' team, mothers nursing the young and friends hollering and cheering on their respective teams.
Sports can be a huge tool for developing confidence, camaraderie, charisma and last but not the least change – a change in the way a society thinks. One of the key challenges for women in Pakistan is safe access to sports facilities. Such football initiatives are instrumental in showing our society that women lack the rights and access needed to pursue their dreams.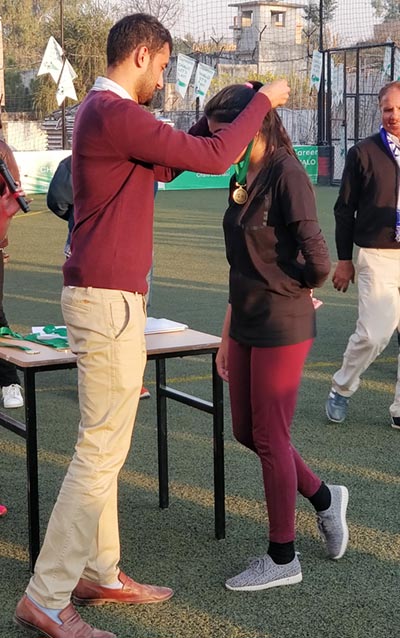 Hamza Kayani, founder and CEO of Total Football, awards medals to the winning team players
In a country where the young fearless Malala Yousafzai fought for her educational rights, it's an emotionally stirring sight to see other brave women show passion for their respective rights. Pakistan spends a measly 2% of its gross domestic product on education, and has been doing next to nothing when it comes to empowering women in sports. Once a respectable force in the world of football, the nation of more than 180 million people is far from its glory days.
As a matter of fact, Pakistan became Asia's worst football team in April this year, when its FIFA ranking plummeted to an all-time low of 201. It started when the Pakistan Football Federation (PFF) got banned by FIFA with immediate effect due to "undue third-party interference".
The election of Faisal Saleh Hayat as the federation's president in 2015 was another controversy. However, the allegations that followed including vote-rigging led to Pakistan being kicked out of FIFA. The country's rankings have been steadily declining since 2013, and the PFF itself has now split into two factions. Further adding to the woes of the country and the misery of the Faisal Hayat group, Pakistan pulled out of the 2015 SAFF Suzuki Cup, and the inaugural edition of the AFC Solidarity Cup in November 2016.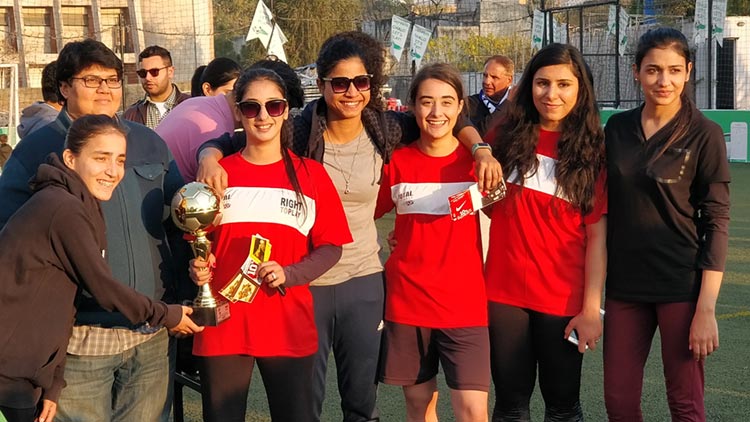 The Young Rising Stars F.C. joined by Hajra Khan, Captain Pakistan National Team, were crowned Champions of the Tournament
In the wake of all this, it's the sweat, blood and tears of the youngsters of Pakistan that have rejuvenated football. Private organizations have been taking advantage of this void to introduce tournaments and bring international football stars to the country. Pakistani football received a massive boost with the arrival of Ronaldinho, Nicolas Anelka, Ryan Giggs, Robert Pires, David James, George Boateng and Luis Boa Morte for the kickoff of the Leisure League this year. The superstars featured in two seven-a-side games played in Karachi and Lahore, and thus gave Pakistan's football fanatics a reason to dream on.
The Serena Hotels and UN Women (United Nations Entity for Gender Equality and the Empowerment of Women) similarly commemorated the UN's International Day of Sports for Development and Peace in 2016, by offering a platform for women to display their football skills.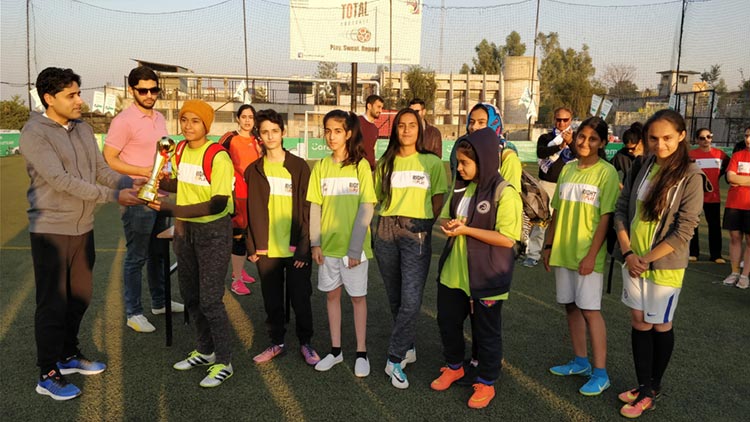 Ali Khayam, Program Manager of Right to Play, presents the FairPlay Trophy to Popo F.C. for their great sportsman spirit
"For now, private events are doing better. At the government level, women have no football activities because of politics and mismanagement. We need to empower women. We need to support their dreams. Women's football in Pakistan must not fall prey to politics that has led to the ban," Asmara said.
"There have been many improvements in the past couple of years. Girls are more interested in playing at such events. As a matter of fact, parents are more willing to support their daughters in pursuing their dreams. What we do need is for the government to step up and help us," she concluded.
You may also like: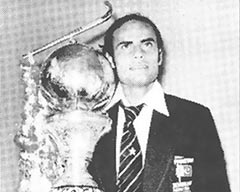 70 Years of Sports in Pakistan: Defying the Odds
(August 23, 2017)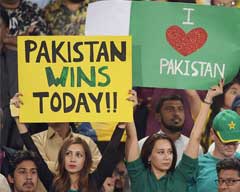 Lahore Rises Like a Phoenix to Hold a Memorable PSL Final
(March 06, 2017)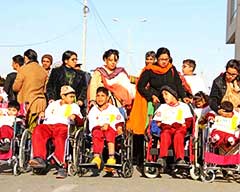 Running for a Cause: 2nd Unified Marathon by Special Olympics Pakistan
(February 06, 2017)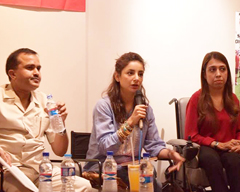 Special Olympics Pakistan at T2F: 'Inclusion Elevates All'
(July 26, 2016)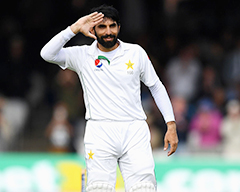 Pakistan Break 20-Year Curse to Become Lords against England
(July 18, 2016)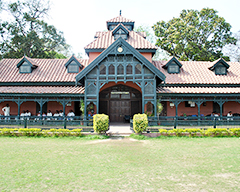 The Long Innings of Lahore Gymkhana Cricket Ground
(June 03, 2016)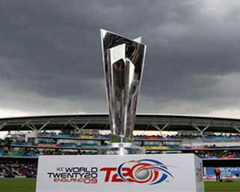 T20 World Cup 2016 – What To Expect?
(March 16, 2016)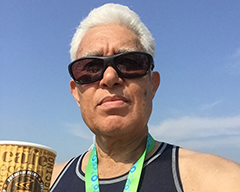 Achieving the Impossible: A Conversation with Saqeb Lone
(March 04, 2016)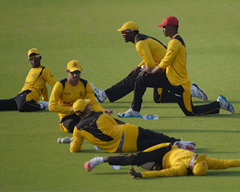 Zimbabwe Braces Itself for Controversy-Plagued Pakistan
(May 21, 2015)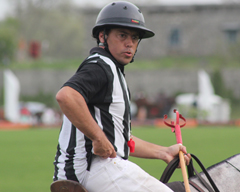 Matias de Olmos: The Life of an International Polo Coach
(April 03, 2015)

Interview With Javed Miandad - Part II
(September 19, 2012)