Enjoying the Golden Week Holiday - Scenic Spots, Hotels, Traffic…All at Once
Written by: Wang Yayun, Xinjiang Daily
Posted on: November 17, 2016 |

Comments | 中文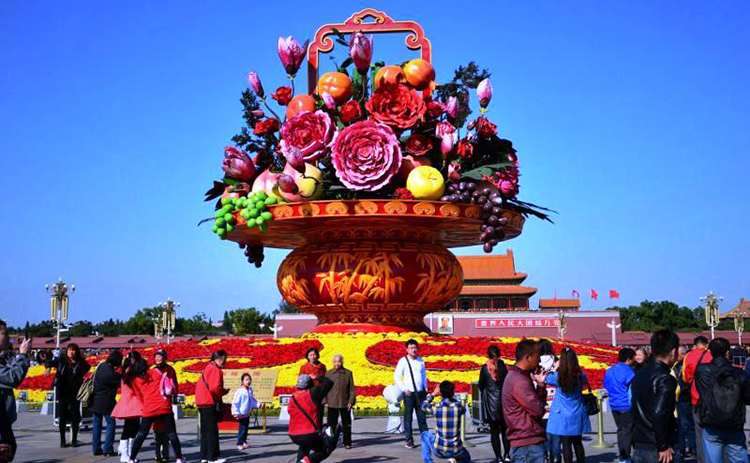 Golden Week celebrations
Xinjiang tourism made new records during this National Day holiday season. It is reported that, with the deepening and promotion of the construction of "the Five Centers" of the SLEB core area, the construction of Xinjiang tourist distribution center and that of Xinjiang tourist thoroughfares is being accelerated continuously. The build-up effect of Xinjiang tourism is increasing with each passing day. Tourists' experience is getting increasingly better, thanks to the improvements in facilities of scenic spots, airplanes, trains, and other modes of travel.
Many places in North Xinjiang were rainy and snowy during the Oct. 1st Golden Week holiday. The weather, however, did not bother the enthusiastic tourists. On the contrary, it added an extra touch to the already amazing colors of the sceneries. As the "living room" of Xinjiang, Kanas Lake Zone of Altay Mountains became one of the hottest scenic spots of Xinjiang that tourists of Inland China preferred to tour during this holiday season. The sceneries covered in snow became an exclusive treat. Tourists could enjoy the beauty of Kanas Nature in snow to their hearts' content.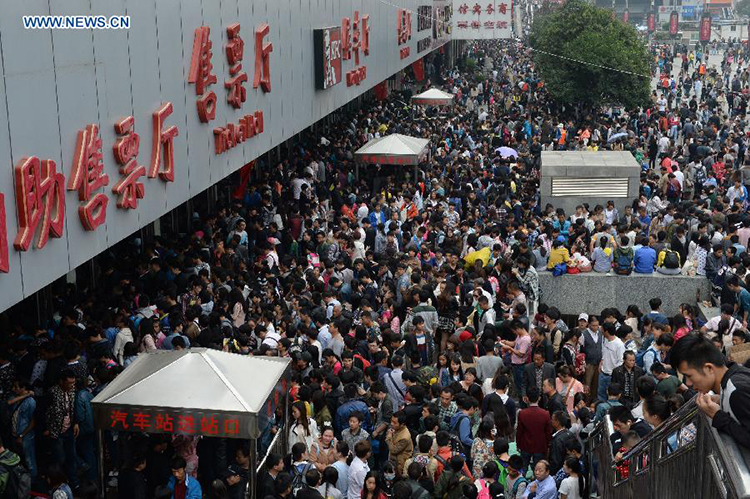 Peak rush during the Golden Week
Other scenic spots in Xinjiang, such as the Wucaitan ("Multicolored Riverbank"), the so-called "First Riverbank of Xinjiang", received thousands of tourists. The Irtysh River is decorated with Golden Tugay forest on one side and multicolored Yardang landform on the other. Tourists were busy taking pictures of this marvelous work of nature. "We are from Shanghai. It was a long journey, but we are very pleased because now we have seen all this beautiful scenery, especially the various colors of the land. We have never seen anything like this before, so we are very excited to be here. Xinjiang is really beautiful", said Hu Meiqi, a tourist from Shanghai.
On October 7th, the Bureau of Tourism of Xinjiang Uyghur Autonomous Region released figures of the holiday season: according to incomplete statistics, a total number of 6.1496 million tourists have visited Xinjiang during the holiday, increased by 24.32% on year-on-year basis. Tourists spent 6.99 billion Yuan, increased by 25.99% on a year-on-year basis. Hotels in all places of Xinjiang kept a high rate of occupancy, while most star hotels had an occupancy rate of more than 90%.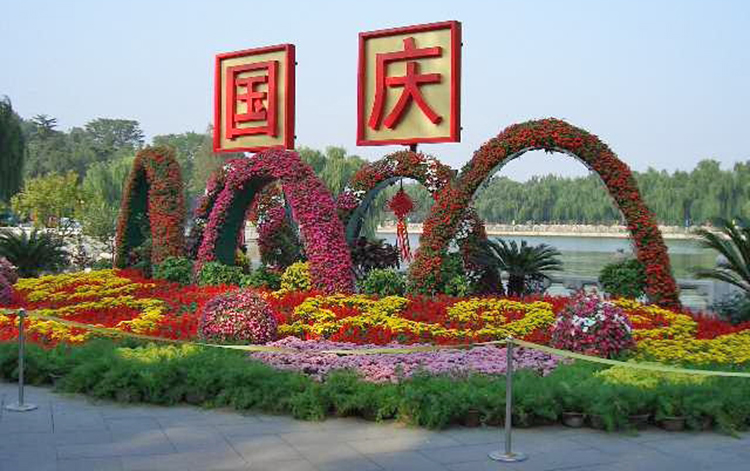 National Day decorations
All the scenic spots carried out plans to cope with the sudden increase in visitors. "We made plans for tourist groups and individual tourists to get in the resort at different times. Taking the tour bus to travel from one spot to another is the main traffic mode as usual. Based on the number of tourists, locations of parking areas, distances between scenic spots, distribution of walking areas, and distribution of tourists at different hour, we organized 237 tour buses to make sure that there would be one bus coming for each station every ten minutes. Meanwhile, in order to make it convenient for visitors to buy tickets, we set up extra service stalls at Jiadengyu Tickets Station, Eco-Parking Lot, and Jiadengyu Tourists Center to sell tickets and open passages for entrance," said Yang Changzhao, Director of the Publicity Office of the Politics Division of Kanas Scenic Zone Administrative Committee.
In addition to an increase of tourists in traditional scenic spots, some characteristic holiday activities that had specific themes attracted visitors at home and abroad. During the holiday, "Grand Beauty of Xinjiang, a Tour of Tianshan Mountains" – the 7th Xinjiang International Special Tourism Festival, sponsored by Xinjiang Tourism Bureau, was celebrated. The festival attracted more than 200 private cars and over 600 tourists from 13 provinces and municipalities. At the same time, various forms of festivals and activities were held in all places of Xinjiang to attract visitors. The 11th Jeminay County Snow Mountain Art Festival and folk games such as horse racing, lamb chasing, and wrestling gained popularity. The opening ceremony of the 1st Jinsi Jade (lighter imperial jade) Expo & Jinsi Jade Cultural Tourism Festival was held in Fuhai County, which stimulated the local holiday economy by attracting over 5,000 jade lovers from Urumqi, Karamay, Shihezi, Beitun, and other places.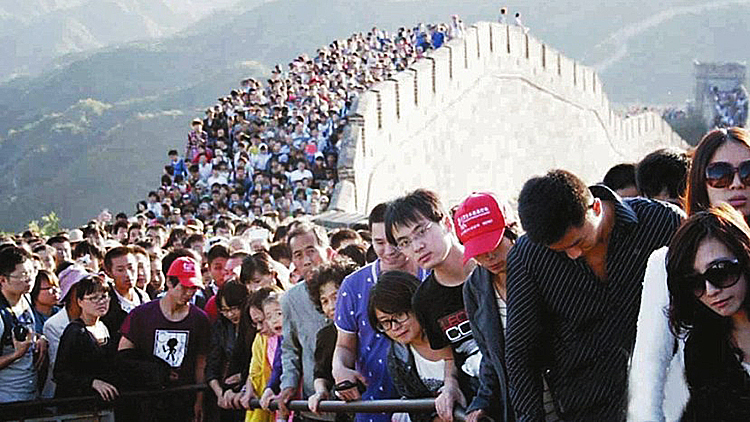 Visitors at the Great Wall of China during the Golden Week holiday
Traveling to Xinjiang by train is still very popular among tourists. Starting from 2016, the Xinjiang Railway has spared no effort in carrying out the strategy of "speeding up and spreading out", and has readjusted the map of passenger trains several times. New passenger railways in Xinjiang were opened, while the speed of old railway routes was accelerated. To deal with the huge passenger volume and heavy traffic, Xinjiang Railway set extra trains and cars for cities that were busy in the holiday season so as to meet the demands of the travellers who took short or medium distance trips to Xinjiang.
On October 1st, the China National Tourism Detection and Emergency Control Platform officially opened online. The tourism industry statistics and video surveillance of the scenic zones of 17 provinces, including Xinjiang, were connected to the national system, thus realizing "zero jet lag" on the internet.
You may also like: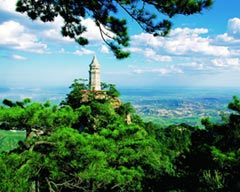 Panshan Mountain of Ji County
(January 11, 2018)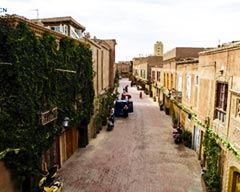 Stories from the Old Town of Kashgar
(January 04, 2018)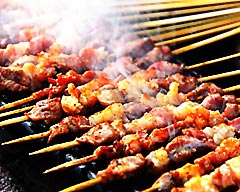 International Cuisine in Urumqi
(December 27, 2017)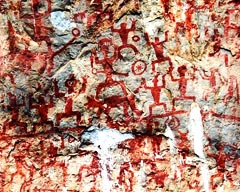 Zuojiang Huashan Rock Paintings, Guangxi
(December 19, 2017)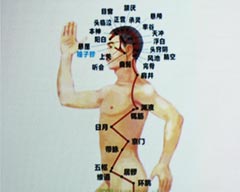 Seminar on Chinese Outlook on Life and Contemporary Value of Chinese Medicine
(December 15, 2017)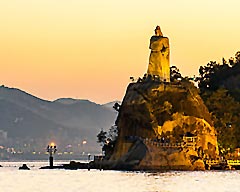 Gulangyu Island: The Island of Music
(December 13, 2017)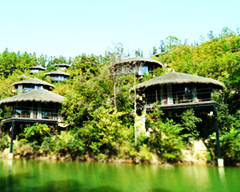 Mogan Mountain Farm Villas
(December 06, 2017)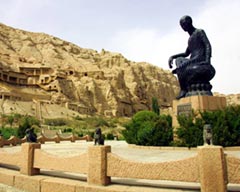 Kuqa: The Old Town on the Silk Road
(November 29, 2017)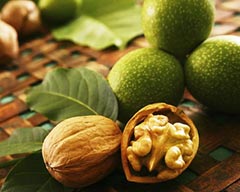 The Walnut Trees of Xinjiang
(November 23, 2017)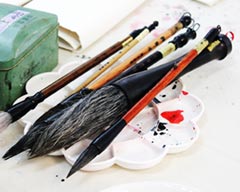 Chinese Ink-Wash Painting at China Cultural Centre, PNCA
(November 23, 2017)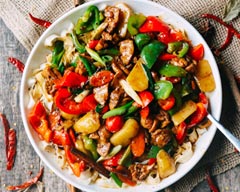 Famous Xinjiang Delicacy: Big-Plate Chicken
(November 16, 2017)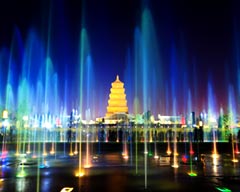 Shaanxi: New Glories on the Silk Road
(November 08, 2017)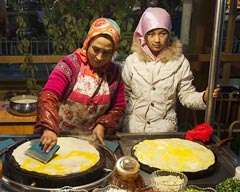 The Bustling Moyu Night Market
(November 01, 2017)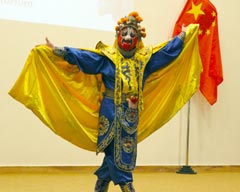 South-Central University for Nationalities Art Troupe performs in NUML, Islamabad
(October 25, 2017)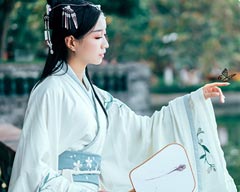 The Traditional Chinese Dress: Gowns
(October 24, 2017)